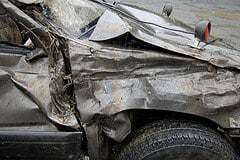 Here's one of the most common questions our lawyers get after someone's been involved in a fender bender but they don't have insurance:
I was in a car accident, and wasn't at fault, but I don't have auto insurance.  My policy lapsed. Can I still get my Michigan mini tort for my car vehicle damage?
Keep in mind, as of this Oct. 1, 2012 when the new mini tort law takes effect, Michigan auto accident victims will now be able to recover up to $1,000 for vehicle damage.  It is currently $500.  The mini tort is recovered from the insurance company of the driver or owner of the car who caused the crash under Michigan's mini tort law.
Now here's the rub: the new mini-tort law specifically prevents uninsured drivers from collecting the mini tort.
So, the answer to the question above is that there's nothing currently in the law that prevents an uninsured driver from receiving the Michigan mini tort.  But that will change after October 1, 2012.
Still, this could be a wild card issue if you are asking for a mini tort  before a judge before October 1, 2012.  There is no clear cut current law on point, and a judge may frown on the fact that you didn't have auto insurance as required by Michigan No-Fault law.  It will ultimately be up to the discretion of the judge.
Whereas after October 1, 2012, the law will be very clear – no mini tort for uninsured drivers, even if they did nothing to cause the fender bender.
– Steve Gursten is an experienced No-Fault insurance lawyer at Michigan Auto Law, Michigan's largest law firm specializing in serious automobile accidents. Steve wrote the book, How to Repair Your Car Damage.