7 tips to keep workers safe and avoid car accidents in construction zones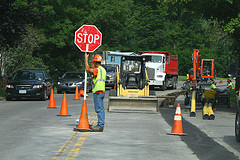 Today is National Work Zone Awareness week. I've decided to adopt this as part of the Michigan Auto Law blog in part because of my own past experiences as a lawyer representing injured construction workers and helping their families.
It is truly a terrible event, and as frustrating as construction can be, it is even worse when drivers take their frustrations out on the road where construction workers are placed on a very vulnerable and dangerous island.
As part of Work Zone Awareness, several states across the country are stressing better education, enforcement and engineering practices to keep drivers and construction workers safe. There are several good ideas that can go a long way to preventing car accidents.
Believe it or not, Michigan has some of the most advanced roads and highways in the nation. But, as our exasperated commuters know, there are always road construction projects throughout the summer. It's imperative that drivers stay focused and are even more careful in and around construction zones. Construction zones pose many hazards for drivers, and it's also important to protect construction workers who are especially vulnerable out there with cars whizzing past them.
In Michigan in 2009, there were a total of 5,153 car accidents, 1,375 injuries, and 19 fatalities in work zones, according to the latest statistics available from the Michigan Department of Transportation (MDOT). Across the country, more than 700 people died in work zone crashes in 2009.
And four out of every five highway work zone fatalities are drivers and their passengers.
Many of these work zone car accidents are completely preventable. Below are 7 safety tips to help you better navigate construction zones:
1. Try to avoid construction zones by planning ahead: Check the Michigan Department of Transportation website, where you can find up-to-date construction information. Then use an online mapping site like Google Maps or your smartphone and adjust your route according to your planned detours.
2. Don't speed: Remember to drive the appropriate speed relative to the construction activity on the road. Also pay close attention to posted speeds, construction workers, and what's going on around them in the construction zones.
3. Do not drive distracted: Don't eat, talk on your cell phone, text and drive, surf the web, groom or engage in any other distracted driving activities that will take the focus away from your driving.
4. Follow the orange signs: Construction signs signify lane changes and reductions in the speed limit. Remember, a construction zone speed limit is 45 miles per hour in Michigan.
5. Stay alert: Pay extra attention while in driving construction work zones. Frequently scan the road for workers and moving equipment and construction vehicles.
6. Remain calm: Traffic jams in construction can really test your patience. Don't allow impatient or speeding drivers to change the safe way you drive. Be aware of drivers on the shoulder and tailgaters. Leave enough distance between you and the cars and trucks around you.
7. Leave more room for commercial trucks: Commercial trucks are larger and heavier, and thus need more room to stop or maneuver between lanes, especially in the narrow construction zones. If a truck has its turn signal on, change lanes or slow down. Try to increase the following distance behind trucks to twice the normal distance.
It's also important to be aware of Michigan construction zone traffic laws. Here's a blog about the Michigan work zone construction law and what happens if you break it.
National Work Zone Safety Awareness Month began in 1999 when the Federal Highway Safety Administration, the American Traffic Safety Services Association, and the American Association of State Highway and Transportation Officials signed a Memorandum of Agreement pledging to increase public awareness of work zone safety issues through a national media campaign.
Let's keep this important cause going and talk to our family and friends about another way to stay safe while on the roads this summer.
– Steven Gursten is a Michigan car accident lawyer and head of Michigan Auto Law. He president of the Motor Vehicle Trial Lawyers Association. Steve frequently writes and speaks on safe driving and Michigan auto laws, and is available for comment.
– Photo courtesy of Creative Commons, by waitscm

Related Information:
Driving in Michigan construction zones
10 things to know if you've been injured in a Michigan car accident
Do I have a car accident case?
Michigan Auto Law exclusively handles car accident, truck accident and motorcycle accident cases throughout the entire state of Michigan. We have offices in Farmington Hills, Sterling Heights, Ann Arbor, Grand Rapids and Detroit. Call (248) 353-7575 or to speak with one of our Michigan car accident lawyers.