Car accident lawyer gives you safe driving tips, and discusses the serious penalties for speeding in construction zones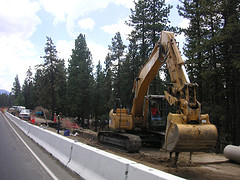 Summer is officially here, and for many Michigan families, that means road trips up north. That also means lots of construction in the state. Our car accident lawyers are always thinking about your safety, and the safety of construction workers, as far too many are injured in auto accidents every year. Given the numerous road construction projects, I wanted to talk about the safest way to drive through construction zones today.
Fact: The majority of car accident injuries and fatalities in construction work zones each year involve drivers and their passengers.
This does not have to happen. Motorists must remember not only to drive the appropriate speed relative to the construction activity and workers on the roadway, but to pay close attention to posted speeds, construction workers, and what's going on around them in road construction zones.
The Michigan work zone construction law and what happens if you break it
First of all, the law, according to the Michigan Department of Transportation. During Michigan's busy road construction season, motorists are required to reduce their speed to 45 miles per hour in any freeway work zone where workers are present, UNLESS a concrete barrier wall exists between the workers and the vehicles.
If you go too fast in Michigan construction zones, you face a lot more than a speeding ticket:
o Doubled fines
o More points on your Michigan license
o Increased auto insurance rates
o Jail and fines.
P.A. 103, known as "Andy's Law," went into effect in October 2001. The law created penalties of up to one year in prison for injuring and up to 15 years in prison for killing a highway construction or maintenance worker. It also imposes a maximum penalty of $7,500. The law is named for Andrew Lefko, a 19-year-old who was paralyzed after being hit while working on I-275 in metro Detroit.
How to avoid car accidents and injuring workers in construction zones
Plan ahead to avoid construction zones
Go online to check the Michigan Department of Transportation website, where you can find the most up-to-date construction information. With your detours in mind, you can use an online mapping site like Google Maps that allows you to adjust your route.
Follow the orange signs
Construction signs indicate traffic lane changes and speed limit reductions. Remember, a construction zone speed limit is 45 miles per hour in Michigan. Follow the orange!
Avoid driving while distracted
As always, do not eat, talk on your cell phone, text and drive or engage in any other activities that will take away from your driving concentration.
Stay alert
Pay extra attention to your surroundings while in construction work zones. Scan the road for moving equipment, workers and construction vehicles.
Give commercial trucks more room
Because of the length and weight of commercial trucks, they need more room to stop or maneuver between lanes – especially in the narrow construction zone lanes. If a truck has its turn signal on, move over or slow down. Increase the following distance behind trucks to twice the normal distance. Here's a blog on how to drive safely around trucks.
Stay calm
Don't allow impatient or speeding drivers to change the way you drive. Be aware of tailgaters and drivers on the shoulder. Leave enough space between you and the cars and trucks around you.

– Steve Gursten is one of the nation's top car accident lawyers. He is head of Michigan Auto Law and has received the highest verdict in the state for a car accident or truck accident victim in 2008, 2009 and 2010, according to Michigan Lawyers Weekly.
– Photo courtesy of Creative Commons, from blmurch
Related information to protect yourself:
10 foods to avoid while driving
Texting while driving ban in Michigan
What to do after a Michigan auto accident
Michigan Auto Law is the largest law firm exclusively handling car accident, truck accident and motorcycle accident cases throughout the entire state. We have offices in Farmington Hills, Detroit, Ann Arbor, Grand Rapids and Sterling Heights to better serve you. Call (248) 353-7575 for a free consultation with one of our car accident lawyers.