No-Fault insurance lawyer reviews Allstate's failed attempt to attack Michigan medical providers treating car accident victims with TBI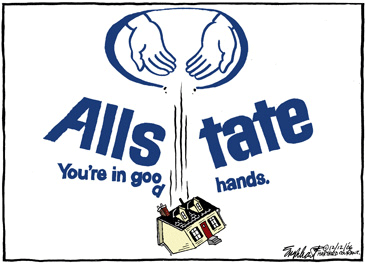 Last week, I discussed Allstate's third and fourth sins: Running doctors who treat car accident victims out of business and using false allegations as reason to refuse payment to these doctors. And today I'm going to tell you about Allstate's fifth sin — the last in my series (for now), about the insurance giant's wrongdoings.
These blogs were inspired by Allstate's new "claims satisfaction guarantee," which is prompting many No-Fault insurance lawyers who are familiar with Allstate to shake our heads at the hypocrisy of its new advertising campaign in light of its actions.
Here's the skinny on Allstate's final stunt:
Recently, Allstate filed a federal lawsuit against 24 medical providers in Michigan. Allstate wanted to recoup money it had paid to the doctors for their care of auto accident victims (who were covered by Allstate insurance).
Why would Allstate deliberately target these doctors?
To save money. There are only a handful of private practice doctors who treat traumatic brain injury victims in Michigan. If Allstate targets the ones who provide this necessary but expensive medical treatment for the brain injury community and can dissuade them from helping TBI car accident victims or drive them out of business, it can save itself millions of dollars.
But Allstate didn't prevail this time. In Allstate Insurance Company v. Global Medical Billing, Inc., et al. (U.S. District Court, Eastern District of Michigan, February 23, 2011), a federal judge said Allstate could not sue these Michigan medical care providers to recover $680,000. It also raised disturbing questions about Allstate's conduct and motives – after all, there are many independent agencies that could investigate allegations of fraud that would not raise the obvious conflict of interest here.
For more information about the case, take a look at our blog, Allstate Insurance won't be targeting Michigan doctors who help auto accident victims.
Here's how Allstate attacked a doctor in another state – and had to pay a whopping $21 million verdict for defaming him and running him out of business.
As I've written before, I certainly believe, as do many insurance lawyers around the country, that this abuse by insurance companies against good doctors who care for car accident victims is calculated and intentional. It's a war that has been going on for many years.
This is the last in my series of Allstate's sins, for now. But our No-Fault insurance lawyers are very confident that Allstate will still be giving us plenty to write about in the future.
If you can think of any additional "sins" that Allstate should repent for in its claims handling for Michigan auto accident victims, share them with us by making a comment below, or on our Facebook page.
Next week, I'll be writing about what's really in the fine print of Allstate's "claims satisfaction guarantee."

– Steven Gursten is recognized as one of the nation's top No-Fault lawyers handling serious auto accident cases and insurance litigation. He writes about insurance company abuse and Michigan No-Fault insurance laws, and is available for comment.
– This blog was written by Steven Gursten and Todd Berg, esq.
Allstate's sins – Our blog series:
Allstate's 5 sins: Profit-boosting tactics that harmed auto accident victims
Allstate sin 1: Using Colossus software to reduce payouts to auto accident victims
Allstate sin 2: Targeting accident victims who had the audacity to hire an attorney
Allstate Sin 3&4: Running doctors out of business and using false allegations as reason to refuse payment to these doctors
Allstate Sin 5 (written above): Driving out brain injury doctors
Michigan Auto Law is the largest law firm exclusively handling car accident, truck accident and motorcycle accident cases throughout the entire state. We have offices in Farmington Hills, Detroit, Ann Arbor, Grand Rapids and Sterling Heights to better serve you. Call (248) 353-7575 for a free consultation with one of our No-Fault insurance lawyers.