Personal injury lawyer discusses a free drunk driving safety application that just might save your life – and prevent car accidents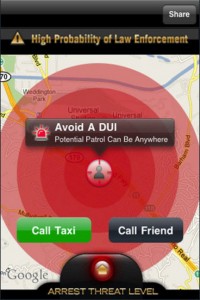 As a personal injury lawyer who writes a safety blog, I'm always trying to find the latest in safe driving and car accident prevention. And this new iPhone application called Michigan DUI Tracker looks like a great addition (I'm going to discuss recent drunk driving statistics in Michigan below).
This drunk driving safety app could keep a person from driving drunk on Michigan roads and causing a totally preventable car accident or truck accident. And the iPhone application is free.
The drunk driving prevention app – which Michigan officials are calling the first of its kind – uses the phone's GPS system to zero in on the user's location, reminds the person that the police can be anywhere in the vicinity, and gives options for calling a taxi or a friend for a safe and sober ride.
I've represented too many families of people who were senselessly killed in car crashes caused by drunk drivers, and I definitely support this application. Everyone has a phone, and this safety app is a simple reminder that you might not be as sober as you think you are. It can make you think twice before getting behind the wheel after drinking and putting yourself – and all other drivers and families at risk.
This application also alerts the user of his or her "arrest threat level," which increases as the night progresses and when law enforcement is particularly scouting for drunk driving. If this is used correctly, as a reminder to avoid drunk driving, then this is a good safety feature. I hope this isn't just an appeal to young drivers looking to steer clear of trouble, but a reminder not to drive at all.
Anne Readett, spokeswoman for the Michigan Office of Highway Safety Planning, said there's a big problem with traffic deaths between midnight and 3 a.m. Car crashes involving alcohol are eight times more likely to be fatal and four times more likely to cause serious personal injury than those involving people who are not under the influence of alcohol.
The free app coincides with the statewide "Drunk Driving. Over the Limit. Under Arrest" crackdown. The effort involves 30 counties across the state, including Kent County (Grand Rapids), Allegan County and Ottawa County.
Michigan drunk driving statistics
In 2008, 34 percent of all car accident fatalities in Michigan were related to drunk driving. A breakdown:
* There were 262 fatal accidents in Michigan where at least one driver had a BAC of 0.8 percent or above.
* There were 282 people were killed in Michigan in auto accidents where at least one driver had a BAC of 0.8 percent or above.
* There were 49 people were killed in Michigan in accidents where at least one driver had a BAC between 0.01 percent and 0.07 percent.
* There were 331 total deaths caused in Michigan where at least one driver had a BAC of 0.01 percent or above.
– US Dept. of Transportation, National Highway Traffic Safety Administration
If you get caught drunk driving in Michigan
Those convicted of a first drunken driving offense could get as much as:
* 93 days in jail and,
* Up to $500 in fines and,
* 360 hours of community service and,
* Six points on their driver's license and,
* Up to 180 days with a suspended license.
Even if you decide not to download this iPhone application, please, never drink and drive.
– Steven M. Gursten is recognized as one of the nation's top lawyers in serious car and truck accident personal injury cases and auto insurance No-Fault litigation. He writes extensively about safe driving and auto accident law, and is available for comment.
Related information:
Avoiding car accidents in Michigan: Safe driving techniques
Drug and alcohol abuse among Michigan truckers
Mother of boy injured by drunk driver in Michigan speaks out
Michigan Auto Law is the leading and largest law firm exclusively handling car accident, truck accident and motorcycle accident cases throughout the entire state. Our lawyers have received the largest reported jury verdict for an auto accident case in Michigan in six of the past nine years, including 2009, according to published reports. Call (248) 353-7575 for a free consultation with an personal injury lawyer – anytime. We can help.