Michigan Swift Truck Accident Law: What You Need To Know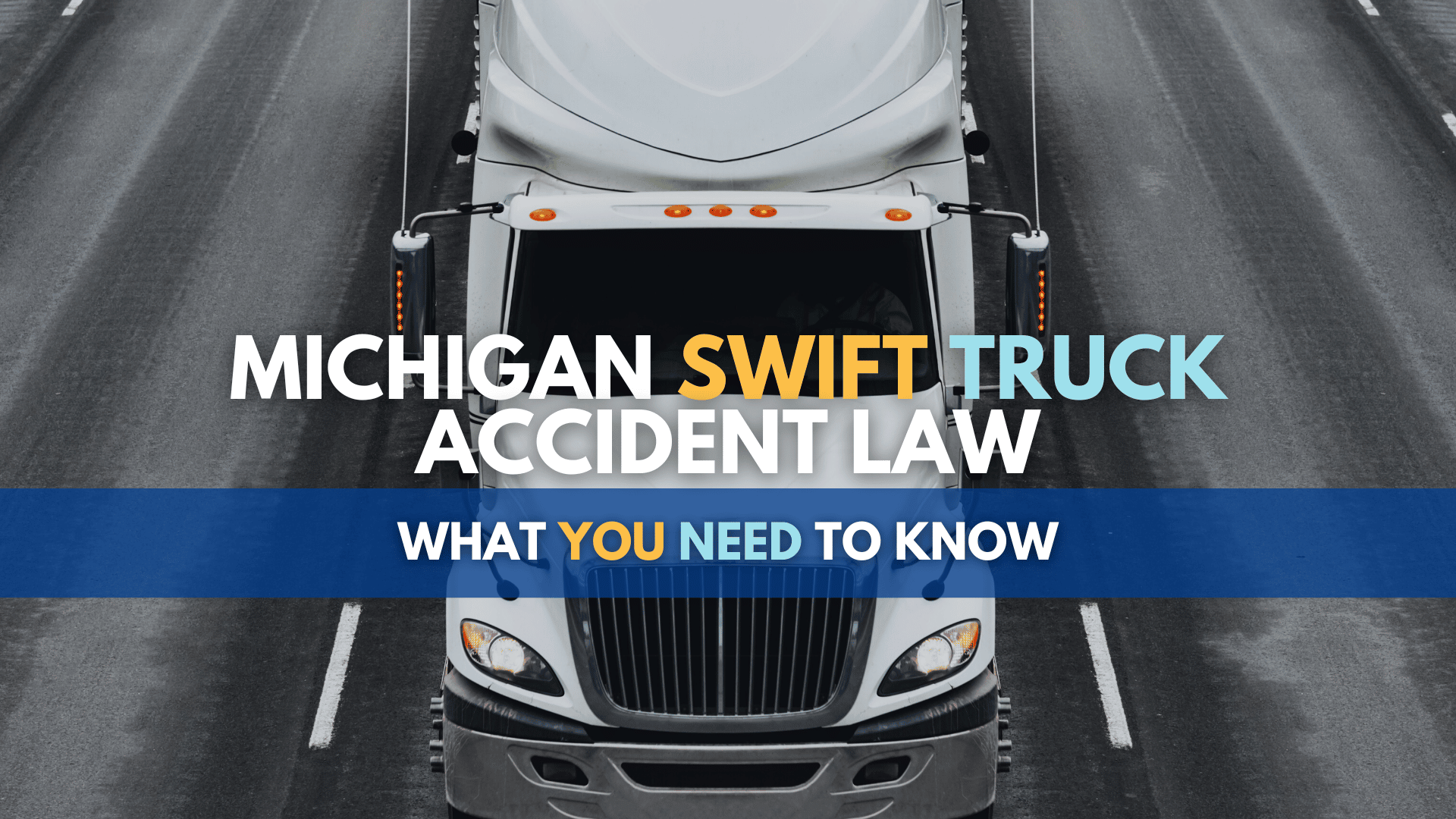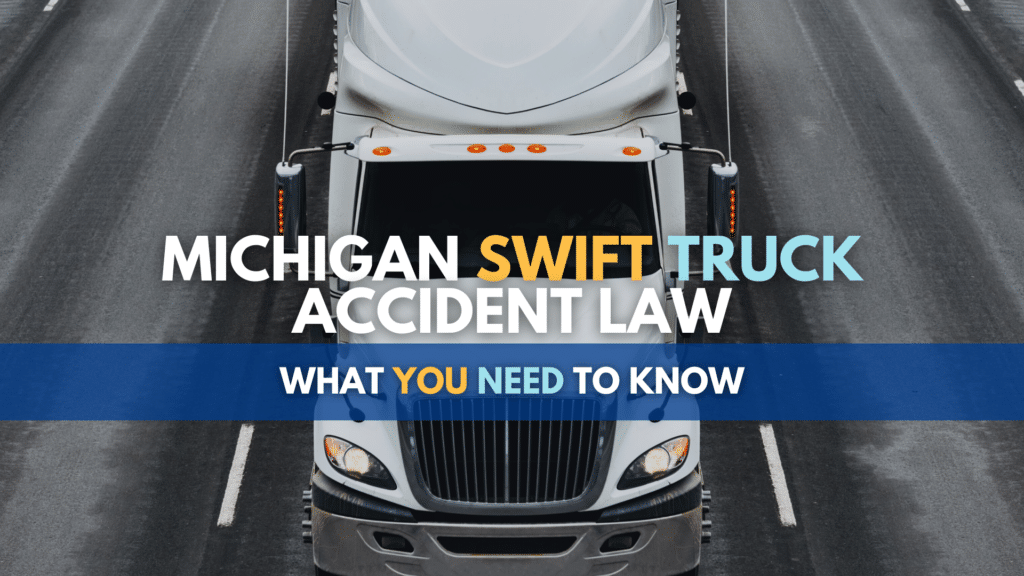 When you have been injured in a Swift Transportation truck accident in Michigan, one of the most important things you can do is to hire an experienced lawyer who will know about Swift Transportation, in particular for hiring new and inexperienced drivers and getting them out on the road quickly.
One of my first Michigan truck crash cases nearly 30 years ago involved Swift Transportation. While I've litigated well over 300 crashes involving motor carriers in Michigan and in several other states since then, because of Swift's large presence and aggressive hiring of new drivers, I've unfortunately had many cases since with Swift Transportation. Knowing about Swift's policies and procedures can make a big difference in the size of your settlement amount if you have been injured in a Swift truck crash in Michigan.
This is especially true when you consider that inexperienced truck drivers are more likely to be involved in causing a preventable wreck. Swift Transportation has nearly 16,000 trucks that it needs drivers for, and the U.S. is currently experiencing an historic shortage of 80,000 truck drivers.
To find out what your truck crash case may be worth, please check out our Settlement Calculator.
Swift truck accident statistics
Swift truck accident statistics show that this trucking company was involved in 1,083 crashes in the U.S. that were reported to the FMCSA in the last two years. That total includes 31 fatal truck accidents and 296 injury crashes.
Inspections during the last two years rendered 1,969 vehicles and 281 drivers "out of service."
Additionally, Swift Transportation has amassed 1,714 "driver inspections with unsafe driving violations" over that same period of time.
There are no current Swift truck accident statistics for the state of Michigan at the time of this writing.
(Source: FMCSA (Federal Motor Carrier Safety Administration), SAFER System; Company Snapshot for Swift Transportation Co of Arizona LLC; SMS Results, BASIC, "Unsafe Driving")
Swift Transportation's policy of putting new truckers out on the road
As a truck accident lawyer, I have no problem with companies like Swift Transportation, putting new and inexperienced drivers on the road. I do have a problem when that company is not properly training, supervising, and monitoring these drivers, and when they do not have safety systems in place to limit the number of preventable crashes caused by new drivers. The innocent driving public and our communities should not have to foot the bill through preventable deaths and injuries when a trucking company puts 80,000-pound, fully-loaded semis on our roads being driven by new and inexperienced drivers without the training, supervision and monitoring systems in place to lower the risk of otherwise preventable truck accidents.
Here is what Swift Transportation says on its website about its philosophy of giving driving opportunities to new and inexperienced truckers:
"Entering the workforce in any industry can be challenging – and at Swift, we understand that. But we believe in new drivers, recent grads, and truck driver trainees. That's why we have programs in place to help you get a job and the experience you need to move your career forward . . . If you're like many new truck drivers, you've probably already discovered that most companies require you to have experience in order to get a job. But experience is hard to come by if you don't have a job. It's a classic Catch 22. By giving new and inexperienced truck drivers jobs and mentors, who will ride with them for up to 300 hours, Swift can help ensure that you learn the ropes from a professional truck driver, are confident behind the wheel, and get any additional training you need to drive safely and succeed at Swift."
Was your Swift truck accident in Michigan caused by an inexperienced driver?
Whether the Swift truck accident in Michigan that injured you or a loved one was caused by a new and inexperienced Swift driver will depend on the facts of your case. However, research into driver-inexperience has shown that "the first year of driving a CMV is riskier in terms of crash rates, crash involvement, and moving violations, regardless of age."
(Source: National Surface Transportation Safety Center for Excellence (Housed at the Virginia Tech Transportation Institute, "Commercial Motor Vehicle Driver Risk Based on Age and Driving Experience," April 17, 2020)(Abstract))
Was the driver shortage in the U.S. a factor in your crash?
It will depend on the facts of your case. The American Trucking Association estimates there is a shortage of 80,000 truck drivers in the U.S. and the number could jump to 160,000 by 2030. For carriers like Swift, that puts enormous pressure on them to hire whomever they can to drive their 15,000-vehicle fleet.
Unfortunately, the driver shortage, which is not likely to go away any time soon, increases the risk that more new and inexperienced and potentially under-qualified drivers are going to be on the roads with the rest of the innocent and unsuspecting driving public.
Pain and suffering after compensation
If you or your loved one has been seriously injured in a Swift truck accident in Michigan, you may be able to sue and recover pain and suffering compensation and other economic damages from Swift Transportation Company, the at-fault truck driver and any other responsible parties.
Wrongful death lawsuit if someone dies in a crash
If a Swift truck accident in Michigan has taken the life of your loved one, you and your family may be able to pursue a wrongful death lawsuit against Swift Transportation Company, the at-fault truck driver and other responsible parties.
A Michigan wrongful death lawsuit allows you and your family to recover damages for: (1) medical, hospital, funeral, and burial expenses; (2) pain and suffering compensation; and (3) loss of the deceased's financial support, society and companionship.
Who can you sue after a Swift Truck Accident?
An experienced truck accident lawyer will help you determine which of the following parties you may be able to sue after a Swift truck accident in Michigan: (1) Swift Transportation Company; (2) the Swift driver who caused the crash; (3) the maintenance company; (4) the shipping company; (5) the load broker; (6) the leasing agent; (7) the trailer owner, if separate from Swift Transportation Company; (8) the loading company; and (9) the truck manufacturer.
No-Fault benefits
When you have been injured in a Swift truck accident in Michigan, you are entitled to collect No-Fault PIP benefits from the responsible auto insurance company to help pay for your medical bills, lost wages, transportation costs for medical appointments, and attendant care services.
To protect your right to recover No-Fault benefits, you must file an application for No-Fault benefits with the responsible auto insurance company within one (1) year after your accident. (MCL 500.3145(1) and (4))
Generally, the insurance company that is responsible for paying your No-Fault insurance benefits will be your insurer or the insurer of your spouse or a relative living in your home. If no coverage is available through those sources, then you will need to apply for No-Fault benefits through the Michigan Assigned Claims Plan.
If you do not file your application on time, then the auto insurance company will use this to deny your claim and refuse to pay any and all of the No-Fault benefits you would have otherwise been entitled to.
Were you injured in a Swift Truck Accident in Michigan? Call Michigan Auto Law now!
If you are injured in a Swift truck accident in Michigan and you want to know about your legal rights to sue for pain and suffering compensation as well as other noneconomic and economic damages, you can speak to an experienced truck accident lawyer at (248) 353-7575 for a free consultation. You can also get help from an experienced trucking attorney by visiting our contact page or chat feature on our website.
For more than 50 years, our attorneys have been helping people like you who have been injured in a serious truck crash injury and death cases. Our lawyers understand the physical, emotional and psychological hardships you are experiencing. We can help.
Michigan Auto Law specializes in truck accident cases and receives referrals from lawyers all over Michigan and the U.S. Attorney Steven Gursten is a past-president of the American Association for Justice's Truck Accident Litigation Group and speaks at legal seminars throughout the country teaching other attorneys how to handle truck accident cases involving Swift Transportation Company and other motor carriers. Michigan Auto Law has an extensive record of success, including recovering the highest recorded truck accident jury verdicts and settlements over multiple years, according to year-end compilations of settlements and trial verdicts by Michigan Lawyers Weekly. These include:
$34.5 Million – Our team secured the largest-reported tractor-trailer crash settlement in the U.S. for that year. It is the largest truck settlement by an attorney in the state.
$14.3 Million – Our attorneys won this truck accident verdict in Clinton County in a case involving a traumatic brain injury, extensive economic damages and loss of consortium. The defense's final pre-trial settlement offer was $25,000. This was the largest-reported motor vehicle trial verdict in Michigan for that year.
$13.5 Million – Our attorneys settled a case for a victim in a car vs. tractor trailer crash who suffered major burn injuries.
$10.5 Million – We obtained this truck accident recovery for a woman who was seriously injured when a truck crashed into her vehicle.
$9 Million – Our truck accident lawyers obtained this recovery for a man who lost both of his legs in a rear-end collision. This was the largest pain and suffering trucking settlement of the preceding decade for a rear-end crash in the state.
$6.2 million – This confidential out of state trucking death case was settled by a Michigan Auto Law attorney who was brought in to try the case by another attorney after the insurance company made a "final" offer of $1 million dollars to the widow of the man who was killed.