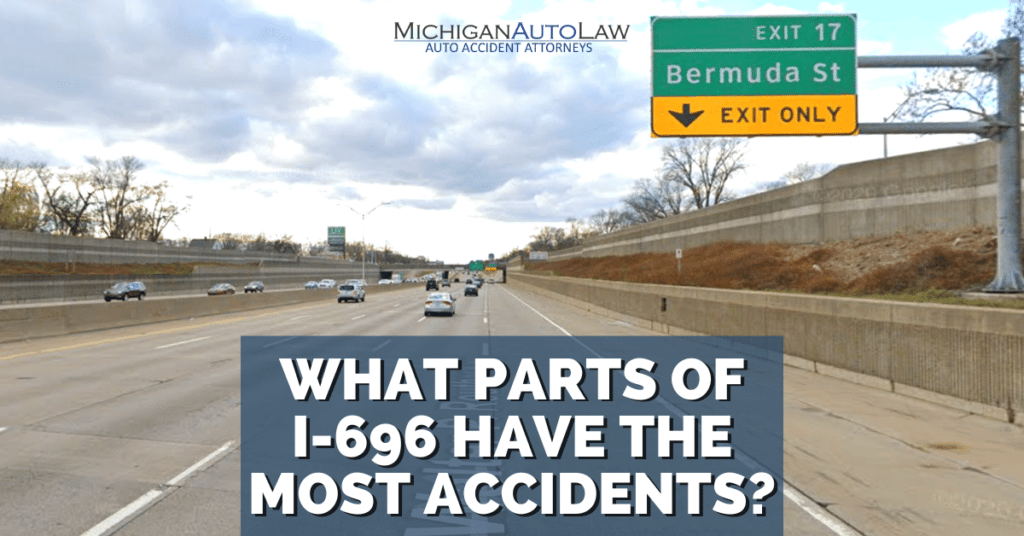 The top 10 Michigan road segments with the most car accidents on I-696 from 2016 through 2020 are all located in Oakland county. Overall crashes continued to drop in 2020, but fatal crashes on the highway increased. The time of day with the most crashes is 4-6 pm.
Driving on interstates, especially in congested traffic areas, always poses a challenge, but with so many drivers speeding, talking on the phone, texting, driving under the influence of alcohol or drugs, and/or driving without having gotten enough sleep, the dangers we all face seem to get worse every day.
To stay safe and avoid I-696 car accidents, we encourage all drivers on all roadways in Michigan to drive safely, which means driving defensively and attentively, staying within the speed limit, wearing seat belts (in the front and back seats) and putting down the phone while you are behind the wheel.
Our attorneys at Michigan Auto Law would like to thank the Michigan State Police Traffic Crash Reporting Unit for their assistance in providing the underlying automobile crash police report data and the crash information that we use to identify the road segments with the most crashes on this highway from 2016 through 2020. The underlying auto accident report data analysis for the list below is based on traffic accident reports filed by local law enforcement and state police departments throughout Michigan.
Top 10 Road Segments with the Most I-696 Car Accidents for 2016 through 2020
1. EASTBOUND BETWEEN BERMUDA ST/MOHAWK AVE AND CAMPBELL RD/HILTON RD, Royal Oak, 286 Total Crashes, 120 Injuries
2. WESTBOUND BETWEEN HALSTED RD AND DRAKE RD, Farmington Hills, 245 Total Crashes, 82 Injuries
3. EASTBOUND BETWEEN CAMPBELL RD/HILTON RD AND EASTBOUND I-696/I 75 RAMP, Royal Oak, 199 Total Crashes, 85 Injuries
4. EASTBOUND BETWEEN S US 24/S M 10 RAMP AND M 10, Southfield, 149 Total Crashes, 36 Injuries
5. WESTBOUND BETWEEN DRAKE RD AND FARMINGTON RD, Farmington Hills, 146 Total Crashes, 45 Injuries
6. EASTBOUND BETWEEN I 75 CHRYSLER/STEPHENSON RAMP AND I-696/N I 75 RAMP, Royal Oak, 125 Total Crashes, 53 Injuries
7. EASTBOUND AND I-696/AMERICAN RAMP, Southfield, 107 Total Crashes, 27 Injuries
8. WESTBOUND BETWEEN ORCHARD LAKE/I-696 RAMP AND ORCHARD LAKE RD, Farmington Hills, 103 Total Crashes, 25 Injuries
9. WESTBOUND BETWEEN ORCHARD LAKE/I-696 RAMP AND FARMINGTON RD, Farmington Hills, 95 Total Crashes, 15 Injuries
10. EASTBOUND BETWEEN DRAKE RD AND FARMINGTON RD, Farmington Hills, 94 Total Crashes, 25 Injuries
Source: Michigan State Police Traffic Crash Reporting Unit.
Note: Road Segments are defined as sections of a road as reported by law enforcement observation at the scene of an accident. Segments can vary from less than 2/10 of a mile to up to 2 miles in length.
Royal Oak road segment has most highway crashes
For the past five years, the half mile stretch of Eastbound I-696 in Royal Oak just west of the busy I-696 & I 75 interchange (between Bermuda St/Mohawk Ave and Campbell Rd/Hilton Rd) had the most I-696 car accidents at 286. Forty-two percent of those crashes involved injuries.
Three Royal Oak portions of I-696 made our Top 10 list above.
Five Farmington Hills road segments among highest for crashes
Farmington Hills appears five times. I-696 between Halsted and Drake Roads was #2 on the overall list with 245 crashes. Only 33% of those auto accidents involved injuries.
Use caution in these busy areas as speed is usually a contributing factor to many injury crashes along freeways.
Five-year trends for crashes on the highway
Continuing an already existing downward trend, overall and injury-related I-696 car accidents decreased in 2020 due to the reduced traffic levels resulting from lockdowns and remote work for many people. There were 39% fewer crashes on the highwayF in 2020 than in 2019.
Unfortunately, fatalities increased in 2020 after a decrease in 2019.
See below for five-year trends from 2016 through 2020 in overall, injury and fatal crashes for the highway:
(Source: Michigan Traffic Crash Facts (MTCF) website)
When do I-696 car accidents in Michigan occur?
From 2016 through 2020, the time of day with the highest number of I-696 car accidents in Michigan was 4-6 p.m. Wednesday was the day of the week with the most crashes and the month with the highest total number of crashes on the highway was January.
Were you injured in an I-696 car accident? Call for a free consultation with a Michigan Auto Law car accident attorney
If you were injured in a crash on this highway and you have questions about your legal rights to pain and suffering compensation, economic damages and auto No-Fault insurance PIP benefits, you can call toll free anytime 24/7 at (248) 353-7575 for a free consultation with one of our experienced car accident attorneys. You can also get help from an experienced injury attorney by visiting our contact page or you can use the chat feature on our website.