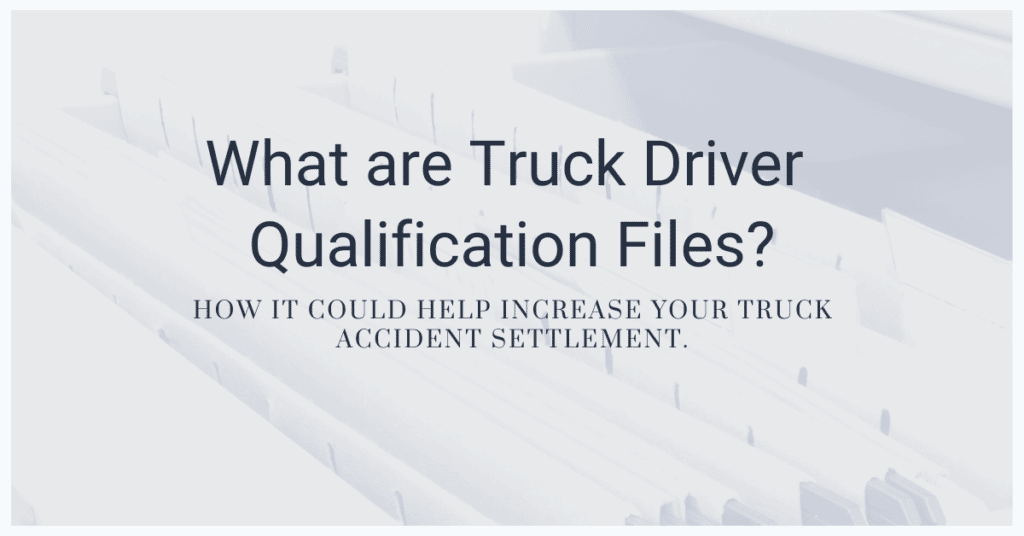 The Federal Motor Carrier Safety Administration (FMCSA) require that trucking companies maintain a qualification file for all of their truck operators, and lay out what should be contained within the file
In the past, I was interviewed by the Michigan Lawyers Weekly newspaper on a truck accident trial verdict that was affirmed by the Court of Appeals. One of the key points I made to the reporter was that most attorneys who litigate truck accident injury cases are missing the negligent hiring and negligent entrustment claims. The reason: They aren't doing their legal homework and going through the driver qualification file of the truck drivers they hire.
What is a Driver Qualification File?
The Federal Motor Carrier Safety Administration (§391.51) require that trucking companies maintain a driver qualification file (record-keeping requirement) for all of their truck drivers that operate vehicles with a gross vehicle weight rating/gross vehicle weight of 10,001 pounds or more and/or who transport hazardous materials.
How Long Do You Have To Keep Driver Qualification Files?
The employer is required to keep the file for three years after the driver leaves their employer.
What Is Required In A Driver Qualification File?
At a bare minimum, the following items are required in a driver qualification file:
The truck driver's application for employment;
The truckers motor vehicle record;
A copy of the driver's road test/certification (or a copy off a road test certificate if it is less than three years old);
A photocopy of the trucker's commercial driver's license (CDL);
The background investigation performed by the trucking company; and
A medical examiner's certificate.
Why FMCSA Regulation §391.51 Is Important
The regulation was put in place to prevent the hiring unsafe truck drivers who can be paid less than a driver with an excellent safe driving history, which is a perverse financial incentive for many companies to skip this regulation entirely.
Why The FMCSA Regulation §391.51 Is Important For Truck Accident Lawyers
Having the driver file is one way for truck accident lawyers to check and make sure other regulations are being followed. The driver's file is often a good place to find information about what kind of investigation (if any) the trucking company performed before putting their trucker behind the wheel of an 80,000 pound vehicle.
I've personally found from litigating these cases that motor carrier companies that are safe and care about safety will do a much more thorough background check before entrusting an 18-wheeler to a trucker who has a bunch of accidents on his driving record, for example. Safe companies make sure truckers do not have serious traffic violations (like speeding, or reckless driving, etc.) and have not failed drug tests. They make sure the truckers they hire have proper credentials before even getting on the road.
Related to this, teamsters and other unions do a great job of protecting truck drivers from abuse, and rewarding safe drivers. This is one example of a success story of companies and unions working together where the public benefits directly. And safer truck drivers are paid more fair wages, and they're protected from the kinds of pressure I often see as an attorney when they testify how they were forced to drive over service hours, or to skip inspections, or commit other safety violations by the company or the company's safety director.
There will be a lot of information that can substantiate amending a lawsuit to add counts for punitive damages, or for negligent hiring and entrustment.
But first, lawyers who litigate these cases need to look.