Why Mayor Duggan says Detroit billboard lawyers are driving up costs, even when they're not from Detroit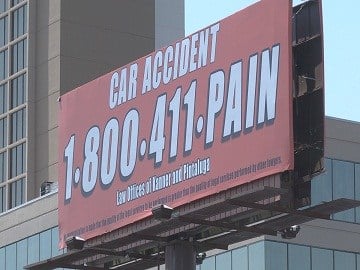 First, full disclosure: I was personally approached to be the Michigan-based law firm behind the billboards for "Motor City Accident Attorneys" several years ago. I believe I was the first law firm they contacted. After a few brief discussions with one particular attorney and after a few Google searches, I decided to walk away. The business model behind "411 Pain" and aggressive billboard advertising and car accident solicitation was not the right fit for myself and my law firm.  We are not associated with the Motor City Accident Attorneys, which is now the Detroit-based law firm "franchise" of  "411 Pain."
The 411 Pain marketing campaign is, however, a rather clever campaign aimed particularly at car accident victims by a Delray Beach, Florida, personal injury law firm. Obviously, these Delray Beach lawyers found other lawyers to work with in Metro Detroit, and are now calling themselves the "Motor City Accident Attorneys."
The reason I'm writing about this today is not to talk about the "Members and Managers" of Motor City Accident Attorneys or the Florida law firm associated with it (which is easily available to anyone who wants to look at the Articles of Organization and the 2014 and 2015 "Annual Report & Annual Statement" filed by "Motor City Accident Attorneys" (ID #E2296H) with the Michigan Department of Licensing and Regulatory Affairs (LARA), the State Bar of Michigan's "Membership Directory" and the Florida Department of State's Division of Corporations). But more specifically, because this is one timely example of what Detroit Mayor Mike Duggan was testifying about before the Michigan Senate Insurance Committee, when he described the problem of billboard lawyers in Detroit.
And while Mayor Duggan does want to bring out-of-state business to Detroit, I am pretty sure this is not the type of new business he was hoping to bring to the Motor City.
But Michigan's No Fault insurance laws are a tempting plum for out-of-state personal injury law firms, who see big opportunity here. And when combined with massive advertising and targeting of Detroit automobile accident victims, this has now also become a big driver in No Fault costs and No Fault lawsuits.  It is a particular problem for cities such as Detroit, which is what Mayor Duggan described last Tuesday.
Related information: