Hit and run car accidents in Detroit now an epidemic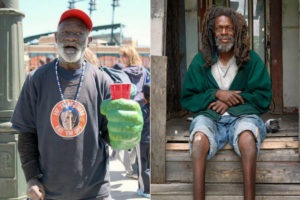 The tragic consequences of hit and run car accidents are front and center in the news this week, as three people have died in Detroit from hit and runs. A 6-year-old boy was killed on his way to the school bus stop and the driver remains to be found, according to a story in The Detroit Free Press, "Mom of 6-year-old hit-and-run victim asks driver to turn herself in to police."
And a woman in her 30s was hit and killed at Schaefer and Capitol Street by a Ford Escape. Meanwhile, investigators continue to search for a dark-colored SUV and the driver responsible for killing a bicyclist in a hit-and-run on Detroit's southwest side last week.
These three untimely deaths also come at the heels of the deaths of the two local men who were familiar staples around Detroit's Comerica Park — James Van Horn, 66, known as the "Eat 'em up, Tigers" guy and Michael Alston, 55, known as "Dreadlock Mike."
Not as well publicized is just how common these hit and run car accidents have become in some parts of Michigan, such as in cities like Detroit. While these hit and run deaths are the most prevalent in Detroit, they are a problem everywhere.
What makes the problem worse in Detroit is the huge number of uninsured drivers, which is compounded by other serious safety issues after a car accident, such as the lack of working streetlights and the pathetically slow emergency response times by police and EMS.
A recent article in the Detroit Free Press, Detroit hit-and-run deaths highlight city's woes: no streetlights, slow emergency response, shed some light on the hit and run crisis in Detroit:
In 2012, 18 people died in hit-and-run crashes in Detroit — 39% of fatal hit-and-runs in Michigan.
In 2011, 20 people died in hit-and-runs in Detroit, 38% of fatal hit and runs in Michigan
– Michigan State Police Office of Highway Safety Planning
The chart below illustrates just how many hit and run car accident deaths there are in Detroit compared to Michigan as a whole: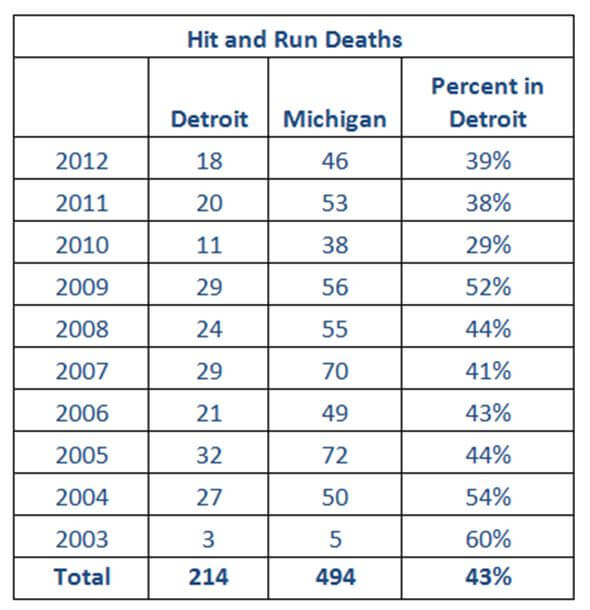 When Van Horn and Alston died, three of the four streetlights were off near the intersection where the men's belongings were found. Bill Nowling, spokesman for emergency manager Kevyn Orr, estimated in the Free Press article that about 38,000 to 40,000 of the city's 88,000 streetlights aren't working.
An EMS came to the scene within 10 minutes of being called, and the police arrived within 40 minutes.
I often write about the driving crisis in Detroit regarding drivers who do not have auto insurance and expose themselves to immense personal liability and lack of No Fault insurance benefits if they're involved in a car accident. The prevalence of temporary binder auto insurance policies that lapse in weeks and the huge numbers of driving uninsured in the city are a huge problem.
In fact, statistics from the Detroit Legal News estimate that nearly 50% of Detroit drivers are behind the wheel with no car insurance. So if you don't have insurance and are involved in a crash where the other driver flees the scene, you are also out of luck.
And of course not having any auto insurance is a huge reason why so many Detroiters will be more inclined to flee and drive away if they've caused a car accident.
For more information about hit and run accidents in Michigan, take a look at our blog, Top 7 facts about hit and run accidents in Michigan, which includes penalties for hitting and running, and your legal rights if you're a victim of a hit and run.