Our brain injury lawyers participated in March's Traumatic Brain Injury Awareness Month to help car accident victims with TBI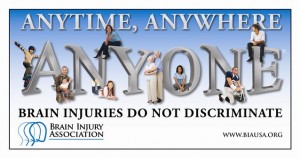 Last month was Traumatic Brain Injury (TBI) Awareness Month. To get people talking about the importance of understanding this complicated injury, our brain injury lawyers have made a donation to the Brain Injury Association of Michigan.
During the month we also posted blogs giving lawyers and brain injury accident victims information on Michigan's unique laws regarding brain injury, including the "closed head injury" exception under our No-Fault auto accident law. We also had our attorneys give legal talks on the handling TBI lawsuits and added statistics, tips and other information on our Michigan Auto Law Facebook page.
From this year's brain injury awareness campaign, our lawyers raised $2,500 for the Brain Injury Association of Michigan.
The Brain Injury Association of Michigan is a non-profit organization that provides education, advocacy, research, prevention information, opportunities and support to brain injury survivors, their families and the people who serve them.
Each year in the U.S., 1.7 million people will sustain a brain injury. And auto accidents are the second-leading cause of traumatic brain injury, according to the Brain Injury Association of America.
Every year in the U.S., direct medical costs and indirect costs of TBI, such as lost of productivity, total an estimated $76.3 billion each year (Brain Injury Association of America).
How does this happen? As I've written about before, when brain injury accident victims are not properly diagnosed and don't receive the medical care they require, taxpayers often end up footing the bill. The medical and social complications of brain injury are very high, and devastating. They can include dementia, Alzheimer's, family dysfunction and divorce, unemployment, suicide, and sadly sometimes involvement with the criminal or juvenile justice system or homelessness, as people's lives spiral out of control.
We have a long way to go in our fight against traumatic brain injury, and that starts with medical professionals and brain injury lawyers both learning to be better equipped to protect people with TBI. Hopefully, the donation to the Brain Injury Association of Michigan made by our lawyers is a small start.
Keep reading our Michigan Auto Lawyers blog for more posts on traumatic brain injury, including legal developments and tips for lawyers and brain injury accident victims.
– Steven M. Gursten is a brain injury lawyer and partner of Michigan Auto Law. He is a member of the Executive Board of the American Association for Justice Traumatic Brian Injury Lawyer Litigation Group. Steve has received the highest reported trial verdict and settlement for a TBI victim in Michigan in multiple years.
Related information to protect yourself:
Michigan law recognizes tragic relationship between car accidents and TBI
8 tips to keep your brain healthy
Traumatic brain injury from Michigan auto accidents
Michigan Auto Law is the largest law firm exclusively handling car accident, truck accident and motorcycle accident cases throughout the entire state. We have offices in Farmington Hills, Detroit, Ann Arbor, Grand Rapids and Sterling Heights. Call (248) 353-7575 to speak with one of our Michigan brain injury lawyers today.