Motorcycle accident lawyer says amendment to reduce medical coverage requirement for motorcyclists to only $20,000 is simply insane, a boon to insurance companies and a hit to taxpayers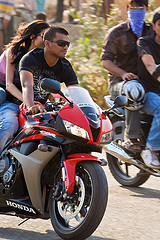 Last week, the state House passed a bill repealing Michigan's law that requires motorcyclists to wear protective motorcycle helmets. I've been predicting this senseless law to pass all along. But that doesn't mean as a motorcycle accident lawyer who has seen the consequences of what happens when people ride without helmets, I won't go down swinging.
This is a horrible, stupid law. It guarantees more motorcycle owners will die, more motorcycle owners will be catastrophically injured, and that all of us – as taxpayers – will be left footing the bill for hundreds of millions of dollars more as these brain injured motorcycle riders get pushed onto Medicaid.
But hey, it's great for the politicians who strengthen their chances of being re-elected and it's great for the insurance companies, who lock in profits and limit their exposures. It's just that the motorcycle helmet repeal is absolutely terrible for the rest of us.
If there is any hope left, it is this: even though the motorcycle helmet repeal has now passed the Senate and the House, it's still unclear whether Gov. Snyder will sign it. Snyder has made several public statements that he would consider the motorcycle helmet repeal, but as part of a larger effort to "reform" Michigan's No-Fault insurance system.
And here's SB 0291 itself, as passed by the Michigan House.
Bad and worse
What's worse than the House passing this bill? How about that the House actually made it worse than the Senate version. The Senate version required motorcycle owners to have $100,000 in No-Fault medical coverage (woefully insufficient), but the House reduced that already inadequate amount further down to a ridiculous $20,000. The bill now heads back to the Senate for approval.
Again, $20,000 is woefully inadequate and likely will be blown on the first day in the emergency room after a catastrophic motorcycle injury accident. And who is left to pay for the injured bikers healthcare should this bill pass? We are, the taxpayers, as the cost of paying for a lifetime of catastrophic medical care gets shifted to all of us from the insurance companies once whatever No-Fault (PIP) amount – be it $20,000 or $100,000 – ends up in the final legislation.
As Rep. Dian Slavens, (D-Canton Township), who urged the lower chamber not to support the bill, said, abolishing helmet laws has been a costly mistake in other states:
"When universal helmet laws were repealed in other states, hospital admissions for (traumatic brain injury) increased 42-80 percent and acute treatment costs more than doubled due to increased injury severity. (This bill's) proposed $20,000 medical insurance coverage will not sufficiently cover the total initial and long-term costs associated with a serious TBI," Slavens said.
Now advocates for the helmet repeal are saying that a helmet less state would allow for more tourism. Really? As I have posed before, what's more important, saving the lives of our motorcycle riders, or allowing a few more tourists to ride with the wind in their hair?
– Steven M. Gursten is partner of Michigan Auto Law and is recognized as one of the nation's top motorcycle accident lawyers. He received the highest motorcycle settlement in the state last year, according to Michigan Lawyers Weekly. Steve has spoken at trial seminars on motorcycle lawsuits and is available for comment.
Related information to protect yourself:
What happens when a motorcyclist causes a motorcycle accident in Michigan?
Michigan motorcycle accident law FAQs
Motorcycle helmet law repeal will result in more injuries, deaths and costs
Michigan Auto Law is the largest law firm exclusively handling car accident, truck accident and motorcycle accident cases throughout the entire state. We have offices in Farmington Hills, Detroit, Ann Arbor, Grand Rapids and Sterling Heights to better serve you. Call (248) 353-7575 for a free consultation with one of our Michigan motorcycle accident lawyers.