A closer look at Detroit Bus Company Founder Andy Didorosi's idea to help Detroiters gain access to affordable car insurance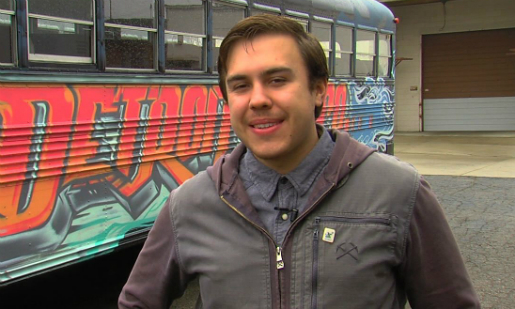 It's estimated that more than half of Detroit residents are driving without No Fault auto insurance due to the extremely expensive rates. I've been extremely vocal about this crisis.
The courts in Michigan allow insurance companies to punish residents of cities, such as Detroit and Pontiac, by the use of credit scoring, a practice that the courts in most other states have found illegal and discriminatory. It's  usually the poorest Detroit residents who are charged the most for auto insurance – an average of $4,000 a year.  And because of the incredibly draconian way that people who do not have car insurance are punished under Michigan law, I've called this a civil rights issue.
If a Detroit resident is ever hurt in a serious car crash or truck accident, under our law, they are barred from the courtroom.  They actually lose their rights under the 7th Amendment to bring a lawsuit against a negligent party for pain and suffering compensation, and for that matter, from any other sort of legal recovery  from the driver who causes the crash.  And, since they have no auto insurance, they are also  barred from receiving any No Fault insurance benefits. This even goes if the at-fault driver is drunk driving or texting while driving, and kills or disables a completely innocent person.
And on top of it all, they perversely may even be responsible for paying back the insurance company of the drunk driver who caused the accident for the medical bills and other No Fault insurance benefits that the wrongdoer's insurance company pays out to the driver who caused the car wreck to begin with!
The Michigan No Fault law requires everyone in Michigan to carry auto No Fault insurance, which currently provides  necessary medical benefits and three years of wage loss to seriously injured auto accident victims.
But for many people in Detroit, choosing to go without auto insurance is a matter of putting food on the table versus abiding by the law requiring them to carry No Fault.
Driving without car insurance usually wins when people have to choose.
What if there was a better way? And by better way, I certainly don't mean the No Fault "reform" measures like HB 4612.  These are just a power-grab by the  deep-pocketed insurance industry to further maximize its profit margins in this state. The measures on this insurance company wish-list would cap critically necessary medical benefits for auto accident-related injuries. They would force people into bankruptcy and force the taxpayers to foot the bill, instead of the insurance companies.
But there may be another way. This leads me to an interesting idea that's floating around by Andy Didorosi, founder of the Detroit Bus Company. Andy is currently gauging interest on building an auto insurance co-op by Detroiters for Detroiters.
The basic idea of a co-op is that consumers get together and start a company to produce something that otherwise might not be produced or is under-produced.
Andy stresses that there's currently no organization, no precedent and no money behind the Detroit car insurance co-op just yet; and that he's just the humble organizer. He is aiming to pull everyone together toward a common goal and see what's possible through self-organizing.
In addition to the problem of Detroiters driving without insurance, Andy cites the sky-high car insurance rates as a barrier to folks moving to the city and declaring themselves Detroiters.
More about Andy: Andy Didorosi is a 26-year old Detroit native. He founded the Detroit Bus Company to help address Detroit's transit issues by providing public routes for a donation, private rentals and tours. Also, the buses are biodiesel-powered and eco-friendly.
The Detroit auto insurance co-op is a fantastic idea.  I don't know Andy  Didorosi, yet, but I'd like to meet him.  And as a lawyer who sees the consequences of the status quo every day, I'm certainly looking forward to seeing what comes of his vision and hoping for the best.  Given his entrepreneurial passion and demonstrated success to date, I wouldn't bet against him.