Buckle up, lower your risk of being injured  over Memorial Day  weekend, when your risk of injury from a car accident peaks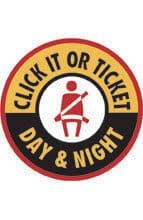 Summer is finally approaching with Memorial Day this weekend (even though it snowed briefly last Sunday). As weary Michigan families prepare for the warm weather at last, many will hit the road for the Memorial Day holiday. Our team of Michigan Auto Law attorneys would like  to wish everyone a great holiday and remind everyone to buckle up.
The police also want you to buckle your safety belts too, but they might be writing tickets and not asking you as nicely. The National Highway Traffic Safety Administration (NHTSA) also wants you to wear your seatbelts.
NHTSA is running its "Click It or Ticket" campaign from May 20 to June 2, 2013. "Click It or Ticket," is the most successful safety belt enforcement campaign ever, and has contributed to increasing local and national safety belt usage rates.
People might not like the tickets, but the campaign has saved lives, and we support it.
Back to the tickets.  In Michigan, police in 26 counties will enact a zero-tolerance enforcement of safety belt laws throughout a designated series of safety belt enforcement zones.
Why is there more seat belt enforcement throughout Memorial Day weekend?
According to the National Highway Traffic Safety Administration (NHTSA), for the past six years, the Memorial Day holiday weekend has averaged 11.5% more traffic fatalities than similar non-holiday periods.
In Michigan, the results of preliminary reports indicate eight people lost their lives in seven separate traffic automobile crashes during the 2012 Memorial Day holiday weekend. During the 2011 Memorial Day holiday weekend, nine people died in car accidents, according to the Michigan State Police (MSP).
Of the eight fatalities in 2012, three were known to have used seat belts, and alcohol was a known factor in two of the seven wrongful deaths.
The primary audience for Click It or Ticket continues to be men ages 18 to 34, which research shows are less likely to wear seat belts.
As part of Click It Or Ticket, there will be increased advertising, community outreach and marked enforcement zones designed to increase seat belt use and awareness.
Related information: