Tips for accident lawyers handling school bus  lawsuits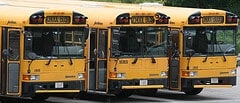 As a truck accident lawyer for nearly 20 years, I've spoken at many seminars on bus accidents, and how the rules for bus crashes can be very different than for other commercial vehicles.  What's interesting is that even lawyers familiar with commercial vehicle cases often don't understand the interplay between the Federal Motor Carrier Safety Administration (FMCSA) and the rules involving bus accidents.
The FMCSA governs all commercial motor vehicles driving in the U.S., and that includes buses. But (and this is a big "but") for the most part, there are certain categories of buses that are exempt from the FMCSA.  Chief among these are school buses.  Lawyers who litigate a school bus injury case by the same rules as a truck crash are going to be in store for a big surprise.
School buses are not governed by the FMCSRs, unless they provide interstate transportation or; it is a contract bus company, but then only when performing extracurricular transportation.
Here's an explanation on school bus guidelines from the FMCSA.
And here's the ETA Package of Motor Carriers of Passengers, from the FMSCA.
 – Photo courtesy of Creative Commons, by Twix
Related information:
Back to school bus safety tips