So-called textualist judges dismiss bus accident cases based on false logic while ignoring law that works in bus accident victims' behalf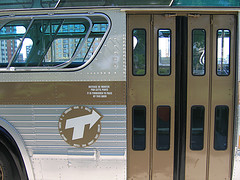 I've helped a number of personal injury victims injured in serious bus accidents over the years. But recently, the law has swung hard against the rights of Michigan residents injured in bus accidents. The way Michigan judges are now treating bus accident victims is outrageous. In a recent spate of bewilderingly unjust cases, appellate judges have approved the dismissal of bus victims' lawsuits based on a hyper-technical argument made by bus lines that defies justice, common sense, morality and logic.
Even though the bus lines knew about all of these recent bus accidents and the resulting personal injuries to the accident victims, SMART and other bus companies have been successful in escaping accountability for the harms they have caused. This is because, as the bus lines contended, accident victims didn't personally provide the bus lines with proper notice within 60 days of the bus accidents and their injuries sustained in the accidents. Ignored is that the bus companies already had notice, including from the bus driver, the police, multiple incident reports, and in one case, a phone interview with the accident victim.
Exacerbating my concern is that bus accidents often involve people who live in Detroit and other larger urban areas who may have less legal sophistication or access to attorneys than others. In general, I fear that people who ride public transportation are less able to avail themselves to resources that would include a lawyer who could warn them about this dangerous new mine field that awaits them only 60 days after a motor vehicle accident under Michigan law.
It is also troubling that no less than eight Michigan Court of Appeals judges have said letting the bus lines off the hook was the right thing to do.
Amazingly, these judges reasoned that learning of the bus accidents and injuries through accident reports, police reports, and even phone interviews with the accident victims(!), does not satisfy Michigan's "notice" law which — the judges assumed — requires the accident victims to provide notice to the bus companies, apparently well-beyond the notice they already have received. The only ones punished are the bus accident victims.
Bus Accident Victims Beware: This is More Dangerous than Michigan Judges Abandoning Common Sense
But throwing common sense to the wind isn't the only outrageous thing Michigan judges are doing to bus accident victims. Judges are also faulting them for not living up to fictitious, legal requirements that do not even exist under Michigan law.
This is exactly what the judges did in at least three bus line cases that I have previously written about :
SMART Bus Accident Takes Another Person for a Ride
Legal Loophole Lets SMART Off the Hook Despite Causing Serious Accident
Again, Michigan's "notice" law, which was at issue in the bus line cases, says nothing about requiring the accident victim to provide notice. The law, MCL 124.419, simply says that "written notice … shall be served" upon the bus line.
But that detail didn't get in the judges' way of making sure the bus accident victims would never get their day in court. They devoted not a page, not a paragraph, not a sentence, and not a word trying to rationalize how a law that didn't even mention accident victims somehow imposed on those same unmentioned victims a potentially fatal "notice" requirement.
Instead, the judges side-stepped the messy, complicated work of doing the impossible and opted to simplify things by making the wildly rogue assumption that the "notice" law's notice requirement was meant to apply to bus accident victims exclusively. Accordingly, that freed up the judges to busy themselves with nitpicking and arranging the law's actual words and phrases in a way to justify dismissal of the bus accident victims' lawsuits.
As a personal injury lawyer handling serious bus and truck accidents, I have been able to help many injured people, but I must say, I believe such judicial activism is offensive, especially when it's at the expense of the legal rights of innocent, helpless, and powerless residents who had the bad fortune of riding public transportation services that happened to be involved in a collision that changed their lives.
Bus accident victims should not be treated differently than other motor vehicle accident victims in this state. Not only are they treated differently here, they are discriminated against in the most dangerous way – by being required to provide specific legal notice within 60 days of their bus crash. There is simply no justification or public policy rationale to punish bus passengers so unjustly under our law.
And I suspect at least some of the judges who have continued to dismiss these innocent accident victims' cases know it.
Steven M. Gursten is recognized as one of the nation's top attorneys handling serious car and truck accident injury cases and automobile insurance no-fault litigation. Michigan Auto Law has received the largest reported jury verdict for an automobile accident case in Michigan in seven of the past 10 years, including 2009, according to published year-end verdicts and settlements reports.
– Photo courtesy of Creative Commons, by sfllaw
Related information:
Michigan Commercial Vehicle Rules and Regulations
Basics of Michigan No-Fault Law
Michigan Auto Law is the largest law firm exclusively handling car accident, truck accident, motorcycle accident and bus cases throughout the state. Call (248) 353-7575 if you've been injured in an auto accident, and would like to speak to a lawyer.