Client Testimonials
My wife and I were involved in a bad car accident last summer. For a number of reasons, our case was extremely complex. I knew we would require very skilled attorneys. After some research, it became clear that Michigan Auto Law was a large prominent and capable law firm for serious auto accident cases. Their reported results in the court room were astounding. Hiring Michigan Auto Law was the right decision and one of the best decisions I could have made. My attorney Kevin Seiferheld, along with his legal team took good care of us. They were not only smart and tenacious but also extremely warm and sensitive toward my family. They kept us informed every step of the way and achieved a great result much sooner than we expected. This law firm is large, aggressive, deep in talent and resources and yet they were always very personal and focused on our needs. They are not just our lawyers; they are now close friends. They really do check off all the boxes. I cannot recommend Kevin Seiferheld and Michigan Auto Law enough. For them, there should be 10 stars, not just five.
LOAD MORE
Honors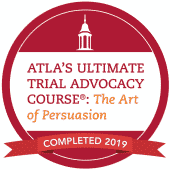 Kevin has been selected by his peers for inclusion in The Best Lawyers™ in America for both 2021 and 2022. This honor is limited to the top 5 percent of all attorneys in America. He has also been selected to the Michigan Super Lawyers list since 2010. Super Lawyers is a listing of outstanding attorneys who have attained a high degree of peer recognition and professional achievement. The honor is limited to the top 5 percent of Michigan lawyers.
Kevin has been listed among the top 1% of attorneys throughout the U.S. by the National Association of Distinguished Counsel. The recipients of this prestigious award have demonstrated the highest ideals of the legal profession.
Kevin has been named to DBusiness Magazine's list of Top Lawyers in Metro Detroit for 2022 and 2023.
Kevin is a graduate of the Ultimate Trial Advocacy Course®: Art of Persuasion course, offered through the National College of Advocacy at Harvard Law School. Recognized as the gold standard in courtroom persuasion training for trial lawyers, the event is sponsored annually by the American Association for Justice (AAJ).
Notable cases
Kevin's settlements and trial verdicts have made the Michigan Lawyers Weekly list of the top-reported verdicts and settlements in Michigan for seven of the past eight years. These include $5.1 million for his clients in a Washtenaw County wrongful death car accident case; $3,325,000 in a Washtenaw County commercial motor vehicle wrongful death case; $2.5 million in Wayne County for an intersection accident involving a semi-truck; $2 million in Oakland County for a nursing instructor's broken leg; $1.85 million in Macomb County for a truck accident; $1.63 million in Van Buren County involving multiple semi-tractor trailers during a snowstorm; and $1.5 million in Calhoun County for a wrongful death car accident.
Among his notable cases:
$5.1 million Washtenaw County Rear-end wrongful death accident
$3.3 million Washtenaw County Commercial vehicle wrongful death accident
$2.5 million Wayne County Intersection accident involving a semi-truck
$2 Million Truck Accident Settlement – Confidential
$2 million Oakland County Head-on collision
$1.85 million Macomb County Truck accident
$1.7 million Oakland County Truck accident
$1.63 million Van Buren County Crash involving multiple semi-tractor trailers during a snow storm
$1.5 million Wayne County Truck accident$1.5 million Calhoun County Wrongful death accident
$1.48 million Macomb County Rear-end accident
$1.375 million Livingston County Rear-end semi-truck accident
$1.25 million Wayne County Rear-end collision involving a semi-truck
$1.17 million Wayne County Car Accident – Overdue No-Fault PIP benefits
$1.16 million Genesee County Pedestrian Accident 
$1.15 million Wayne County Commercial vehicle collision
$1.15 million Oakland County Rear-end truck collision
$1 million Washtenaw County Head-on collision involving distracted driving
$1 million Montana Head-on collision
$975,000 Wayne County Rear-end accident
$950,000 Oakland County Car/Bicycle accident
$935,000 Macomb County Drunk driving accident
$925,000 Oakland County Rear-end accident
$925,000 Macomb County Bus Accident 
$910,000 Berrien County Intersection accident resulting in traumatic brain injury
$900,000 Kalamazoo County Truck Accident Settlement
$850,000 Wayne County Bus accident involving two buses
$850,000 Muskegon County Rear-end accident
$850,000 Washtenaw County Car accident
$850,000 Oakland County Intersection collision
$780,000 Wayne County Pedestrian/bus accident
$765,000 U.S. District Court Truck Accident
$750,000 Wayne County Truck Accident
$675,000 Wayne County Rear-end crash involving a semi-tractor trailer
$650,000 Wayne County Intersection collision
$650,000 Saginaw County Head-on collision
$600,000 Oakland County accident involving tire separating from vehicle on highway
$600,000 Kent County Rear-end accident
$600,000 Oakland County Truck Accident Rear-end collision
$550,000 Monroe County Car accident
$502,500 Lenawee County Motorcycle Accident
$500,000 Oakland County Motorcycle Accident
$500,000 St. Clair County Rollover accident
$500,000 St. Clair County Pedestrian wrongful death accident
Legal Seminars and Presentations
Kevin frequently lectures at legal seminars locally and throughout the country on topics such as truck accident litigation and trial advocacy. He has presented for the Michigan Association for Justice, the New Jersey Association for Justice and New York State Trial Lawyers Association. Kevin has also appeared as an expert commentator on numerous TV news shows including WDIV, Fox 2 News, Let it Rip and Inside Edition.
Events
Speaker, "Deposing the Police Officer and the Accident Reconstructionist in an Auto Negligence Case"; Michigan Association for Justice No-Fault Institute XVIII; Novi, MI; October 8, 2021
Speaker, "Understanding Bubba – Evolving Your Trial Messaging to Reach Today's Jurors"; Michigan Association for Justice's 74th Annual Convention; Detroit, MI; May 2019
Speaker, "Best Practices for Proving Threshold Injuries"; Michigan Association for Justice's 15th Annual No-Fault Institute; Novi, MI; October 2018
Speaker, "Auto Accident Cases With Minimal Vehicle Damage: To Try or Not to Try?"; Michigan Association for Justice's 2013 No-Fault Institute Legal Seminar; Southfield, MI; September 2013
Speaker, "How bus and truck accident lawsuits are different"; Winning Truck and Bus Cases, New Jersey Association for Justice; Atlantic City, NJ; April 2012
Legal experience
Kevin came to Michigan Auto Law from a top Detroit area law firm, where he represented victims of serious auto accidents and medical negligence. By deposing and cross-examining some of the most prominent expert physicians throughout the country, Kevin has developed a vast knowledge of medicine from both the physician and patient perspective.
Memberships and affiliations
Michigan Association for Justice
American Association for Justice
Client Testimonials
I recommend Michigan Auto Law to everyone. My attorneys Alex and Kevin were awesome and very helpful when it came to answering my questions. They were always on top of the game and kept me updated on everything that they were doing. Thank you guys so much for everything you have done for me! I really appreciate it. You guys are the best!!
Kevin, Alex and Elize are awesome! Helped me thur everything answered all and any questions very quick to respond. Thanks so much Michigan Auto Law 10 out of 10 highly recommended!!
I highly recommend Michigan Auto Law. Kevin Seiferheld & Alex Kemp are excellent Attorneys and always very professional. I also want to say thank you to Elize and Daniella for their hard work. I highly recommend this firm and was happy with my results. Thank you
I was involved in a motorcycle accident on 9/27/2019 and while I was in the hospital I was told that I should call Michigan Auto law. I was then contacted by Kevin Seiferheld and he said that he would take my case and he was very helpful and he kept me informed all throughout the case I would recommend this law firm to others.
I had a great experience with Michigan auto law they did a great job on my case Im very happy with the out come thank you guys so much Kevin Seiferheld and Alex kemp I really appreciate you guys
Powered by
ReviewInc
Disclosure
The reviews displayed may or may not be a complete set. Reviews may be removed if they:
i. Are abusive. An abusive review or comment is one that makes personal attacks, threatens, or harasses others, or uses profanity.
ii. Violate privacy. Reviews that mention specific names of individuals or personal information in a manner that is inappropriate and/or unrelated to the performance of the service rendered are subject to removal.
iii. Are not from a current customer.
iv. Contain material falsehoods.
v. Are deemed inappropriate.
To encourage all feedback, positive or otherwise, an equal incentive for reviews, regardless of rating, may have been provided to the reviewer.
Google reviews provided via APIs https://www.google.com/+/policy/embedded-content.html