Client Testimonials
My wife and I were involved in a bad car accident last summer. For a number of reasons, our case was extremely complex. I knew we would require very skilled attorneys. After some research, it became clear that Michigan Auto Law was a large prominent and capable law firm for serious auto accident cases. Their reported results in the court room were astounding. Hiring Michigan Auto Law was the right decision and one of the best decisions I could have made. My attorney Kevin Seiferheld, along with his legal team took good care of us. They were not only smart and tenacious but also extremely warm and sensitive toward my family. They kept us informed every step of the way and achieved a great result much sooner than we expected. This law firm is large, aggressive, deep in talent and resources and yet they were always very personal and focused on our needs. They are not just our lawyers; they are now close friends. They really do check off all the boxes. I cannot recommend Kevin Seiferheld and Michigan Auto Law enough. For them, there should be 10 stars, not just five.
LOAD MORE
Honors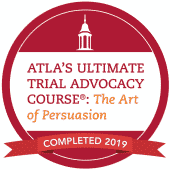 Kevin has been selected by his peers for inclusion in The Best Lawyers™ in America for both 2021 and 2022. This honor is limited to the top 5 percent of all attorneys in America. He has also been selected to the Michigan Super Lawyers list since 2010. Super Lawyers is a listing of outstanding attorneys who have attained a high degree of peer recognition and professional achievement. The honor is limited to the top 5 percent of Michigan lawyers.
Kevin has been listed among the top 1% of attorneys throughout the U.S. by the National Association of Distinguished Counsel. The recipients of this prestigious award have demonstrated the highest ideals of the legal profession.
Kevin is a graduate of the Ultimate Trial Advocacy Course®: Art of Persuasion course, offered through the National College of Advocacy at Harvard Law School. Recognized as the gold standard in courtroom persuasion training for trial lawyers, the event is sponsored annually by the American Association for Justice (AAJ).
Notable cases
Kevin's settlements and trial verdicts have made the Michigan Lawyers Weekly list of the top-reported verdicts and settlements in Michigan for seven of the past eight years. These include $5.1 million for his clients in a Washtenaw County wrongful death car accident case; $3,325,000 in a Washtenaw County commercial motor vehicle wrongful death case; $2.5 million in Wayne County for an intersection accident involving a semi-truck; $2 million in Oakland County for a nursing instructor's broken leg; $1.85 million in Macomb County for a truck accident; $1.63 million in Van Buren County involving multiple semi-tractor trailers during a snowstorm; and $1.5 million in Calhoun County for a wrongful death car accident.
Among his notable cases:
$5.1 million Washtenaw County Rear-end wrongful death accident
$3.3 million Washtenaw County Commercial vehicle wrongful death accident
$2.5 million Wayne County Intersection accident involving a semi-truck
$2 Million Truck Accident Settlement – Confidential
$2 million Oakland County Head-on collision
$1.85 million Macomb County Truck accident
$1.7 million Oakland County Truck accident
$1.63 million Van Buren County Crash involving multiple semi-tractor trailers during a snow storm
$1.5 million Wayne County Truck accident$1.5 million Calhoun County Wrongful death accident
$1.48 million Macomb County Rear-end accident
$1.375 million Livingston County Rear-end semi-truck accident
$1.25 million Wayne County Rear-end collision involving a semi-truck
$1.15 million Wayne County Commercial vehicle collision
$1.15 million Oakland County Rear-end truck collision
$1 million Washtenaw County Head-on collision involving distracted driving
$1 million Montana Head-on collision
$975,000 Wayne County Rear-end accident
$950,000 Oakland County Car/Bicycle accident
$935,000 Macomb County Drunk driving accident
$925,000 Oakland County Rear-end accident
$910,000 Berrien County Intersection accident resulting in traumatic brain injury
$900,000 Kalamazoo County Truck Accident Settlement
$850,000 Wayne County Bus accident involving two buses
$850,000 Muskegon County Rear-end accident
$850,000 Washtenaw County Car accident
$850,000 Oakland County Intersection collision
$780,000 Wayne County Pedestrian/bus accident
$765,000 U.S. District Court Truck Accident
$750,000 Wayne County Truck Accident
$675,000 Wayne County Rear-end crash involving a semi-tractor trailer
$650,000 Wayne County Intersection collision
$650,000 Saginaw County Head-on collision
$600,000 Oakland County accident involving tire separating from vehicle on highway
$600,000 Kent County Rear-end accident
$600,000 Oakland County Truck Accident Rear-end collision
$550,000 Monroe County Car accident
$502,500 Lenawee County Motorcycle Accident
$500,000 Oakland County Motorcycle Accident
$500,000 St. Clair County Rollover accident
$500,000 St. Clair County Pedestrian wrongful death accident
Legal Seminars and Presentations
Kevin frequently lectures at legal seminars locally and throughout the country on topics such as truck accident litigation and trial advocacy. He has presented for the Michigan Association for Justice, the New Jersey Association for Justice and New York State Trial Lawyers Association. Kevin has also appeared as an expert commentator on numerous TV news shows including WDIV, Fox 2 News, Let it Rip and Inside Edition.
Events
Speaker, "Deposing the Police Officer and the Accident Reconstructionist in an Auto Negligence Case"; Michigan Association for Justice No-Fault Institute XVIII; Novi, MI; October 8, 2021
Speaker, "Understanding Bubba – Evolving Your Trial Messaging to Reach Today's Jurors"; Michigan Association for Justice's 74th Annual Convention; Detroit, MI; May 2019
Speaker, "Best Practices for Proving Threshold Injuries"; Michigan Association for Justice's 15th Annual No-Fault Institute; Novi, MI; October 2018
Speaker, "Auto Accident Cases With Minimal Vehicle Damage: To Try or Not to Try?"; Michigan Association for Justice's 2013 No-Fault Institute Legal Seminar; Southfield, MI; September 2013
Speaker, "How bus and truck accident lawsuits are different"; Winning Truck and Bus Cases, New Jersey Association for Justice; Atlantic City, NJ; April 2012
Legal experience
Kevin came to Michigan Auto Law from a top Detroit area law firm, where he represented victims of serious auto accidents and medical negligence. By deposing and cross-examining some of the most prominent expert physicians throughout the country, Kevin has developed a vast knowledge of medicine from both the physician and patient perspective.
Memberships and affiliations
Michigan Association for Justice
American Association for Justice
Client Testimonials
I highly recommend Michigan Auto Law. Kevin Seiferheld & Alex Kemp are excellent Attorneys and always very professional. I also want to say thank you to Elize and Daniella for their hard work. I highly recommend this firm and was happy with my results. Thank you
I was involved in a motorcycle accident on 9/27/2019 and while I was in the hospital I was told that I should call Michigan Auto law. I was then contacted by Kevin Seiferheld and he said that he would take my case and he was very helpful and he kept me informed all throughout the case I would recommend this law firm to others.
My daughter had a case with Michigan Auto Law before. She advised me to give them a call. Alex and Kevin, along with their whole team were so great to work with. They have shown the utmost professionalism throughout the entire process. I plan on recommending them, just as my daughter did me.
My car accident took a toll on my life and it's something that Alex, Kevin and Amy didn't take lightly. They diligently worked hard to ensure that I was compensated for everything that I had been through. They constantly kept me updated and answered questions promptly. In the end I received a settlement that I am happy with. I am thankful to God for leading me to this firm because I couldn't have asked for a better team to work on my case. If you need a team that is professional and who will fight for you don't hesitate make the call. Thanks everyone!
Kevin, Alex and their team have been there for me since they have had their hands on my case. As well as Jeff and Julie, who were also fabulous people! If I have any questions they are always right there with an answer for me. They really have made this process as painless as can be for me and for that I truly appreciate all of you guys! I really am thankful for all you have done/ do! I really did luck out when I chose this law firm. Thank you again for all you do!
I really appreciate the Law Firm handling my case, they were knowledgeable in the law and my rights. My attorney, he kept me informed about my case and offered me a chance to voice my opinion. I would call them again if needed and i would definitely refer them to others.
I was in a car accident, it was the most traumatizing event in my life! Kevin was very attentive and I knew he always had my best interest at heart.
Kevin did a amazing job on my case!
Michigan Auto Law handled my case, in a timely manner. Kevin Seiferheld & staff worked very hard to get me the best settlement. I'm truly thankful.
Kevin Seiferheld and his team did a great job for my case. I highly recommend them for all auto related cases. They were always available to answer any question or consultations. They treated me with respect, confidentiality, and professionalism
Much gratitude to the Gursten family and there excellent team of lawyers and support staff that assisted me through a difficult accident. Both my attorneys, Kevin Seiferheld and Amy Gubesch were outstanding in there support and care over my case. Thank you.
KEVIN SEIFERHELD Is the attorney I called for my mother's auto accident. He was not only concerned with the case, but showed genuine concern for our well being. He made himself available and always thoroughly explained things to us through every step of the process. Words cannot express how truly great full we are for all his help, and understanding. we'd recommend him to all our family and friends.
I found Michigan Auto Law on the internet, and after doing my research decided it was the best place for me. I first worked with Michael Shaffer and then Kevin Seiferheld and Alex Kemp. I am happy with how things turned out and would recommend them to others needing the best legal help after a serious accident.
When i was hurt in my accident Kevin was always attentive to me and my injury needs. My mind was so focused on getting back to work and school but Kevin told me i had to focus on my injuries and rehabilitate so he made sure my family was financially comfortable during that time because i had been through alot. Always returning phone calls and never making me feel unsure of what he promised. I recommend Mr Seiferheld and MichiganAutolaw to anyone that is looking for a stand up attorney and lawfirm to represent them in this type of situation.
I am at PEACE knowing that the attorneys at Michigan Auto Law were the driving FORCE in helping my wife to receive an optimal settlement. THANK YOU to Alex, Kevin and Amy for allowing her to take a backseat so that she could focus on healing from her injuries.
This was my second accident that I had been injured in. I was referred to Michigan Auto Law. Kevin, Amy, and Elize were all great. I even was helped by the founding partner Larry Gursten. He was so kind and spent lots of time talking with me. He even spent time speaking with me while he was at his home in Florida. I am very happy with everyone that has helped me at Michigan Auto Law.
Best attorneys in Michigan for auto accidents. If you're looking for someone who truly cares, Kevin Seiferheld is your guy.
I would like to thank Kevin and his team!! The past three years have been very difficult following my accident however, the assistance and support I have received from Kevin, Amy, and Elize throughout this period decreased the stress. They are the absolute best and ensure they are with you every step of the way!! Thank you Kevin and team for everything!!!!
You are an excellent firm!. I received an excellent support and guidance through these years and most importantly honesty. Thank you :))
I can't say enough good things about my experience with Michigan Auto Law. Everyone that I have met there has been professional, personal and very caring from the beginning. I couldn't have asked for a better team of people to get me through a very long difficult time. I always knew that they were there for me no matter what was happening. Definitely treated me like family. Actually even better than some family members. I never felt like "just a client." Gerry and I can't say Thank-You enough for the kind, compassionate attention that was given to us at all times. Thanks to everyone there.
In this horrible experience came great success. Everyone I worked with from the very moment of being in the hospital to the last day of our case was extraordinary ! Everyone was extremely helpful and I couldn't be more pleased. I'm forever grateful to Michigan Auto Law. Thank for making me feel like my case was the only case you were working on.
My brother in law referred me to Michigan Auto Law. I first met Mike, he was great, friendly, caring, and made us feel we were doing the right thing. I then met Kevin. I was equally as impressed. He spent so much time with us, and was easily accessible. Kevin was able to settle my case quickly. I couldn't be more happy with the outcome.
I cannot express how EASY and professional Kevin, Elize, and Amy were during my case! They are all extremely professional, prompt in returning calls, information and requests. They are a spectacular team and I highly recommend Michigan Auto Law! My case was a lesson in patience and perseverance, but Kevin stood by me and fought for what I deserved! I never felt unimportant or pushed aside whatsoever. My questions were many and each one of them handled each phone call professionally and provided information I could understand easily. I would not hesitate to recommend their practice! Thank you so much! Im a very happy client
I got a recommendation to contact Michigan Auto Law after my accident, and boy was it the best one ever. I could not have asked for a better attorney than Kevin. Kevin and his team were so great. They really took care of me and made sure that I was aware and up to date on every aspect of my case. My whole experience with Michigan Auto Law was SUPER!
I'm so blessed to have found Michigan Auto Law. There wasn't another firm that I crossed that had a team of such qualified lawyers to help me through this legal process in the way they did. If you needed brain surgery, wouldn't you want a neurosurgeon that specializes in your diagnosis? I believe the same is true with Michigan auto law and their team, they have lawyers that specialize in each part of the legal process that your case may go through. Larry Gursten, Jeff Bussell, Amy Gubesch, Elize Simon & Kevin Seiferheld always treated me as if I was the most important case and kept me informed each step of the way. I had many conversations after hours and on weekends to help answer questions I may have. My trial lawyer, Kevin, works around the clock and I am forever grateful to him & his team.
My sister found Michigan Auto Law for me while I was in the hospital after an auto accident. Brandon, Kevin, and Elize were all such great people. Elize is such a trooper. I contacted her a lot. She was very efficient and got back to me right away. The way I was treated at Michigan Auto Law was nothing short of amazing. I want to add that the founding partner Larry Gursten contacted me as well. I was able to speak with him several times. I never thought I was a client, but more likes a friend or family member that they cared about. This firm is a win win!
Kevin and his team were amazing!!!
Michigan Auto Law was great. The stayed in contact with me throughout the whole process and kept me updated at all times. Kevin, Amy and Jordan are the best! I highly recommend Michigan Auto Law.
My boyfriend contacted Michigan Auto Law after I was involved in an accident. My attorney Kevin was great. He always returned my phones calls even on holidays. I feel as if I had a great experience with this law firm and will be recommending others.
Kevin Seiferheld, Brandon Hewitt and Michigan Auto Law helped me through the worst time of my life. After being rear-ended by a semi-truck, I thought my life was over. Kevin and Brandon walked me through the insurance and legal process, and counseled me in my recovery. I have already recommended people to Michigan Auto Law. Thank you
I did a Google search and came across Michigan Auto Law. I wanted to go with a law firm that did not advertise on television. I initially first spoke with Brandon and Larry. An extensive interview with Larry happened. I knew this firm had the utmost dignity, so I chose it. The main attorney I worked with was Kevin. When I met him, I knew he was great match for me. I felt so comfortable with him. He explained the entire process and had me well prepped throughout the entire ordeal. I am very happy with Kevin and my experiences with him. I want to add that his team members Elize and Amy were very helpful in my time of need as well.
I came upon Michigan Auto Law from an attorney friend of mine. He immediately referred me to Michigan Auto Law. I was told they were the best. My experience with them proved to be true. Kevin provided the best advice for me and got me a great settlement. His other team members Jordan and Amy were also instrumental with the outcome of my case. I am happy with the results and level of customer service I received.
My case was genuinely taken care of and I was very satisfied!
Kevin Seiferheld Michigan Auto Law represented me in a fine way. The people at MAL always treated me kindly and politely and made me feel comfortable. Would definitely use them in the future should the need arise.
Kevin treated me so well and was very tenacious. He is very down to earth and professional. His whole team was just a pleasure to work with. I came to choose Michigan Auto Law based on all the great reviews. The guidance I received was invaluable. The reviews speak for themselves and are very real. I am very happy with the outcome of my case and plan on referring others to Michigan Auto Law. It was the best decision I ever made.
Kevin did a great job with my case. His team was also great in helping me out with questions and concerns. Kevin and his staff were always available for me. He really fought for me. I am very happy.
An attorney from Nebraska recommended Michigan Auto Law to me. The whole experience has been wonderful. Kevin fought very hard for my case. I could not have asked for a better attorney than him. He made everything go smoothly for me, which is something I needed because I was really hurt. Amy was also very nice and instrumental in helping to answer any questions or concerns that I had. I am very happy and satisfied with Michigan Auto Law.
Kevin was very professional. Everyone on staff was great at Michiigan Auto Law. Kevin and his team were very responsive to any questions or concerns that I had, which was very impressive. I am very happy and have already recommended a family member here to this firm. You can't go wrong with Michigan Auto Law.
I found out about Michigan Auto Law through another attorney. She knew that Kevin was great at what he does so I decided to call. Once I had a conversation with Kevin I felt very comfortable with him. My questions and concerns were always answered in a very timely manner. He would even call me with updates on my case after business hours. I would recommend Kevin for sure if you are ever hurt in an auto accident.
all is well with me. still have some bad days but not to often. Im no longer in therapy which is a good thing.every now and then I have to go in for a tune-up but its all good. as for my attorney, Kevin, he definitely knows what he is doing. Should we ever need a awesome attorney we have Kevin on speed dial and will use him in a heart beat. We will also refer him to any one that needs an attorney.If Kevin wasn't in his office we would leave him a message and he would also get back to us by the end of the day, if not sooner! But if we needed something now we would turn to Amy. She is one lady that knows her stuff. Always had an answer for us but if for some reason she didn't she would get one for us. To sum things up, we are very happy with our results and its all because of Kevin!!!! Again, we would definitely recommend Michigan auto law to anyone needing legal help but will also tell them to ask for Kevin Seiferheld first!!
Kevin has been remarkable. He has an excellent follow up and follow through. I feel as if he gave me the best advice. Kevin and his assistant were always available to me if I had any questions or concerns. In addition, Kevin has a really warm spirit. He was so very easy to talk to. I would absolutely recommend people to Michigan Auto Law.
Kevin is a very friendly attorney. He answered all of my questions. Jordan is also a great attorney that was really well rounded. Elize was also very friendly to me and on top of things I needed for my case. Amy was very astute in her assistance. The staff here overall is on top of their responsibilities. If you are ever injured in an accident this is the firm to visit.
Kevin is very attentive. I was referred to this firm by another attorney which speaks volumes. Kevin is very thorough with all of the information he provided me with. Elize his secretary was also extremely helpful. I also spoke with Larry. He is a super nice guy and discussed my case with me advising me how things would work. I have already referred several people to this firm and will continue to do so if they are ever injured in an auto accident.
Kevin is a very compassionate attorney. He was interested in my well being. He explained the law to me in a way that I could understand. Kevin kept me informed and I was always able to contact him via phone. I am very satisfied with the outcome of my case and will recommend anyone to this firm.
I really like Kevin. He is an amazing attorney. I felt I could not make it through this and he helped me every step of the way. I really appreciate everything he has done for me. My sister recommended me to this firm and it was well worth it. They told me he was a fantastic attorney and could help me which is why I decided to come here. His support staff was very nice to me as well. I also spoke with Jordan. He is a really great attorney as well and extremely pleasant. He made this experience great for me as well.
Kevin and Amy were very good and helpful attorneys. They always got right back to me really fast and answered all the questions I had. Everybody at Michigan Auto Law, including Jeff Bussell, the first attorney I talked to and the secretaries, was very nice and helpful. I was driving on Telegraph and stopped at a light when another driver rear ended me and pushed my car into the car in front of me. I had a little Focus and the guy behind me was in a big Escalade. I was smashed in between that and a Jeep and really hurt my neck and my lower back. Kevin went after the other drivers' insurance company and helped me get a settlement from them. He is also helping me go after the insurance company so they cover my no fault benefits for my medical. I'm very happy with the job Kevin and everyone at Michigan Auto Law did for me. I can't say a bad thing about anybody here because I was treated so well.
Kevin helped me after I was hit by a distracted driver
I was referred to Michigan Auto Law by a friend. I was in a car accident and hit by a semi truck and needed to look for an attorney, so that's why I reached out. Kevin Seiferheld was the attorney who helped me through it. I can sum it all up in one word: Awesome! Kevin is awesome! He did a great job. He sat down and explained to me about the case. He was always available to me when I needed to speak to him. He made me feel really comfortable about my case and my settlement reflected that. My other lawyer Amy also helped a lot as did their secretary Elize. It was a good team and I'm so glad they were on my team.
I'm from Ontario, Canada was going to pick up my husband who works in the states and I was rear ended. I found Michigan Auto Law online because I wanted a law firm that was a known expert in the Michigan car accident law, especially since I'm from another country. My experience was excelled. I had prompt help and constant answers to my questions. Anytime I called, my team of attorneys knew what was going on and I had answers right away. I would like to thank Kevin Seiferheld and Jordan Jones for their help. They were sufficient, professional and realistic. Kevin was a great attorney as was Jordan. They laid out all of the best scenarios for my case, we chose the best one and got everything settled to my benefit. They went above and beyond because some of the insurance payments for my medical expenses hadn't gone through, and Kevin did everything to make sure they were taken care of and I wasn't stuck with a bill. I would definitely recommend this firm. Also very accommodating. Another thing I'd like to note is that because I'm from Canada, they went out of their way to do everything via conference, phone or e-mail so I didn't have to make the drive over the border.
I was really ill after being in a car accident and I needed some help. I called Michigan Auto Law. It was great, because they sent someone to my house that day to talk to me. The firm has been wonderful ever since that day. Kevin specifically is wonderful. I like his attitude and he's got a great personality. He's very nice and kind and most importantly, he knows what he's doing in the law. I appreciate the fact that he helped me. I'm very thankful. Kevin helped me get my social security and got me a settlement. That was the greatest thing of all because I didn't have any money, as I was too injured to work any longer. I didn't have any income coming in, but Kevin changed that. I would recommend Kevin to anybody who got into a car accident because he did a fantastic job for me.
I should have called Michigan Auto Law sooner. It was a year after my car accident but my medical problems ended up being worse than I anticipated. So I ended up seeking legal counsel to get reimbursement for the medical issues I had been going through. I was pretty impressed with this firm. Everyone is very friendly, from the investigator, to the receptionist, to Kevin and Jordan who handled my case as a team. They were very helpful and always there when I needed. Just fantastic in their demeanor. They seemed to really care and have concern for what I was going through while healing and going through the lawsuit. All of the questions I had never bothered them in one bit. Jordan was especially helpful walking me through the deposition with the defense attorney. He made sure I was prepared and didn't allow them to say anything to upset me. I would absolutely recommend the firm in a heartbeat.
A semi truck rear ended my car and I needed legal help. I had a complicated case, but Kevin Seiferheld took it without question after another attorney couldn't handle it. He listened to my medical issues and went to battle against the trucking company that was the cause of my accident. Kevin was awesome in the way he treated my husband and I. Polite and compassionate are the two traits that stand out to me most. He explained everything to me really well. He was a very wonderful attorney overall. Kevin was even able to take the case evaluation I received from my former attorney and increase it by five times the amount! His paralegal and secretary were also knowledgeable and compassionate. I also want to mention Jordan Jones. He assisted Kevin with the case and was very kind and well educated in his craft. Even Cyndi and Maureen who answered the phones were always warm and courteous. That makes a big difference when you're having a bad day and you call and are able to speak with people who are polite. The whole team was a pleasure to work with.
The law firm works hard to help its clients. Michigan Auto Law is a great company. More people should use them for help after a car accident or truck accident. The attorneys are very caring and do a great job
I was referred to Michigan Auto Law by another attorney. My attorney Kevin Seiferheld is a very, very nice person; warm and good-spirited. He's helped me through the process of recovering from a car accident. Everyone at Michigan Auto Law was really nice. I always got my calls returned the same day. I never had to go a week without a returned call, so it was a good experience. Kevin made sure my medical bills were taken care of. And at times when the auto insurance company didn't pay the medical bills, he made sure I was still able to be treated by my medical doctors. My settlement was really, really good. It exceeded my expectations. If I knew somebody that was in a car accident, I would definitely recommend this law firm. As a matter of fact, I have recommended a couple of people that had been in accidents. My experience was really great at Michigan Auto Law.
My attorney Kevin Seiferheld was completely supportive and kept me very well- informed throughout the tumultuous two and a half years following my car accident. Any time I had questions, he patiently explained complicated legal issues and processes to me, and repeated a lot of things back to me - because he had to. I suffered a traumatic brain injury that caused me to lose a lot of memory, including my speech, when I was hit head-on in Rochester by a semi-truck that blew a red light as I was driving to work. The truck hit me hard. It was terrifying. I remember waking up to smoke and people tapping on the glass. Aside from a closed-head injury, I was left with a broken tailbone, a herniated and slipped disc in my neck and back, and injuries throughout the rest of my body. Because of my brain injury, I often experience mood swings, lose concentration and have a hard time digesting and retaining information. But Kevin treated me with respect and never made me feel self-conscious. He was very flexible with my special needs and accommodating my schedule. Amy Gubesch, who also assisted in my auto negligence case, was very thorough and patient too. She promptly provided me with all of the information and documentation I needed and most importantly, I felt comfortable with her. Nearly three years after the truck accident, I still go to physical therapy, a psychiatrist and a neurologist. But I feel like I have a lot of support and understanding of my brain injury not only from my doctors, but from my lawyers. Because I cannot return to my full-time job as a busy restaurant manager, Kevin was able to get me in a financial position where I can continue treatment for my injuries and take care of my children without worrying about the future. I would tell anyone in a minute to come to Michigan Auto Law. I was very happy with everything, especially my attorneys. I'm relieved it's over so I can move on with my life.
I was in a rear end accident in October. I was waiting at a red light when a young lady failed to stop at a stop sign and hit the back of my car. It seemed like I hurt everything - my neck, my back, my hips, my knee. You name it, it was there. I called Michigan Auto Law for assistance with my case and to help hold the other driver responsible for what she did to me. I love this law firm. It was a positive experience all the through because the people that helped me - which were attorneys Kevin, Amy and Josh - were awesome. They explained everything to me as far as what I needed to know in detail, what documents I needed to bring, and they were just there with me along the way. Amy was the emotional part as far as having an ear that you can talk to about every single thing. I know she relayed the information to Kevin and Josh to pertain to what we needed to do, and they understood me too. Kevin put it out there, and I loved his honesty. I knew he had my best interests at heart and wasn't going to let me down. I'm extremely happy with my settlement. Yes, people always need the monetary end of the case, but for me the emotional support and knowing my lawyers supported me in moving forward in my life so I can take care of my family was the biggest thing. Now I have closure to get myself where I need to be and get my son ready for college.
I was on the side of the road doing some work and got in the truck to move it and was slammed in the rear of my truck into the back end of a dump truck. So I was squashed between two vehicles. I mess up my leg and knee really bad, needed a plate installed with screws and everything. I was in a lot of pain back then and I live with it every day. My brother saw everything I was going through and called Michigan Auto Law for me. I had two attorneys helping me, Jeff Bussell and Kevin Seiferheld. They were both great. Jeff got my case started and was very informational. He kept me keyed in on everything. When the case was passed on to Kevin for litigation, Kevin was the same way, Kevin is very direct and up front about the workings of my case. He was on time for our calls and appointments and I could always get a hold of him. He knew the law and what was best for my case. Nothing is going to bring my back to having my leg the way it was before the truck accident, but the settlement Kevin got me is the best it can be and will help me move forward.
A delivery truck ran a red light and T-boned us. I was looking online for legal advice because our son was only four months old when he had the accident and we wanted to make sure there wasn't an injury that the doctors were overlooking. I also felt pain in my neck and back when it happened. I called several law firms and the attorney who called back from Michigan Auto Law really listened to my concerns and informed me of my rights because Michigan is a No Fault state. I felt informed and that they cared about me, so I chose this firm. Kevin Seiferheld handled my case. He was very good about communicating to me what was happening during my pain and suffering case. And he also fought for me in getting all of the No Fault benefits I needed from the insurance companies, because they were being really difficult. Kevin was very direct with me. He educated me in advance and prepared me for things. I appreciated it because I knew what to expect. Kevin and his assistant Elize had great lines of communication with me. I've given Kevin's business card to several people because people are more distracted than ever in the car.
Kevin and his team gave us the biggest relief we could ask for
A close friend of mine who is also an attorney recommended that I call Kevin Seiferheld at Michigan Auto Law after I was injured pretty badly in a rear end auto accident. I was very impressed when I called, like friend told me I would be. After speaking with Kevin, I knew he would be someone I would enjoy working with and I was confident he could handle my case because of his extensive experience. He was great. Throughout my lawsuit, Kevin was extremely understanding. He explained everything very thoroughly. I'm very pleased with the way he handled my pain and suffering case and the settlement amount he got me. I believe he was very protective of me. I would highly recommend Kevin to anyone who is going through what I went through in this accident situation - or anyone at Michigan Auto Law for that matter.
Kevin was a great attorney. He helped me after my car accident. I knew he would take care of me because Kevin has represented numerous family members. He's a good guy. Very professional. If you have any questions, he's always there to answer them for you, along with Amy. She was also a fantastic attorney. Kevin and Amy got me the highest settlement possible and I'm happy with the way they fought for me. I would trust Kevin to take care of any my legal needs - and any legal needs of my loved ones for that matter. He has helped my family for years.
A truck ran a stop sign and hit my car. My heel was totally shattered and I had to have a plate and screws put in. I was wheelchair bound and couldn't work and I was advised to get an attorney because we were getting calls from the truck company's insurance company. My colleagues highly recommended Michigan Auto Law. Whenever I called the receptionist was warm and pleasant. My attorney's secretary Elize was also very warm and helpful. I think she's a great asset to the company. And my attorney Kevin answered all of my questions on my level because I don't know all of the attorney jargon. The accident was in Bay County and Kevin always came to us and made it convenient for us. We decided to settle the case. Kevin does this every day for a living so we trusted him. Kevin got us a settlement we're very happy with. Our other attorney Amy was extremely helpful in filling me in with the details of the case. The team took good care of me throughout my lawsuit so I could heal from my injuries.
Took all the worry away and settled our case for a great amount
Kevin has been a very helpful attorney and informative and considerate. He worked well with us. He has represented several people in my family: my mother twice who was in an automobile accident 10 years ago and then I referred my two sisters for automobile accidents. He's a person who is easy to talk to. I trust him very much and call him like he's a family member because he has taken care of my family so well.
There are wonderful people at Michigan Auto Law. They worked hard for me after I was hurt in a car accident. Kevin and Amy were exceptional lawyers. Their legal assistant Elize was absolutely awesome. Every time I called, they called me right back. Never went a day without a call back. Kevin is a really patient, smart litigator. My case settled just before trial. What I'm impressed with more than anything is it was against one of the largest and most unreasonable insurance companies that rarely settles. But Kevin and his team were able to settle my case for a pretty amazing figure. Kevin was so impressive in the depositions that the insurance company knew they were going to get their (you know what) kicked! I also want to note that where people fail is they don't hire firms that specialize in serious auto cases and that have to real expertise necessary for complex cases like mine. Michigan Auto Law has the resources, experience and expertise. All they do is car accidents. So if they have to take a case to court because the insurance company is not cooperating, it's not a problem. That's what people in accidents have to understand. I would refer Kevin and Michigan Auto Law to everybody that I come across that had some kind of form of an accident.
Kevin treated me with respect and kindness and he made me feel as if I mattered as a person, not just a case
Kevin and his entire team worked hard for me
From my first call, I got hooked up with Mike Shaffer and he was a fantastic lawyer. He guided me through every move and told me exactly what to do, how to do it, when to do it and he really helped. And when I was transferred over to Kevin, he helped me with my insurance benefits when they refused to pay my medical bills. Everything went great and everything Kevin told me was right. Every time I called, he called me back immediately if he wasn't around. He just helped me out all the way. A really good litigator. Kevin really did well with my insurance company settlement. We were shocked we got that much.
My husband was hit from behind by a drunk driver doing well over 100 miles per hour. My husband's life will never be the same from his injuries, specifically his traumatic brain injuries. I knew I had to find an attorney who knows what they're doing and that's why I chose Michigan Auto Law. I could see their clients are happy and that they specialize in traumatic brain injury. I found they care at Michigan Auto Law. My attorneys have been engaged in every step of the process. Our attorneys Kevin and Amy are a compassionate team. Everybody that we worked with Jeff, Joshua, Amy and Kevin and Elize. They are very helpful and professional. My husband and I were very happy with them, especially not knowing how such a lawsuit would work out. When it's all said and done, I couldn't have asked for more. We are very satisfied.
My accident was related to a woman who hired a rental truck and that made my case difficult. She had barely any insurance. But I was able to get the absolute maximum settlement because of my lawyers Kevin and Amy and their help. I think if I went to any other law firm I would have been told to drop the case. Michigan Auto Law fought for me. They always kept me informed on what was going on with the case. During my deposition Kevin really comforted me and he always considered how to keep my stress or anxiety down. I felt protected throughout the whole entire lawsuit process. I would absolutely recommend these attorneys.
I was very optimistic when I came in to Michigan Auto Law. I'm glad I got hooked up with Kevin as my attorney because he took a great interest in my case. He never had a problem with answering my questions. He was never too busy to take a call and I appreciated that about him. He won the case for me, so that was great. I would absolutely recommend Kevin and the firm for auto accident cases. They did a great job for me.
Kevin Seiferheld that does my case for me is an excellent lawyer. He helped me after I was in a car accident with a truck. And also he was very patient with me. He walked me through things step by step so I knew everything that was happening. I don't think I could find a better attorney. Even though I like to do things my way, he listened and he guided me in the right direction where I needed to be. It made me feel much more comfortable with him. I was very happy with the result of both my cases: no fault and pain and suffering.
I'm very happy with Michigan Auto Law. My lawyer Kevin represented us after an accident with a half ton truck and made my wife and I feel very comfortable throughout the process. He helped immensely by explaining our No Fault benefits, our rights what would happen to us during our lawsuit. We're very pleased with our settlement. I already have recommended Kevin to other people for help with car and truck accidents.
Everyone at Michigan Auto Law is very professional and prompt. I liked the fact that I was always able to get in touch with my lawyers Kevin and Amy. They exceeded my expectations by helping me get my medical benefits paid and helping me step by step throughout the whole car accident claims process. I'm pleased with the settlement and how everything was handled with ease.
I was at first looking into a smaller town law firm because I am from Dewitt, Michigan. But my uncle who is a lawyer said I needed a law firm with the most experience handling serious car accident cases. That's how I found Michigan Auto Law. This is a large law firm, but they give you one on one attention even from the start. That is what sold me. My lawyer Kevin Seiferheld was very professional and confident. He told me at the beginning of my case all of the different ways it could work out and he knew from his years of experience. What I liked was that Kevin had an entire team working on my case, another attorney Amy Gubesch and his legal assistant Elize. If I had a question, Kevin would personally call me back within the hour, even on Sundays. He is super dedicated. I'm very happy with the settlement he got me. It's as good as it can get. I was treated really well here.
Kevin Seiferheld was like a part of our family. He attended to my needs, returned every phone call and did everything he promised he said he would do. I was rear ended by a truck sitting at the red light. If I ever needed any paperwork sent over or any help when I was out of work due to my injuries, he was there for me and my family. He protected me and he defended me in my cases. I put a lot of trust in him and he never let me down. I would refer Kevin to anyone who is trying to battle an insurance company alone. Kevin most definitely is a super lawyer!
Michigan Auto Law is excellent. I cannot say enough good things about this firm. I was involved in a car accident at a red light when somebody rear ended me and here I had an entire team of lawyers and professionals representing me. My lawyers were Kevin, Josh and Amy. They deliver on their promises and I recommend them all the time. Kevin Seiferheld was a great lawyer. He took my case to trial because the insurance company was offering nothing to settle my case. Kevin wouldn't take no for an answer. We got a verdict for $1 and a half million. Michigan Auto Law was fighting for me from day one and had my back all the way. They were also very responsive and kind. Every time I called, Kevin would answer me within 24 hours. He was always available. The team was very professional and prepared to the tee. They got all of my medical expenses covered and my attendant care and household services so I could recover from my injuries. They had all the bases covered.
My lawyers were helpful from the very beginning and consistently kept me up to date throughout the process. I liked Kevin's no nonsense approach. He helped me by educating me to the possibilities, the options and the things he needed of me so he could help me through the process. He was also timely and responsive whenever I had any questions. I'm very happy with my settlement.
This is a real good law firm . I wasn't thinking about suing for my injuries, but I needed help with my medical bills and my cousin told me about Kevin Seiferheld. He turned out to be a very good attorney. He will fight for you. He knows exactly what your needs and wants are. He's a very strong advocate. Really cared and was very compassionate. He talked to us all the time. Our settlement was great. better than expected. He's killer!
Everyone is very friendly and I felt very comfortable. I didn't feel like I had to really worry about anything. I was stopped at a light and a truck hit me. This firm made sure I had everything I needed and that my medical bills were paid for. I highly recommend Michigan Auto Law.
I was treated like family here!
I was treated with dignity, fairly and I was comforted. Kevin Seiferheld is one of the best attorneys that I've dealt with. He is honest and understanding. A good listener. The way my case ended far exceeded my expectations. I would refer anyone who was involved in an auto accident to Kevin and his team.
Overall, this was a decent experience considering that I was in a bad car accident. I had a good result in the end.
It was nice for me to know I had somebody behind me. The worst is when you don t have a clue what to do or what you are entitled to. I was treated fairly and all of the attorneys and staff seemed concerned.
I would refer Michigan Auto Law. They did a great job for me. They won my case.
This is a great law firm. They do exactly what they will say: They make you happy. Anytime I called my lawyer Kevin, he would either take the call or quickly get back with me. I was very pleased with how my case ended and how I was treated.
Michigan Auto Law does care. They will help make sure that you get your medical bills taken care of so you will be able to go to the doctor, which was the main thing for me. Kevin helped a whole lot. He was always there when I needed him. When I called, him and Amy and Brandon where there, whatever I needed. These attorneys always helped me and they never turned their back on me. I really appreciated all the time and patience they gave me.
This firm really takes care of business. I was really satisfied with the work. Timeliness with phone calls and paperwork was excellent. The office had a warm
I just referred someone to this law firm. He is kinda in the same situation I'm in with the auto accident. I told him that my attorney Kevin Seiferheld isn't going to let anybody walk all over him. He won't let anybody over talk him or treat him like he doesn't know his job. As long as you follow their lead, they will do all the work and take care of you. Compared to other law firms where you have to call them and see what's going on and keep checking. Not with Kevin and his crew. Your never left in the dark. I never had any unanswered questions. I'm happy with them.
Kevin Seiferheld goes above and beyond your expectations. He will work very hard to get your benefits for you. He always called me back. He was very detailed with what was going on with the case. He talks to you like he s known you for a long time, like your an everyday person.
Kevin is a good attorney. He fights for his client. When I was having my deposition they would ask me a question and come back 20 mins later with the same question. Kevin would stop it right then and there. He doesn't fold. He fought for me and he was very good to me. When he wanted to see me or ask questions, he would call me. He called me back at all times. His main goal was to try and get me the best settlement he could. But he also cares about the actual individual. That meant a lot. I've already referred him to 3 other people. Two of those people actually switched attorneys because of the great way Kevin treats people
I thought this law firm was good at what they do - help people in accidents. Kevin, Josh and Amy did a good job for me. They knew what they were doing, they knew what the case was worth and they had everything lined up for me.
I knew he was on my side and I needed this because my insurance company definitely was not
I was rear-ended by a drunk driver when I was in Michigan. Being from Ohio, I didn't know who would be the best attorney, but when talking to several people on a job site, they recommended Michigan Auto Law. This law firm is extremely professional. I even talked to the founder of the firm, Larry Gursten, and told him how happy I was with his group. You could not ask for any more personable or professional service and auto accident attorneys. My attorney Kevin Seiferheld was extremely helpful, efficient and detail oriented. His paralegal Laurie Chase was very friendly yet meant solid business. They were so informative during the transition. Even though my lawsuit is settled, they are still behind you afterward.
Powered by
ReviewInc
Disclosure
The reviews displayed may or may not be a complete set. Reviews may be removed if they:
i. Are abusive. An abusive review or comment is one that makes personal attacks, threatens, or harasses others, or uses profanity.
ii. Violate privacy. Reviews that mention specific names of individuals or personal information in a manner that is inappropriate and/or unrelated to the performance of the service rendered are subject to removal.
iii. Are not from a current customer.
iv. Contain material falsehoods.
v. Are deemed inappropriate.
To encourage all feedback, positive or otherwise, an equal incentive for reviews, regardless of rating, may have been provided to the reviewer.
Google reviews provided via APIs https://www.google.com/+/policy/embedded-content.html