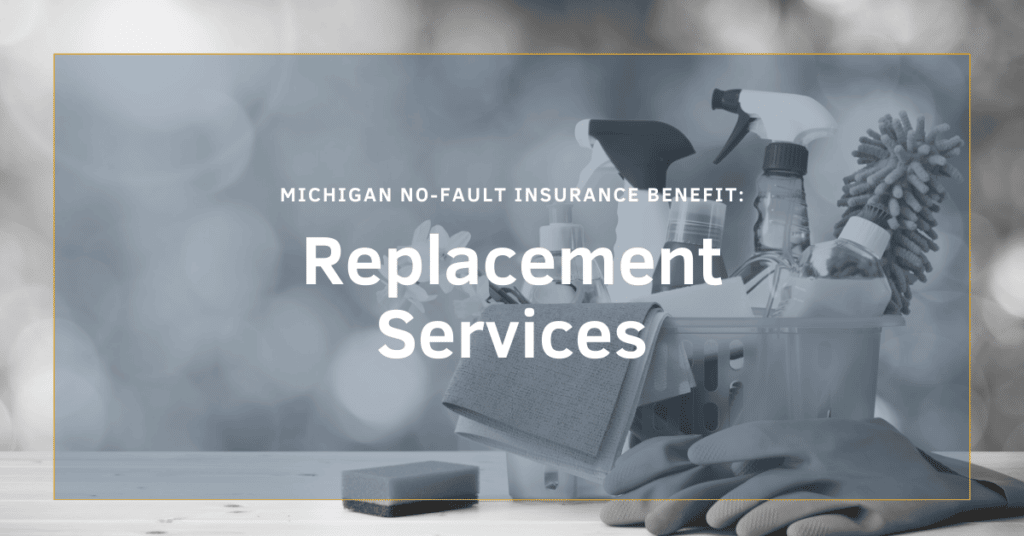 Replacement Services – A Michigan No-Fault Insurance Benefit
Our insurance lawyers explain how this benefit lets auto accident victims get help with household chores and services
The replacement services provision of the Michigan No-Fault act will pay up to $20 a day for any household work you previously did for yourself but cannot do now because of your injuries and therefore, must hire someone else to perform.
These services can be performed by family members and can include investment income, housekeeping, lawn and garden maintenance, car maintenance, meal preparation, baby-sitting/child care and driving family members to school and appointments.
The replacement services provision is payable for three years from the date of the auto accident.
Notably, in 2012, the Michigan Supreme Court ruled that car accident victims could not sue for "excess" money for these services.
Michigan Auto Law Can Help Obtain Your Benefits for Replacement Services
There are some important steps you must take in securing these benefits. First, you must immediately file a No-Fault application for benefits with the applicable insurance company. This application MUST be filed within ONE YEAR from the date of the accident, or you will forever lose any benefits to which you might be entitled.
Obtain a sample application for No-Fault benefits.
Your auto insurance company may require its own version. If you have problems filling out this form, please do not hesitate to call Michigan Auto Law at (248) 353-7575.
In addition, if there are any items of reimbursable expense that are not paid by your insurance company – such as a medical bill or replacement services – you must file a lawsuit for that particular item within one year from the date that expense was incurred. If such a lawsuit is not filed within that one-year time period, you will lose all rights to reimbursement. It will be time-barred.
Michigan Auto Law is the state's largest law firm practicing exclusively in car accident, truck accident and motorcycle accident cases. We have helped injury victims throughout Michigan for three generations, and we can help obtain the insurance benefits and pain and suffering compensation you need. To speak with a No-Fault lawyer directly, please call (248) 353-7575 or fill out our consultation form.