Farmington Hills Office | Michigan Auto Law
Our Farmington Hills lawyers help people who have sustained serious injuries in car, truck, and motorcycle accidents throughout Michigan. We have been serving auto accident victims like you in metro Detroit for more than 60 years.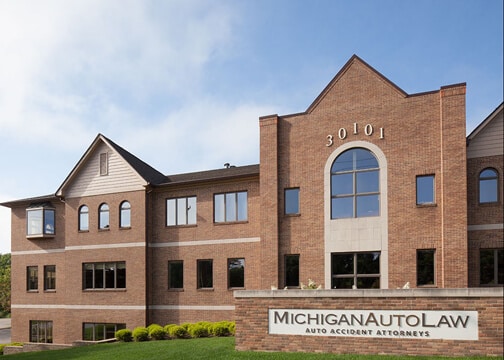 We understand that whether you were involved in a car crash on Grand River, a truck accident on M-5, or a motorcycle accident on Middlebelt Road, personal injury can be a serious, life-altering event. That's why our attorneys work hard to protect your legal rights and give you the care, dedication and respect you deserve.
If you have questions about no-fault benefits, car accident claims or your auto insurance policy, call one of our lawyers at (800) 777-0028. You can also use our confidential free consultation form. There is no cost or obligation. We can help you navigate through complicated auto insurance plans and won't let your insurance company take advantage of you.
---
Our Settlements and Verdicts
Michigan Auto Law once again recovered the highest reported car accident verdict and truck accident verdict in Michigan for 2012, according to the Michigan Lawyers Weekly year-end list of the top reported verdicts and settlements. We are also proud to have recovered the top reported auto settlement in 2012 for a pedestrian car accident.
An auto accident settlement for one of our clients has made the Michigan Lawyers Weekly list of top reported settlements in Michigan for 16 consecutive years. This record surpasses any other personal injury law firm in Michigan.
A Local Auto Accident Testimonial
"My lawyer Steve Gursten is very knowledgeable about auto law and what was involved with my type of case. Steve and the entire office at Michigan Auto Law are very personable. Steve and Larry Gursten are truly compassionate, and return calls within minutes – not days. The results of my settlement were way beyond what I expected. I gave one figure, and Steve shot higher. I have been very happy with this law firm, and will definitely continue referring auto accident victims their way."

Gina Cucciara — Farmington Hills
You can read more testimonials from real clients we have helped by visiting our Farmington Hills Auto Accident Testimonials page.
Car Accident Resources
Our lawyers receive many questions from Michigan drivers about how to protect themselves both before and after an auto accident. Some common questions include:
How can I make sure I am fully protected with my insurance coverage?
What do I need to do after a car accident?
How do Michigan's No Fault laws affect me?
How do I deal with my car insurance company?
To assist drivers, Michigan Auto Law has created an online Michigan Car Accident Resource Center to protect local drivers and answer these questions.
Truck Accident Resources
There are critical differences that separate truck accident cases from other types of Michigan car accident cases. The Michigan Truck Accident Resource Center provides key information for victims including finding the right lawyer and why these cases are so unique.
Motorcycle Accident Resources
A person riding on a motorcycle is 18 times more likely to be killed in an accident than someone who is driving a car. Visit the Michigan Motorcycle Accident Resource Center to learn how Michigan's No-Fault Law applies to a motorcyclist.
Would you be surprised to learn that the intersection of 14 Mile and Orchard Lake Road had the most car accidents in 2016? Discover the latest local crash data on intersections in your area.
Have you been in an accident around the area? Here is a handy list of resources including police, fire, hospitals and courts to assist local residents.
Need more local information on another city? The Local Resources Guide for Michigan Car Accidents provides access to information for every major city in Michigan.
If you or someone you know has recently been injured in an auto accident around this area, call our lawyers at (800) 777-0028 or fill out our free consultation form