How does the Michigan No-Fault law apply to my accident?
Answers to frequently asked questions about auto insurance coverage issues, No-Fault benefits and your rights following a serious crash
Michigan No-Fault insurance can be very confusing and overwhelming for car accident victims. But our auto accident attorneys are here to explain it all to you in an understandable manner, and to ensure that your rights will be protected if you have the correct information, and the best help.
How to Get Care and Compensation from Your Insurance Company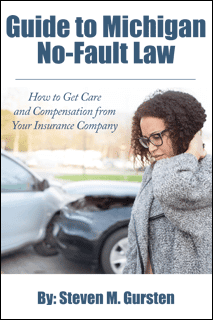 Feel free to call (800) 777-0028 to speak with one of our auto accident attorneys at no cost or obligation.
---
What's the first step to take with my auto insurance company after a car accident?
There are so many things to consider after you've been in a car accident in Michigan. The first step you should take is to notify your auto insurance company immediately following the crash. Then you must file an application for No-Fault insurance benefits.
In Michigan, there's a strict one-year time limit to notify your own No-Fault insurance company of your car accident, and to file your application for No-Fault benefits. This is referred to as a "first-party" auto accident case. Also, there is a three-year time limit to file a lawsuit against the negligent driver's car insurance company for pain and suffering. That's referred to as a "third-party" auto accident case.



---
I heard that Michigan is a "No-Fault" state. How does that pertain to my car accident?
The term No-Fault means that both parties involved in an auto accident are entitled to benefits from their insurance companies, no matter who caused the accident. The Michigan No-Fault law can become complicated, due to several issues such as different insurance policies, workers compensation and the strict Michigan personal injury threshold law. It's best to speak with an auto accident attorney who has experience and knowledge of the No-Fault law. Call Michigan Auto Law at (800) 777-0028 and we can help you now.



---
Should I sign the release from my auto insurance claims adjuster or give a statement?
Never. Never give "statements" to a Michigan car accident claims adjuster, never sign a release or allow the adjuster look at the car damage without the presence of an auto accident attorney.
Why? Claims adjusters often try to get recorded statements early, in efforts to minimize your pain and personal injuries (for use later in court when trying to undermine the car accident victim). Often, when there is low car damage, insurance adjusters try to claim that no one could have been seriously injured in the car accident.
Again, it's recommended that nothing be discussed or signed directly after any car accident in order to protect your rights. Even limited property damage releases can contain unrelated language releasing all personal injuries suffered from a car accident, whether known or unknown. Too many people rush into signing these documents without having the release language reviewed by an auto accident attorney, and may lose their right to sue the negligent driver later for their car accident related injuries, or unknowingly waive their No-Fault insurance benefits.



---
Should I look for anything in particular in my insurance policy language?
It's best to have an auto accident attorney look over your insurance policy for any landmines that could undermine your rights. There's a lot of language buried in the fine print, that an experienced lawyer can catch and then make sure you are totally protected.
You should also check your Michigan insurance policy for VERY specific notification requirements pertaining to your car accident. In addition to the above "legislative" deadlines (of one year to file a first- party case for No-Fault benefits and three years to file a pain and suffering case), many car insurance policies pose even stricter, "policy-driven" notification requirements. For instance, one policy requires the accident victim notify the auto insurance company within 30 days for hit-and-run car accidents.
And Michigan auto insurance carriers can change their policy filing requirements at any time. For this reason, it's critical to carefully review your entire auto insurance policy. Many contracts have separate provisions for uninsured and underinsured motorist coverage requiring very prompt notice. Regretfully, car accident attorneys at Michigan Auto Law have seen far too many unadvised clients assume that their auto insurance policies were consistent with Michigan No-Fault timelines. In many cases, the contractual language of the policy and the filing limits were far more restrictive. If car accident victims fail to adhere to these notification requirements on time, they can lose this important coverage.



---
How do I receive my No-Fault insurance benefits?
To get your benefits, you must apply with your own insurance company by filling out an application for benefits. You can request this form from your auto insurance company. Filing the application for benefits form in Michigan is extremely important – and absolutely essential for protecting your No-Fault rights. There's no danger in completing this form, even if your personal injuries do not seem severe. This form is required to receive five important benefits:
Medical benefits
Wage loss
Replacement services (household services)
Mileage for medical appointments
Attendant care benefits (nursing services)
---
Can I receive money for the time I missed work?
Yes. You can receive money for the time you missed work from wage loss. For those unfamiliar with this important No-Fault insurance benefit, wage loss is exactly how it sounds – it compensates you for your wages lost, due to being unable to work because of personal injuries from a car accident. Wage loss is paid by your own No-Fault insurance company for up to the first three years after an auto accident.
Based on the No-Fault wage loss formula, which is 85 percent of one's gross income tax-free, the maximum amount for wage loss equates to an estimated annual income of $70,000. So another way of looking at wage loss is if you earn less than $70,000 per year, your income should be fully covered by No-Fault insurance wage loss benefits in the event of an auto accident. Wage loss is capped, however, and any wage loss above the maximum amount becomes the responsibility of the wrongdoer driver who may have caused the motor vehicle accident.



---
I've been injured. Who is responsible for paying my medical bills?
The medical expense provision of the No-Fault act provides reimbursement for all medical expenses you incur from your car accident. Dependent upon the type of insurance coverage involved, these may be coordinated benefits or full benefits. Coordinated benefits pay all expenses not covered by your basic health insurance. Full benefits pay all medical expenses incurred, even if those are paid by a health insurance provider. The medical expense provision is a lifetime benefit.



---
I hear "coordinated" insurance benefits are important. How does this apply to me?
Most auto insurance policies contain coordinated coverages because they are less expensive. With coordinated medical coverage, the accident victim's the health insurance pays medical benefits in the event of a car crash, before the auto insurance would. With coordinated wage loss, any sources of wage replacement benefits (i.e. short term disability, long term disability, etc.) pay first before the auto insurance.
It is possible for Michigan drivers to have uncoordinated or full coverage without realizing it, but most of the time you have to specifically request uncoordinated benefits. These are also called primary benefits. With uncoordinated coverage, accident victims could possibly receive a "double dip recovery" – where the health insurance pays the car accident victim for the same amount of the benefits paid by the health insurer. Similarly, in certain circumstances, the accident victim can receive full wage loss benefits from the auto insurer, in addition to collecting from one or more private disability policies. If the policy holder paid for these "primary" benefits, however, without understanding the fine print, he or she can easily lose the benefit of the double dip.
It is particularly important to understand all related insurance policies while receiving ongoing benefits, to ensure that certain auto insurers will not have liens and/or attempt to get their money back from your case. Many health insurance and private disability policies contain reimbursement clauses, which apply if you simultaneously qualify for auto No-Fault benefits, which pay the same benefits. Our attorneys strongly recommend that you don't buy coordinated wage loss, unless there is a specific reason to do so. Feel free to call Michigan Auto Law at (800) 777-0028. You can speak with an attorney, who can answer all of your questions about your auto insurance policy.



---
I've been in an accident with an uninsured driver. What are my rights?
If you have No-Fault insurance and the other driver involved does not have insurance, you are still entitled to No-Fault benefits, regardless of who was at fault.
If you have No-Fault insurance and you hit another driver who does not have insurance, the other driver cannot sue you for negligence.
If you have No-Fault insurance and you are hit by an uninsured driver, the only way to sue for pain and suffering damages is by turning to your own uninsured and underinsured motorist coverage. Uninsured motorist coverage (UM) and underinsured motorist coverage (UIM) provide a valuable source of legal recovery when someone is injured in a car accident by another driver who is uninsured or does not have adequate insurance.
Regarding car damage, when you are hit by an uninsured driver, you are not limited to the $1,000 mini tort maximum for your car damage.
Accidents where one of the parties is uninsured can be a very complicated issue, and every circumstance is different. Whether or not you have auto insurance, it's best to speak with an auto accident attorney to protect your rights and ensure you receive all of the insurance benefits you're entitled to.


Need more information about how Michigan No-Fault applies to your accident?
Call Michigan Auto Law at (800) 777-0028 to speak with one of our auto accident attorneys at no cost. We can help you now. You can also fill out our free consultation form.
For more FAQs, take a look at our pages on the recent car accidents and filing a lawsuit.