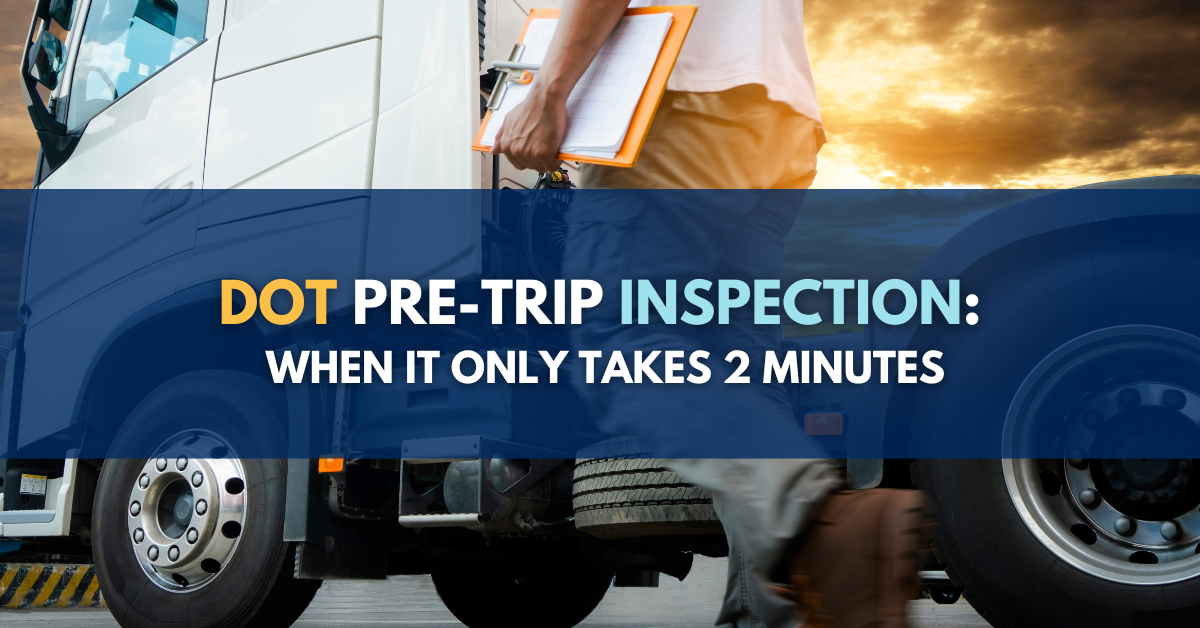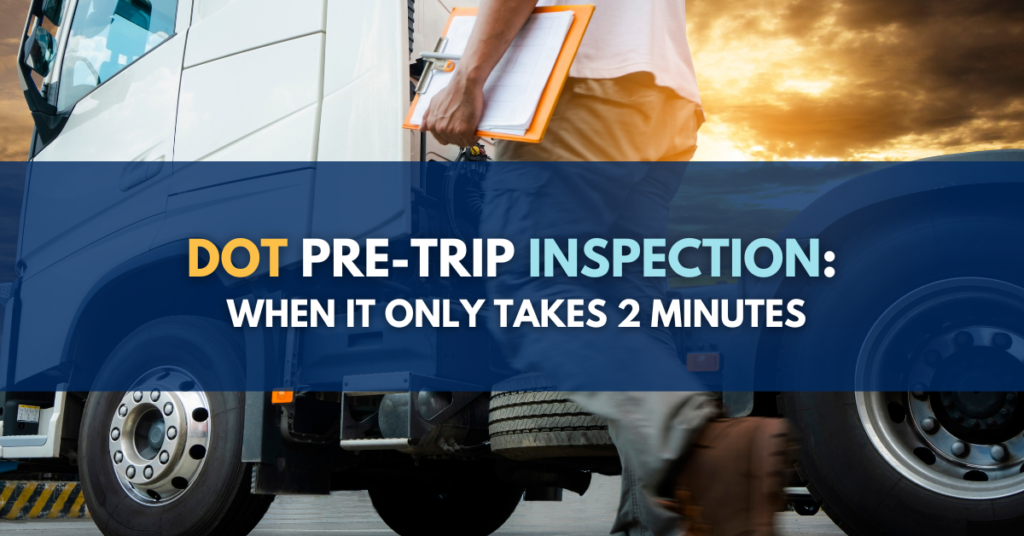 The time recorded to do a DOT pre-trip inspection is a telltale sign for attorneys and safety auditors that the pre-trip safety inspection was not completed properly – or at all
Scrutinizing the time it took for a truck driver to conduct his or her DOT pre-trip inspection can be a tremendous help for truck accident attorneys in showing that a trucker and a trucking company are taking dangerous and potentially deadly short-cuts on safety.
Beyond the basic pre-trip safety rules set out by the Federal Motor Carrier Safety Administration (FMCSA), there are expanded pre-trip safety inspection rules for the shipping container and the cargo that most attorneys know nothing about.
Importantly, if the "electronic logging device" or ELD of a trucker involved in a serious truck crash are not thoroughly reviewed, analyzed and questioned by an experienced expert, the red flags that signal an inadequate (or nonexistent) pre-trip inspection will be overlooked entirely.
Consequently, unsafe truck drivers and unsafe trucking companies will not properly be held accountable for the lives they've wrecked and the injuries they've caused.
Today I'm going to discuss the rules for a proper inspection, how long one should take and tips to help truck accident attorneys determine whether a proper pre-trip inspection was done.
What are the rules for a proper DOT pre-trip inspection?
The FMCSRs (which are the FMCSA's safety rules and regulations) require that, before driving a truck or commercial vehicle, a truck driver must first conduct a DOT pre-trip inspection. Based on the results of that inspection, the truck driver must be satisfied that the semi-truck is in safe operating condition before taking it out onto the road.
Specifically, 49 CFR § 396.13(a) provides:
"Before driving a motor vehicle, the driver shall . . . Be satisfied that the motor vehicle is in safe operating condition."
In other words, if the truck driver is not fully satisfied that the truck is in safe working order, he or she cannot drive the truck, period.
Does the inspection include reviewing previous drivers' reports?
Yes, the DOT pre-trip inspection includes reviewing previous drivers' reports. But there's a catch.
The CDL pre-trip inspection rule in Section 396.13(b) requires a driver to "review the last driver vehicle inspection report" prepared regarding the vehicle.
However, the "catch" is that there may be no report to review if the previous driver didn't prepare one – which the rules don't always require.
Yes, the FMCSA's "Driver vehicle inspection report(s)" rule, 49 CFR 396.11(a)(1), provides that motor carriers must require their drivers to prepare written DVIRs "at the completion of each day's work on each vehicle operated . . ."
But the same rule inexplicably relieves drivers of this reporting requirement "if no defect or deficiency" that "would affect the safety of operation of the vehicle or result in its mechanical breakdown" is "discovered by or reported to the driver." (49 CFR 396.11(a)(2))
That means that if one driver does a poor job of reporting defects or deficiencies – or intentionally neglects doing so – then he or she could be setting up the next driver for disaster.
How long does it take to do a proper DOT pre-trip inspection?
So examining the trucker's ELDs is where a sharp truck accident lawyer can really tee off.
If a trucker has anything less than 30-40 minutes logged for his/ her DOT pre-trip inspection, then he or she has not done the inspection properly — if the inspection was done at all.
An excellent truck driver actually demonstrated a proper inspection of a tractor-trailer for myself and a group of truck accident attorneys. His vehicle included a chassis that could be fitted with a shipping container. But the chassis was empty when he demonstrated the pre-trip safety inspection. This trucker did a wonderful inspection, which took him a total of 32 minutes to complete.
How can truck accident lawyers determine whether a proper DOT pre-trip inspection was done?
When a truck accident attorney sees a driver's ELD reflecting almost no time spent on a DOT pre-trip inspection, alarm bells should instantly go off. A skilled truck accident lawyer should make short work of any truck driver whose ELDs reflect this.
But this is not an opportunity to attack the credibility of the truck driver. Most truck drivers want to do the right thing, and what this really reflects is that the trucking company does not have the systems in place to monitor and supervise safety, as it is required by law to do.
In deposition, you should focus on the following questions:
Was a DOT pre-trip inspection actually done?
What did you inspect as part of your inspection?
In what manner did you inspect the various parts and accessories?
How long did that take you?
Was this inspection recorded on FMCSA compliant paperwork?
How often do you perform this inspection?
Have you ever found faulty parts or accessories during this inspection?
When was the last time you reported a vehicle as out of service and brought it in for repairs?
Is 15 minutes enough to thoroughly inspect these parts and accessories?
Who within the organization trained you on proper inspection procedures?
Does he/she believe that 15 minutes is sufficient?
From this, one of two things will happen:
You will either expose the trucker for submitting false information by only reporting a few minutes for a pre-trip safety inspection.
Or you will expose the trucker driver – and the trucking company – for skipping over a proper DOT pre-trip inspection, as they are both required to do under the FMCSRs.
When you as a lawyer see a truck driver's ELDs showing almost no time spent on a pre-trip safety inspection time in the course of litigating a serious truck accident, do not let the truck driver – or more importantly, the trucking company – off the hook.
Scrutinize these inspections. This will expose bad truck drivers and the trucking companies pressuring them to break the laws, and ultimately help you make the best possible recovery for your clients.
Injured in a truck accident in Michigan? Call now!
If you were injured in a truck accident in Michigan and have questions about the DOT pre-trip inspection, call now (855) 781-7747 for a free consultation with one of our experienced truck accident lawyers. There is no cost or obligation. You can also visit our contact page or use the chat feature on our website.
Michigan Auto Law is Michigan's largest and most successful law firm that specializes exclusively in helping people who have been injured in auto accidents.
Our secret? Our truck accident attorneys deliberately handle fewer cases than other personal injury law firms. This allows us to focus more time and attention on our cases.
Unlike other law firms, our attorneys are never too busy to promptly return phone calls and answer questions.
We have more than 1,900 5-Star Reviews that reflect this care and attention to detail.
More importantly, this client-focused approach leads to better and faster settlements for our clients. Michigan Auto Law has recovered more million-dollar settlements and trial verdicts for motor vehicle accidents than any other lawyer or law firm in Michigan. We've also recovered the highest ever reported truck accident and car accident settlement in the state.
Call now so we can start making a real difference for you.