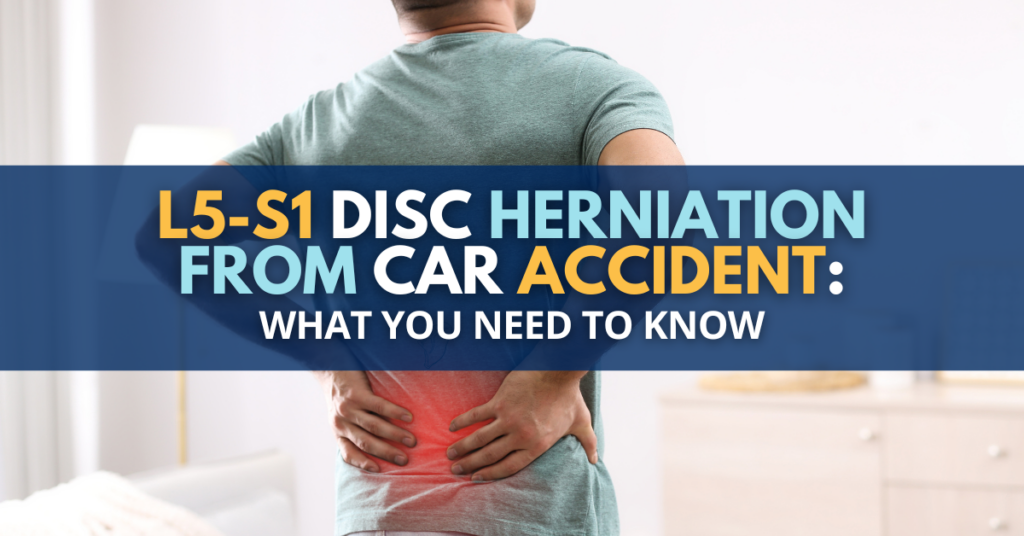 An L5-S1 disc herniation from a car accident is a very common and serious injury. It can cause permanent pain and disability. Sometimes surgery is required to prevent spinal cord damage and to alleviate chronic pain. An experienced car accident attorney can help you to recover compensation and economic damages.
What is an L5-S1 disc herniation from a car accident?
An L5-S1 disc herniation from a car accident is often a very serious injury. The injury is caused by a tear in the spinal disc that acts as a cushion and shock absorber for the spinal column and it helps protect the spinal cord.
This disc is located in the lower back, just above the belt line and above the tailbone. L5 refers to the last vertebra in the lumbar spine and the S1 refers to the first vertebra in the sacral spine.
Pain and suffering compensation
You can recover pain and suffering compensation from the at-fault driver for this type of injury.
In a personal injury lawsuit filed after a car accident for pain and suffering compensation, you may also be able to sue the at-fault driver for other economic damages, such as excess and future medical bills and lost wages.
No-Fault benefits for L5-S1 disc herniation from car accident
If you have suffered an L5-S1 disc herniation from a car accident in Michigan, you are entitled to recover No-Fault insurance benefits to pay for your medical bills. You can also collect lost wages if your injuries have prevented you from returning to work.
No-Fault PIP benefits will also cover the costs of household replacement services, medical-related transportation costs and attendant care.
To make a claim for No-Fault benefits, you must file an application for No-Fault benefits – which is also called your "written notice of injury" – with the responsible car insurance company within one (1) year after the car crash that caused your injury. (MCL 500.3145(1) and (4))
If you fail to file your application on time under Michigan's auto No Fault law – within ONE YEAR from the date of your automobile crash – then you will forever lose any right to insurance benefits to which you otherwise would be entitled.
The responsible auto insurance company for your No-Fault benefits will generally be your own auto insurance company or the insurer for your spouse or a relative who lives in your home. If No-Fault coverage is not available through any of those sources, then you will need to apply for No-Fault benefits through the Michigan Assigned Claims Plan. (MCL 500.3114(1) and (4))
What causes an L5-S1 disc herniation from a car accident?
This injury is caused when the force and/or impact of a crash causes your spinal disc at L5-S1 to rupture. The disc material then pushes out and can put pressure on the nerves around the disc or in your spinal cord, causing pain and disability.
Seek immediate medical attention for an L5-S1 disc herniation from car accident
Get examined by a doctor immediately if you have been injured in a car crash and if you have severe low back pain. Many disc injuries will resolve with time and medical treatment, but this type of injury is a very serious injury which can also cause permanent pain. A severe herniated disc can further rupture and extrude disc material, causing spinal cord damage, including paralysis, as well as long-term, chronic pain and disability.
As a car accident lawyer, we often advise people who are in severe low back pain to see a doctor immediately for treatment. Often a doctor will immediately refer out for diagnostic testing, such as an MRI, to rule in or rule out a herniated disc and to determine if immediate surgical intervention is necessary. In general, if you are in pain after a car accident, the sooner you can see a medical doctor or back pain specialist to start your treatment, the better your chances of making a good functional recovery and ruling out a potentially more serious and permanent low back injury.
Symptoms
Symptoms of an L5-S1 disc herniation from car accident include: (1) Persistent aching or stiffness along the low back and lumbar spine; (2) pain in the low back when sitting or standing for extended periods; (3) pain radiating into legs; and (4) muscle spasms, often accompanied by an inability to stand straight due to spasm and pain.
Testing and diagnosis
When you are exhibiting symptoms from this type of injury, your doctor will conduct a physical examination and likely use one of the following forms of diagnostic imaging tests to make his or her diagnosis and recommend a course of treatment:
X-rays (which do not image spinal discs)
CT Scans (Computerized Tomography)
MRI (Magnetic Resonance Imaging)
EMG (Electromyography)
SPECT (Single-Photon Emission Computerized Tomography)
Myelography
Treatment
Treatment for an L5-S1 disc herniation from car accident may include one or more of the following: (1) Physical therapy; (2) Pain medication; (3) Rehabilitation therapy; (4) Short-term bracing for the neck; (5) Steroid injections to relieve pain; and (6) Low back surgery.
Surgery is often recommended after conservative treatment modalities fail or when the low back pain becomes chronic, usually after a period of 6-8 months. The other reason for surgery is if the spinal disc may further herniate or extrude, which poses a severe risk of permanent harm or even paralysis.
The different types of surgery used to deal with herniated discs include:
Fusion surgery – This involves fusing or joining two vertebrae to stop painful movement.
Discectomy surgery – This involves removal of the herniated or damaged portion of a disc.
Laminectomy/Decompression – This involves removal of bone overlying spinal canal to relieve nerve pressure.
Vertebroplasty – This involves the injection of bone cement into compressed or fractured vertebrae.
Artificial disc implant – This involves implanting artificial discs in between the injured discs to provide stability and eliminate pain.
Have you suffered an L5-S1 disc herniation from a car accident? Call Michigan Auto Law for a free consultation
If you have suffered an L5-S1 disc herniation from a car accident and you have questions about your legal rights to pain and suffering compensation, economic damages and auto No-Fault insurance benefits, you can call toll free anytime 24/7 at (248) 353-7575 for a free consultation with one of our experienced car accident attorneys. You can also get help by visiting our contact page or you can use the chat feature on our website.