Our Michigan Auto Law auto accident attorneys want to thank our clients for the honor of helping you and for placing your trust in us; We accomplished so much together in 2022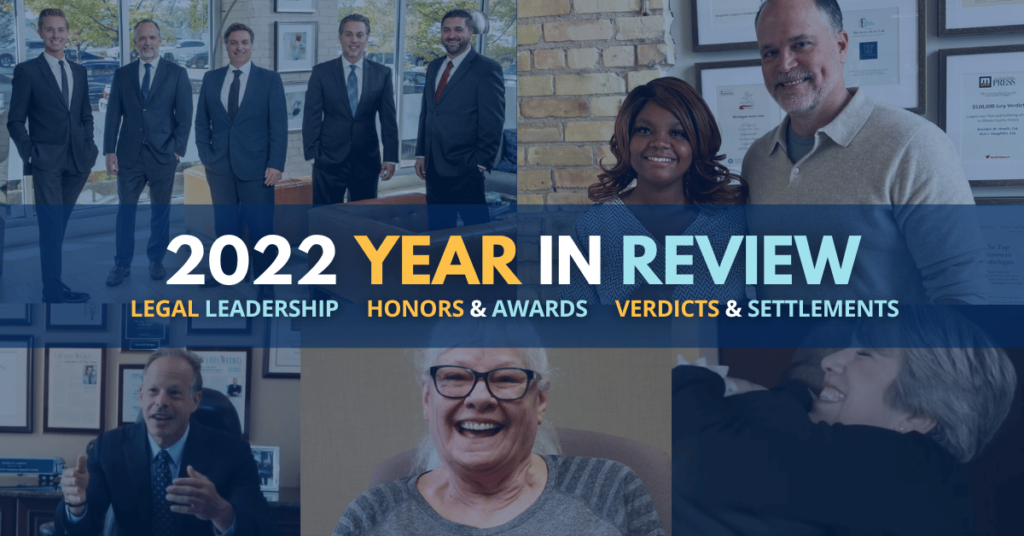 Thank you to our clients and to our friends for helping to make 2022 such a tremendous year and making it possible for us to help so many wonderful people this year. Below I've written an update of the past year for our annual Michigan Auto Law Year In Review blog post.
To our clients and friends, we thank you for putting your trust in us and allowing us to make a real difference for you and your family.
You are the reason we do what we do.
For over 50 years, Michigan Auto Law has specialized only in car accident law. Unlike other law firms who claim to handle a dozen or more different areas of personal injury law, our auto accident attorneys have devoted their careers and practices to focusing exclusively on helping people who have been injured in car, truck or motorcycle accidents.
Unlike other law firms, we don't have to make up clearly fictitious and absurd settlement numbers. We don't have to claim "a billion dollars recovered!" or other such silliness because every year our attorneys actually recover real results for the people we are honored to help. And these auto accident results, year in and year out, are better than any other law firm in Michigan.
In 2022, this included:
We recovered a $14.3 million jury verdict in a case where the insurance company's highest offer was only $25,000.
We recovered a $1.3 million verdict in a case where the insurance company's highest settlement offer was $0 before trial and only $100,000 during trial.
We recovered a $1.025 million arbitration award in a car crash case where the insurance company's highest settlement offer was $150,000.
Results like these ensure that our clients get the help and compensation for their injuries that they deserve.
But these results also send an important message to insurance companies who have grown too accustomed to getting away with making low-ball settlement offers to other law firms.
This is an important reason why overall our auto accident attorneys are able to settle cases faster and for significantly more money than other lawyers and law firms in Michigan.
Below are some of our Michigan Auto Law attorneys' other accomplishments from 2022.
A Commitment to Client Service
Our entire law firm is fully committed to providing truly exceptional client service for our clients. That's why we again received the prestigious "Client's Choice" award from Avvo for extraordinary client service in the legal field for 2022.
Our commitment to caring and excellent communication is the reason why we have so many outstanding reviews from our clients, now numbering nearly 2,000 real reviews from real people we've helped throughout Michigan.
Top Auto Accident Settlements and Trial Verdicts Year after Year
We believe there's a good reason why more lawyers and law firms in Michigan and throughout the country refer auto accident injury cases to our law firm than to any other in the state. We've not only recovered the highest ever reported trucking settlement and auto accident settlement of any Michigan lawyer or law firm, but we've also recovered more million-dollar settlements and trial verdicts for automobile accidents than any Michigan law firm. We've also recovered the highest trial verdicts on record for people hurt in automobile accidents in multiple counties throughout the state.
Why is this so important? Proven trial results lead to car accident settlements that are significantly higher and faster for our clients.
But what we do for our clients is not just about settlements and verdicts. Most of the time, we are devoting our expertise, resources, and energies to just ensuring that the people we help have the help – the lifeline they need – whether that means insisting they get the wage loss benefits they are due because their injuries have disabled them from working to earn their paycheck or helping them secure transportation to get them to the doctor for needed medical treatment and care when insurance companies are busy erecting roadblocks.
Our auto accident attorneys work tirelessly to protect people injured in car accidents and to push back against insurance company abuses. We always have and we always will.
2022 Legal Leadership
Our commitment to being leaders in the legal field continued in 2022:
Steve Gursten served his third year as President of the American Association for Justice's Distracted Driving Litigation Group, teaching lawyers throughout America how to litigate automobile accidents caused by distracted driving. Our attorneys also volunteer and speak at high schools and to parent groups throughout Michigan on teaching teens and parents about the dangers of texting while driving. Michigan Auto Law also sponsors an annual college scholarship in honor of Kelsey Raffaele, the young teen driver who lost her life due to distracted driving and for whom Michigan's teen distracted driving law, Kelsey's Law, is named.
Steve Gursten also serves on the Michigan Association for Justice Auto No-Fault Committee, advising the MAJ on insurance issues and the Michigan'sNo-Fault law.
Brandon Hewitt continues to serve on the Executive Board of the Michigan Association for Justice.
Brandon also serves as the Chair of the MAJ committee on Autonomous Vehicles.
Jordan Jones continues to serve on the Executive Board of the American Association for Justice (AAJ) Trucking Litigation Group and the Bus Litigation Group.
Steve is a past-President of the AAJ Trucking Litigation Group and the Traumatic Brain Injury Litigation Group. Steve is also a past-President of the Melvin Belli Society and the Motor Vehicle Trial Lawyers Association.
For the eleventh straight year, Michigan Auto Law is recognized by U.S. News & Best Lawyers' annual "Best Law Firms" list for excellent personal injury litigation in Metro Detroit.
Michigan Auto Law's attorneys were again selected among the top 5% of attorneys in the U.S. — for the 14th year in a row — in the annual Super Lawyers and Rising Stars lists.
Nine Michigan Auto Law attorneys were selected in 2022 as Super Lawyers – more than any other personal injury law firm in Michigan.
Steve Gursten, Larry Gursten, Kevin Seiferheld, and Tom James were again named to "The Best Lawyers in America."
Jordan Jones and Jordan Barkey were both recognized in the 2023 edition of The Best Lawyers in America: Ones to Watch for Personal Injury Litigation – Plaintiffs. This award recognizes "the most elite rising legal talent in the country."
For 11 straight years, Steve Gursten has been voted among the top 50 lawyers in the entire state of Michigan, out of over 65,000 lawyers, according to Super Lawyers.
Steve Gursten, Larry Gursten, Kevin Seiferheld, Tom James, Josh Terebelo, Jordan Jones, Chris Hunter, and Alex Kemp were selected by DBusiness Magazine as 2023 Metro Detroit Top Lawyers.
Brandon Hewitt, Rick Houghton, Tom Baker, Tim Holland and Jeremy Tiedt were selected as Top Lawyers by Grand Rapids Magazine for 2022.
Legal Seminars and Education
Our attorneys speak at legal seminars and legal conferences throughout the U.S. every year. Check out our Seminars and Speaking Engagements page for a full list of the over 400 seminars, speaking engagements, presentations and legal conferences that our attorneys have taught.
Michigan Auto Law thanks you!
All of us at Michigan Auto Law want to thank you and let you know we take great pride in helping and protecting people who have been injured in car, truck and motorcycle accidents – and doing so better than any other law firm in Michigan year in and year out.
We are always here for you.
May you and your families have a happy, productive and safe 2023.
Need help finding the right lawyer? Call Michigan Auto Law first
If you or a loved one has been injured in a car accident and you have questions about your legal rights to pain and suffering compensation, economic damages and auto No-Fault insurance benefits, you can call us toll free anytime 24/7 at (866) 323-2546 for a free consultation with one of our experienced auto accident attorneys. There is absolutely no cost or obligation. You can also get help from an experienced injury attorney by visiting our contact page or chat feature on our website.