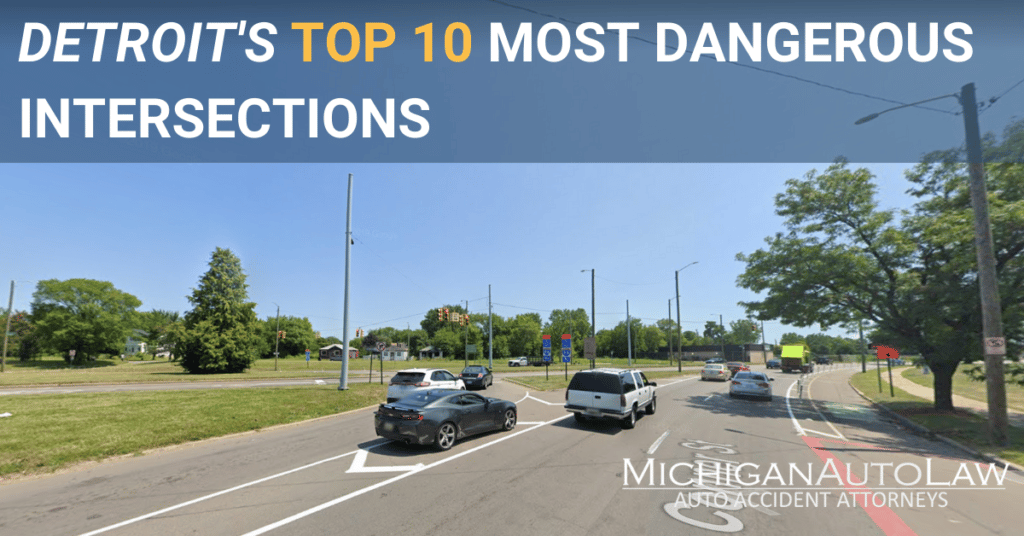 Our attorneys share the list of the top 10 of Detroit's most dangerous intersections based on Michigan State Police car accident reports for 2020 so local drivers can use extra caution when they're traveling through these areas.
This annual list of Detroit's most dangerous intersections is provided by our attorneys to help keep Michigan drivers safe.
In 2019, 31% of all fatal traffic accidents in Michigan occurred at intersections. (Michigan Traffic Crash Facts, "2019 Quick Facts")
With a majority of the workforce working remotely due to COVID-19 and, thus, not commuting to and from work for much of the year, overall crashes in 2020 in Michigan were down 21.9% from 2019 and the lowest level since at least 2010, according to preliminary data from the Michigan State Police Criminal Justice Information Center.
Our list reflects the latest car accident data available from 2020 on the top 10 interchanges with the highest number of reported car crashes. Our attorneys would like to thank the Michigan State Police Traffic Crash Reporting Unit for helping us by providing the car accident data that we use to identify Detroit's most dangerous intersections. The underlying traffic accident data analysis is compiled using motor vehicle accident reports filed by local law enforcement and police departments throughout Michigan.
What Were Detroit's Most Dangerous Intersections in 2020?
CONNER ST @ I 94, 79 Total Crashes, 21 Injuries
JOY RD @ M 39, 68 Total Crashes, 28 Injuries
7 MILE RD @ I 75, 63 Total Crashes, 25 Injuries
M 39 @ WARREN AVE, 58 Total Crashes, 10 Injuries
WARREN AVE @ I 75, 57 Total Crashes, 20 Injuries
LIVERNOIS AVE @ W DAVISON ST, 56 Total Crashes, 27 Injuries
8 MILE RD @ DEQUINDRE RD, 52 Total Crashes, 27 Injuries
CADIEUX RD @ I 94, 51 Total Crashes, 15 Injuries
LINWOOD ST @ W DAVISON ST, 48 Total Crashes, 14 Injuries
8 MILE RD @ GRATIOT AVE, 48 Total Crashes, 12 Injuries
– Source: Michigan State Police Traffic Crash Reporting Unit (Note: "Intersection" is defined as any road with a traffic signal, four-way stop or roundabout. The crash date encompasses and includes any traffic accident reported that occurred within 250 feet of an interchange, including turnarounds and on/off ramps to highways.)
More Information On The Top 2 of Detroit's Most Dangerous Intersections
No. 1: Connor Street and I 94
Given the overall decrease in crashes due to the pandemic, the number one most dangerous intersection in Detroit stood out as having a concerning increase in both total crashes and injuries. This area had more than double the amount of crashes in 2020 with 79, compared to 38 crashes in 2019. In addition the number of injuries nearly tripled, going from 8 people who suffered injuries in 2019 to 21 in 2020. That means that 26% of crashes at this intersection – 1 in 4 – resulted in an injury. Our personal injury lawyers urge drivers to use caution in this area.
No. 2: Joy Road and M 39 (Southfield Freeway)
Data for other Michigan cities and counties
As we see from years of data analysis on Michigan car accidents, intersections with heavy traffic near freeways or retail businesses continually show up on these high car crash lists.
Visit our Michigan's Most Dangerous Intersections page for a complete list of the top twenty intersections in the state for auto accidents.
If you or someone you know has been injured in a Michigan car accident contact us to learn about your legal rights. We also have six free books covering everything from Car Insurance to Repairing Car Damage. Visit this page to get your free book now.
Need help after a car accident? Call Michigan Auto Law first
If you have been injured in a car accident at one of Detroit's most dangerous intersections – or anywhere else in the area – you can call toll free anytime 24/7 at (866) 886-9668  for a free consultation with one of our experienced Detroit car accident lawyers. There is absolutely no cost or obligation. Contact us here to get help from an experienced attorney or you can use the chat feature on our website.