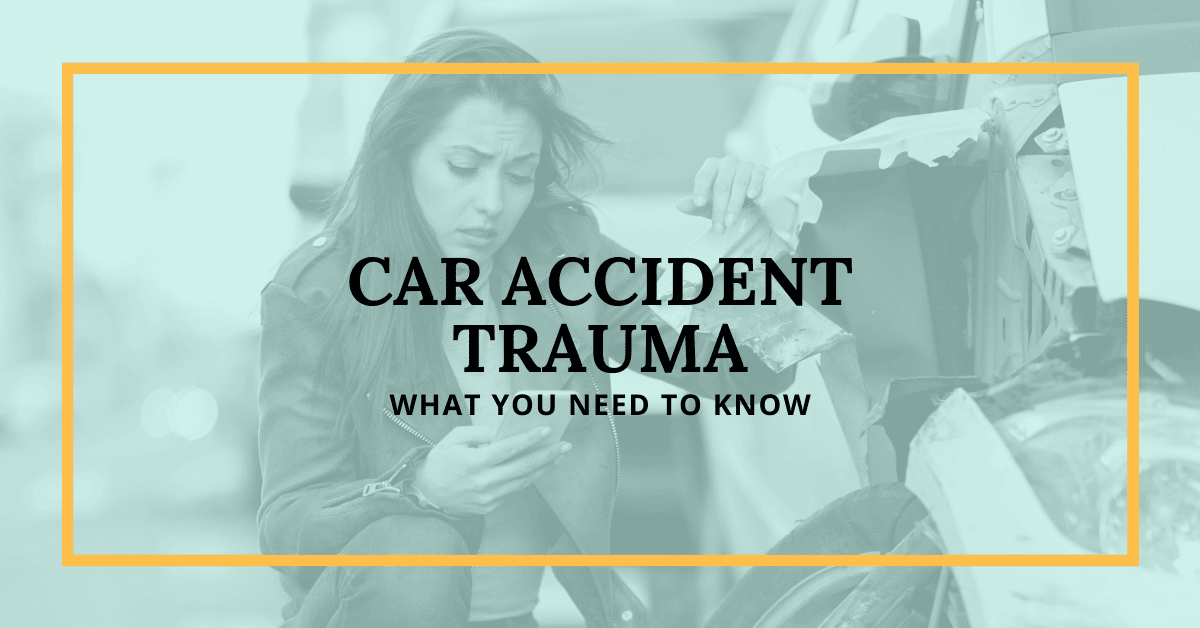 Car accident trauma is a real and serious condition. It most often takes the form of a TBI, PTSD, mental trauma, emotional distress, or an adjustment disorder. It can interfere with an individual's medical recovery, ability to return to work, engage in activities of daily living, and in severe cases, to productively resume their pre-automobile crash lives.
What is car accident trauma?
It is a crash victim's response to the distressing and disturbing nature of an automobile crash. As a result, an injury victim often feels a loss of control, helplessness, pain, confusion, loss of sense of self and self-worth, and an inability to cope.
It is not uncommon for automobile crash survivors to fear driving or riding as a passenger in a vehicle.
What medical conditions are caused by car accident trauma?
The medical conditions that a crash victim may suffer as a result of car accident trauma include: (1) traumatic brain injuries; (2) post-traumatic stress disorder; (3) mental trauma; (4) emotional distress; and (5) adjustment disorder.
Below are more details about each of these medical conditions:
Symptoms
If you are experiencing any of the following symptoms, then you may be suffering from car accident trauma and you should report these symptoms immediately to your doctor so that you can be promptly diagnosed and start receiving necessary treatment:
Flashbacks to or reliving the automobile crash
Nightmares about the automobile crash
Trying to avoid thinking or talking about the automobile crash
Avoiding driving or riding in a vehicle
Feeling emotionally numb
Avoiding activities that you once enjoyed
Feeling hopeless about your future
Loss of consciousness
Loss of memory of events immediately before the crash
Loss of memory of events immediately after the crash
Feeling dazed, disoriented or confused
Feeling drowsy and/or difficult to arouse
Difficulty thinking clearly and reasoning
Difficulty making decisions and solving problems
Difficulty concentrating and paying attention
Difficulty communicating
Change in mood
Decrease in energy levels
Change in sex drive
Change in sleep patterns
Sleep disorders
Difficulty with planning and organization
Increased aggression
Can I make a claim for No-Fault benefits?
In order to make a claim for No-Fault benefits you must file an application for No-Fault benefits with the responsible auto insurance company within one (1) year of the automobile crash.
The No-Fault law's "priority" rules will identify the auto insurer with which you must file your application. This auto insurance company will pay your auto No-Fault insurance benefits, which cover your medical bills and your lost wages if you cannot return to work.
Can I sue for car accident trauma?
If your auto insurance company refuses to pay for – or cuts-off – your auto No-Fault insurance benefits related to the injury you suffered, then you can hire an attorney to bring a lawsuit and sue for unpaid and overdue medical bills, attendant care, medical mileage, replacement services and lost wages because your stress and emotional injuries have prevented you from returning to work.
You can also sue the at-fault driver for pain and suffering compensation but you will first have to show that the other driver was at-fault for causing the motor vehicle collision and that as a result you suffered a "serious impairment of body function" under Michigan's auto accident threshold law.
Additionally, you may be able to sue the at-fault driver for other economic damages, such as excess and future medical bills and lost wages.
How much compensation for car accident trauma?
The amount of compensation that you may be able to recover will depend on several factors. Courts will consider whether you are owed: (1) unpaid, overdue No-Fault benefits; (2) pain and suffering damages from the at-fault driver; and (3) other economic damages.
To learn more about how much compensation your PTSD case may be worth, please check our "Settlement Calculator."
Need help? Call the attorneys at Michigan Auto Law
If you have suffered car accident trauma and would like to speak to an experienced injury attorney, call toll free anytime 24/7 at (800) 777-0028 for a free consultation with one of our attorneys. You can also get help from an experienced accident attorney by emailing [email protected] or you can use the chat feature on our website.