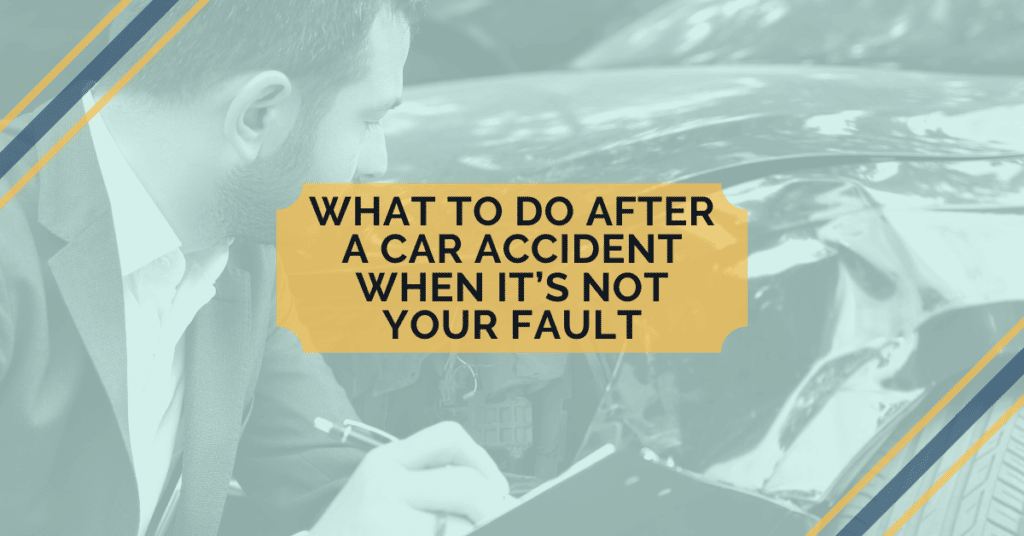 Knowing what to do after a car accident when it's not your fault is important. Seek medical attention right away and make sure to document all of your injuries and where you feel pain. File a police report. Contact your insurance company and file an Application for Benefits. Talk with an experienced car accident lawyer.
Contacting the police after a car accident when it's not your fault
Contact the police. Under Michigan law, a police report must be filed – even if a car accident that is not your fault – results in someone being injured or killed or if there is property damage totaling $1,000 or more. (MCL 257.622)
Even if you don't think the property damage will be $1,000 or more, as a lawyer, I always recommend people contact the police and file a police report. This properly documents the crash you were involved in took place which will make it easier and faster for your own insurance company to open up a claim for you to pay any auto No-Fault benefits you will be later entitled to, and it also documents the crash and how it happened if the at-fault, negligent driver who caused the crash later denies it or changes his or her story of how the crash took place. You must make sure to give all available information to the police after a car accident, especially when it's not your fault. It is essential that you explain and that the police document what the at-fault driver did to cause the car crash. The investigating police officer will almost certainly contact the at-fault driver, which will lock-in how the at-fault driver said the crash took place and makes it less believable when the at-fault driver tries to later change his or her story of how the crash took place.
Sometimes innocent people are not around to tell the police what happened because they were hurt at the scene and rushed to the hospital when the police arrived. Do not allow the at-fault driver's version to be the only one that the police hear. The police will try to contact you at some point, and it is really important to document what happened in your car accident when it is not your fault.
At the very least, if your injuries prevent you from providing this information when you are contacted by the police, then ask someone to relate what happened for you to the police.
Preserving evidence after a car accident when it's not your fault
When you have been injured in a car accident that was not your fault, you need to pay particular attention to preserving all of the evidence you can that shows how the driver's negligence who caused the crash that resulted in your injuries.
Our auto accident lawyers advise our clients to do the following:
Provide a detailed account of how the car accident occurred and what actions the at-fault driver took or failed to take that caused the accident
Document and report to the police any and all statements that the at-fault driver makes
Document and report to the police any and all statements that are made by witnesses to the accident (including the witnesses' names and contact information)
Use your cell phone camera to take pictures of the crash scene (immediately after the crash occurred and before anything is moved), the damage to your vehicle and to the at-fault driver's vehicle and of everyone standing around or nearby the crash scene (as they may be potential witnesses). Even if you aren't seriously injured (or, as often happens, don't believe the discomfort you are feeling immediately afterwards will get progressively worse and later result in you later having to seek treatment and filing a lawsuit), make sure to take a picture of the person who did cause the crash, his or her car, and a picture of the license plate of the car that hit you for when you later are filing a mini tort claim for vehicle damage reimbursement.
Gather information from the at-fault driver, other drivers and witnesses
After a car accident that is not your fault it is very important that you obtain the following information from all of the drivers and owners (when they are not also the drivers) of the vehicles involved in your crash as well as any witnesses:
Name
Address
Phone number
Email
Registration number of their vehicle
Insurance information (company and policy number)
Driver's license
It is a good idea to use your phone to take a picture of the insurance cards and driver licenses.
If you are unable to obtain this information due to your injuries and/or because you are being administered emergency medical care, then ask someone to gather the information for you. This information is important because many insurance companies have strict notice requirements for optional coverage such as bringing an uninsured or underinsured motorist claim and your insurance policy language may require "contact" with another vehicle and submittal of your potential claim within a shortened period of time.
Some insurance companies have contractually shortened the notice period to as short as 30 days after a crash, which can present enormous difficulties for you and your lawyer if you do not already have this information.
In many cities in Michigan, such as Detroit, the police report may not be available for weeks or even months after a crash. Delays are common and often due to the severity of the injuries involved. If someone was killed and a fatality investigation was done and there is a possibility of a criminal action being filed, the police report can be delayed for months. It is also common for a police report to be delayed for weeks or even months if the police accident reconstruction unit did a cell phone or black box/ECM download after the crash.
Moving your car out of the road after a car accident when it's not your fault
When an auto accident results in someone suffering a serious impairment of body function or losing their life, drivers should not "remove [their motor vehicles] from the main traveled portion of the roadway" and away from the crash scene. (MCL 257.618a(1))
Do not delay in seeking medical attention after a car accident when it's not your fault
Seek medical attention immediately after a car accident when it's not your fault. This is true even if your injuries seem "only minor." Injuries that may initially appear "insignificant" can later cause extreme pain and become both debilitating and disabling. These are called delayed injuries.
Help others get medical attention
If anyone else was also injured in the crash that caused your injuries, you must render "reasonable assistance in securing medical aid or arrange for or provide transportation to any injured individual." (MCL 257.619(c))
Make sure all of your injuries are documented
It is essential that you make sure that all of your injuries – no matter how "minor" they may seem to you right after a crash– are reported to and documented by the police, firefighters, EMTs or ambulance personnel, and to anyone who asks you at the scene or later to any doctors, nurses and medical staff at a hospital's emergency room.
The old adage that if it isn't written down, it doesn't exist applies well here. Insurance company adjusters will be reluctant to pay for expensive medical treatment later if it is not documented at the scene or shortly afterwards. The insurance company defending the case for the at-fault driver who caused the car accident will likewise be more inclined to fight the claim and lower the injury settlement value of the claim if there was a long delay or big gap of time before an injury is documented in the medical records. As an injury attorney who has helped hundreds of people, let me stress that this is crucial both for ensuring that you receive the necessary medical care and for protecting your legal rights that all of your injuries are documented in your medical records. It is very common for neck and back injuries to get progressively worse instead of getting better, and when people fail to properly document the pain they are feeling shortly after a crash because they erroneously believe they will quickly get better it can cause enormous future problems for them.
Report everywhere you may be hurting. This can often include:
Loss of consciousness
Headaches
Dizziness
Lightheadedness
Ringing in the ears
Blurred vision
Loss of memory (both long- and short-term)
Inability to concentrate
Emotional changes
Get the police report after a car accident when it's not your fault
It is important to get a copy of the police report after a car accident when it's not your fault. It allows you to verify that your version of the car crash was accurately reported and to determine if the at-fault driver changed his or her story in any way. It also allows you to verify insurance information for the at-fault driver.
Filing an application for No-Fault benefits after a car accident when it's not your fault
To recover your auto No-Fault benefits – which cover insurance benefits like medical bills and lost wages – you will need to file an application for No-Fault benefits within one (1) year of the car accident with your auto insurance company, your spouse's or with that of a relative who lives in your home. If No-Fault coverage is not available through any of those sources, then you will file your application with the Michigan Assigned Claims Plan.
Referred to as your "written notice of injury," your application for No-Fault benefits must be filed "within 1 year after the accident." (MCL 500.3145(1) and (4))
Filing the application for benefits form is extremely important – and essential for protecting your No-Fault rights.
Never give statements to an insurance adjuster or sign a release without consulting with a lawyer
Unless and until you have talked with an experienced car accident attorney who is looking out for you and your interests, never give a recorded statement or sign any settlements, releases or waivers that are presented to you by either your own auto or motorcycle insurance company or the at-fault driver's auto insurer or any other insurance company or person.
This is especially important after a car accident when it's not your fault.
The danger with settlements, releases and waivers is that they all too frequently contain unrelated language that can cause a car crash victim to forfeit all of his or her legal rights, including the right to compensation and insurance benefits that he or she is entitled to under the law.
Talk to an experienced lawyer
An experienced lawyer who focuses on helping people who have been injured in car crashes and who has extensive litigation experience can get you the help you need after a car accident when it's not your fault, including benefits to pay for medical bills and lost wages and an injury settlement that reflects the full value of your injuries.
Attend all of your medical appointments
If you're hurting, t is important that you continue to treat. Not only is this the best thing you can do for your health and so you get better faster after your crash, but it also helps to protect your legal rights to future insurance PIP benefits and that you receive fair compensation. Insurance adjusters often contend that a victim who fails to attend his or her doctor's appointment must not be experiencing pain or be as seriously injured as they claim to be and the failure to treat can lower the value of your injury settlement substantially.
Keep good records
Keep good records of your injuries, medical care and treatment and other events that are part of your recovery:
Document all doctor's visits, prescriptions, over the counter medications, laboratory services, physical therapy, hospital visits, treatments, medical documents and x-rays
Note the date each service was provided and the amount you were charged
Keep a diary of your daily pain, discomfort, emotional distress, fatigue, tenderness, inconvenience, etc.
Write down how your personal injuries have impacted your daily life and relationships
Take photos of all of your injuries, as soon after the accident as possible
Keep copies of all medical bills, medical records and other documents
This is important for maximizing your chances for the best possible recovery and for protecting your legal rights to benefits and compensation.
Need help? Call the attorneys at Michigan Auto Law
If you have been injured in a car accident when it's not your fault and would like to speak with an experienced attorney, call toll free anytime 24/7 at (800) 777-0028 for a free consultation with one of our attorneys. You can also get help from an experienced accident attorney by visiting our contact page or you can use the chat feature on our website.