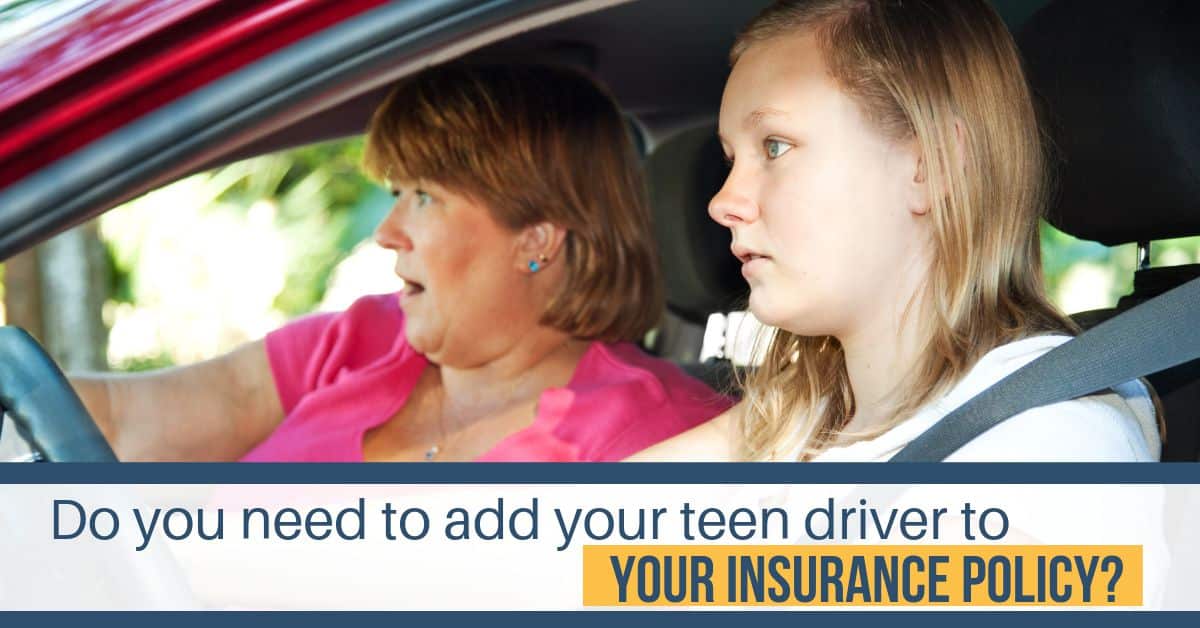 Generally speaking, a teenage driver in Michigan who has received his or her driver's license must be covered by the auto insurance policy covering the car or truck he or she is driving.
However, a teen driver who is driving on a learner's permit does not need to have his or her own insurance coverage, nor does he or she have to be included on the family's auto insurance policy.
I always caution parents to double-check what their car insurers' specific rules are. While most car insurance companies do not require a teen driving on a permit to have insurance coverage or be included on a family's auto insurance policy, that doesn't mean one or more of the 77 car insurance companies who do at least $1 million in business annually in this state does not have its own specific contractual provision requiring you to add your teenager to your car insurance. There are also probably another 150-200 car insurance companies who are certified to do business in this state, and while I like to say that after 25 years of being a car accident lawyer I've probably sued almost every insurance company in this state at one time or another, that's a lot of insurance policies out there. The takeaway for you is that each policy can have its own contractual requirement when it comes to adding your teenager to your car insurance in Michigan, so you should confirm – in writing – with your own insurance company and not rely on the general rule.
My own daughter has a level one permit and she is currently getting her 50 required hours in to get her license. As if insurance issues aren't enough to strike fear in the hearts of parents whose children may soon be entrusted with tons of rolling metal that can travel through time and space at speeds of up to 100 m.p.h. or more, there is one more issue at the top of parents' minds.
Money.
Did you know that adding a 16-year-old to a Michigan No-Fault auto insurance policy can cause your rates to jump 163% on average?
Michigan auto insurance laws for minors
Michigan law requires all drivers (including minors) that own any vehicle that is "driven or moved on a highway" must have a No-Fault auto insurance policy at the minimum levels of $20,000 per person for Bodily Injury, $40,000 per crash for Bodily Injury and $100, for Property damage. (MCL 500.3101(1); 500.3009(1)) This requirement applies whether the vehicle's owner is a minor or an adult. Under Michigan law, a minor ("a person under the age of 18 years") cannot purchase a motor vehicle "without the written consent" of a parent or guardian. (MCL 722.1(a); 750.421c)
If the minor is not the owner of the vehicle, then it will depend on whether the minor is driving on a permit or if the minor has a driver's license. Read the section above to see what the general rule is, and then please double-check with your own car insurance company to make sure your company does not require anything different.
Do you need insurance to drive with a learner's permit?
Michigan No-Fault auto insurance companies generally say that teens driving with a learner's permit do not have to be added as a "named driver" to their family's car insurance policy nor do teens driving with a learner's permit have to buy their own policy. However, if they want to drive a car to accumulate their required hours of "behind-the-wheel" driving experience, they must use a car that has the proper legally required No-Fault auto insurance coverage.
This means that, in the event of an accident, the teen driver (who is driving on a learner's permit) will be covered under the family's insurance policy and, thus, he or she will be entitled to receive No-Fault benefits and pain and suffering compensation.
This issue comes up a lot when teenagers start getting their learner's permits and hit the roads (with Mom or Dad pumping the imaginary brakes in the passenger seat) to practice driving and get the required number of hours they need to get a driver's license.
Unfortunately, Michigan's Insurance Code does not address this specific issue, so it's left to car insurance companies to decide what they want to do. As I mentioned above, parents should double-check what their insurers' specific rules are.
Insurance requirements with a teen drivers license
A licensed teen driver must be included and covered by the family's car insurance policy. This can be accomplished by naming the teenager as a "named driver" on the policy covering the vehicle or vehicles that the teen will regularly be driving.
The biggest mistake I see as an auto accident lawyer regarding teen drivers is the parents' failure to list their teenagers as "named drivers" on their car insurance policies. This is very dangerous. If your teen causes (or is injured in) a serious car accident when driving a car that she normally drives but is not listed on as a "named driver," there can be disastrous consequences. These consequences can include your child's medical bills not being covered by your own auto insurance company, and your child being barred from suing an at-fault driver (the driver who actually causes the car crash that injures your child) even when your teen is completely innocent and seriously injured.
Below are important issues that parents should consider when considering insurance for their licensed teen driver:
Making changes to the family's auto insurance to ensure teenage drivers are protected under No-Fault: A parent must inform the car insurance company that there is a new licensed driver in the home. Parents are also supposed to list the primary driver of each vehicle, i.e., "named drivers," in the policy. If parents purposely (or even inadvertently) avoid listing their teenagers, either as living in the house or as named-drivers, this could be considered insurance fraud, and coverage can be canceled by your insurance company where the policy is considered void ab initio.
Choosing the best coverage level for a licensed teen driver: In the event that the teen driver has her own separate auto insurance coverage (for a vehicle that she owns and for which she would be identified as the "named insured" in the policy), the minimum policies she should carry should be $250,000/$500,000 for bodily injury (personal injury if she causes an auto accident) and $250,000/$500,000 in Unininsured and Underinsured Motorist Coverage (UM/UIM). If the teen is on her parents' policy, her coverage is the same. Every person should purchase UM/UIM. It is the best insurance coverage, and many people know nothing about it. Ask your agent about this coverage, and if your insurance company doesn't offer these important Uninsured and Underinsured Motorist Coverage, you should find a new insurance company to properly protect you and your family.
Structuring a family's car insurance policy where a licensed teenager is driving the family car – not his or her own: A teen should be listed as a "named driver," so the auto insurer can never say that it was unaware that there were teens in the house or that the teens drove the car. If the teen owns the car, then the teen really should be a "named insured" or "co-named insured."