We're thankful for what our Michigan Auto Law attorneys did to help car accident victims in 2017 and we look forward to fighting hard for our clients in 2018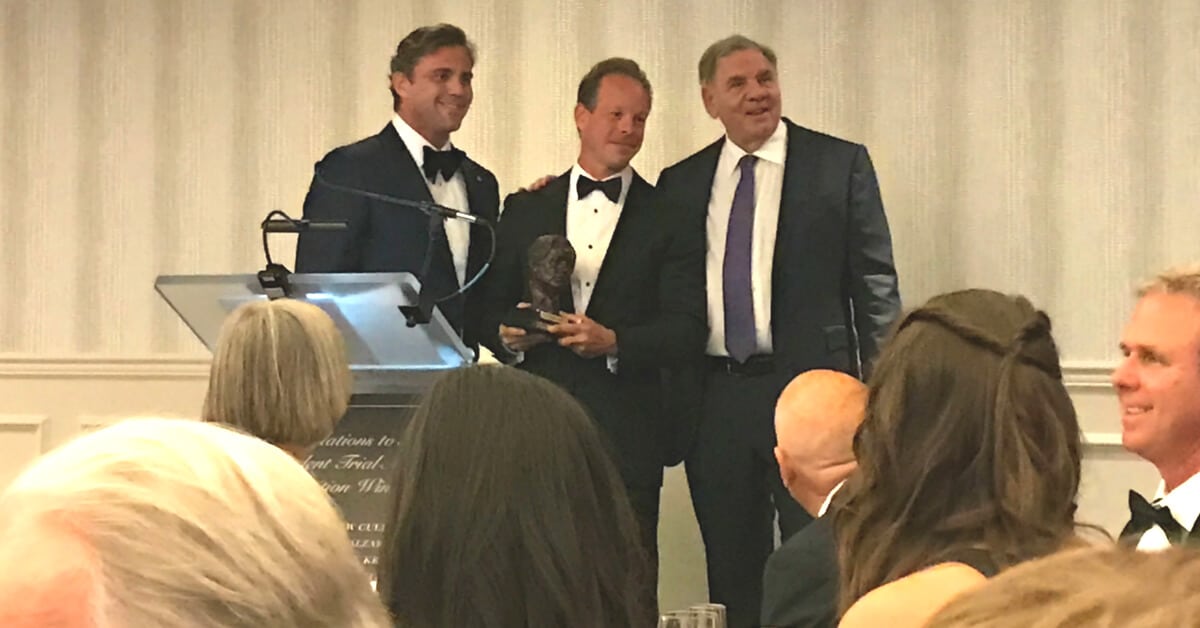 On behalf of all of our attorneys and amazing professional staff who work so hard and who care so much, I wanted to close out 2017 with thanks and gratitude for all the people we were able to help this year and for all that Michigan Auto Law was able to accomplish on their behalf.
Reflecting back to the people we helped in 2017, here's a look at the year that was – as we prepare for the year ahead:
Steven Gursten was honored with the Melvin M. Belli Society annual Mel Award in Boston on July 21, 2017. The yearly award goes to only one trial lawyer whom the society – which is comprised of some of the greatest trial lawyers from throughout the U.S. – determines reflects the courage, commitment and innovation of Mel Belli, the award's namesake. Steve received the award for 2017 for risking his law license to expose a notorious insurance doctor who was testifying under oath to things that injured auto accident victims never said, which, if believed by a jury to be true, could have resulted in these people losing everything.
Reflecting Michigan Auto Law's commitment to caring and great client communication, our lawyers have again received the "Client's Choice" award from Avvo for extraordinary client service.
Steve Gursten in 2018 will be the incoming President-Elect of the American Association for Justice (AAJ) Traumatic Brain Injury Litigation Group. Steve is also a past-President of the AAJ Truck Accident Litigation Group.
Steve is also the 2018 President of the Motor Vehicle Trial Lawyers Association.
Our auto accident attorneys appeared in dozens of newspaper articles, on radio and on television interviews in 2017. This included news and legal analysis of the auto No Fault reform debates and on why House Bill 5013 — Detroit Mayor Mike Duggan and Republican House Speaker Tom Leonard's plan to cap No Fault benefits at only $25,000 for injured car accident victims — was a terrible idea. The bill was later defeated on a 63-45 vote in the House on Nov. 2, 2017.
Robert Raitt is Chair-Elect of the State Bar of Michigan Negligence Law Section. Bobby was elected at the section's annual meeting in September, as part of the State Bar's NEXT Conference.
For the eighth straight year, and ever since the award's inception, Michigan Auto Law was recognized by U.S. News & World Report's annual "Best Law Firms" in the field of personal injury litigation.
In addition, 10 Michigan Auto Law attorneys — Steve Gursten, Lawrence Gursten, Leonard Koltonow, Bobby Raitt, Kevin Seiferheld, Thomas James, Brandon Hewitt, Alison Duffy, Jordan Jones and Joshua Terebelo — were, again, named among the very top accident and injury attorneys in Michigan for the 10th year in a row in the annual Michigan Super Lawyers list. Super Lawyers is limited to the top 5% of all Michigan lawyers.
Steven Gursten and Bobby Raitt were voted among the top 50 attorneys in Michigan in 2017 – out of more than 60,000 Michigan lawyers and several thousand who claim to also practice auto accident and personal injury litigation – by Super Lawyers.
Steve Gursten, Larry Gursten, Lenny Koltonow and Bobby Raitt were again selected to the Best Lawyers in America 2018 edition.
Steven Gursten appeared on the CBS National Evening News and CBS Morning News in an exposé on dangerously unfit school bus drivers. This was based on a case handled by the law firm that drew national attention to the lack of driving qualifications of many school bus drivers who drive our children to school.
Attorney Brandon Hewitt presented to packed high school auditoriums throughout Michigan on the dangers of distracted driving for teen drivers, and, in particular, the dangers of texting and driving.
In addition, our lawyers spoke at nearly two dozen legal seminars and conferences throughout the country in 2017.
I want to close out 2017 by thanking our readers of this blog for helping us to make a real difference on so many safety and legal issues.
These blogs take hours to write, but it is a labor of love. These blogs have resulted in national news stories. They have shaped public policy and legislation in our state, ranging from the very continued existence of our Michigan No Fault law to how judges interpret important legal decisions affecting thousands of people to the dangers of distracted driving.
There are hundreds, maybe even thousands of legal blogs out there, but this blog has moved the needle as a force for positive change and, for that, we are truly humbled.