At the American Association for Justice's annual meeting, Steven Gursten honored by the Melvin M. Belli Society for his courage, creativity, and contributions to American trial law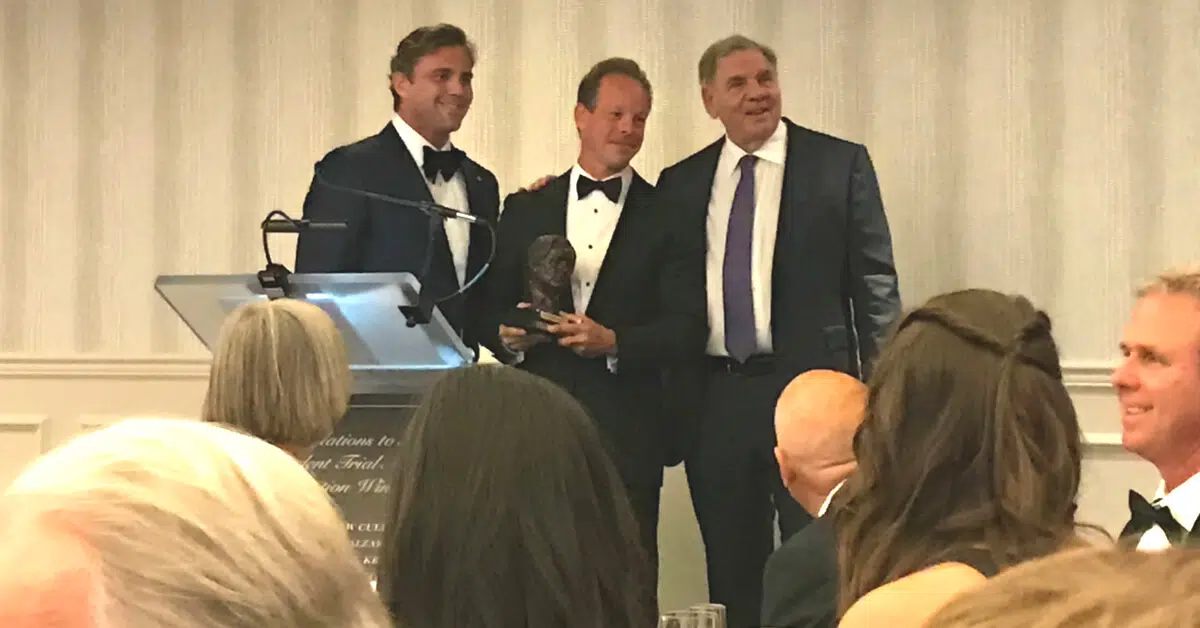 Recently, during the American Association for Justice's annual meeting in Boston, I was presented with one of American law's most prestigious honors: the Melvin M. Belli Society annual Mel Award.
This distinction recognizes an attorney's courage, creativity and contributions to American trial law, and I'm incredibly humbled to have been named the award's 2017 recipient.
The Belli Society Mel Award was created in 2001. It's presented to an attorney who:
"[B]y virtue of his or her creative advocacy, spirit of innovation and paradigm-shifting techniques in the presentation of evidence, best exemplified Mel Belli's tremendous contribution to the work we do as trial lawyers. Thus the Mel pays tribute to the recipient and keeps alive the legacy of the greatest personal injury lawyer of the Twentieth Century."
Why did I receive this prestigious Belli Society award in 2017?

Last year I made national news, risking my law license to expose a defense medical doctor who had testified under oath that my client, who was catastrophically injured in a truck accident, said things to her — things he never said. These were all things that would have greatly helped the defense and insurance company if the jury believed them to be true.
What made the story more interesting was that this doctor, who made a substantial amount of money doing IME work for insurance companies and defense lawyers, also happened to sit on the Attorney Discipline Board of Michigan. This is the board that disciplines attorneys for ethical misconduct.
I was so angered and appalled by what this doctor did to my client — and what she almost got away with — that I wrote a blog about it. I wanted to warn other people. I wanted people to know what she did and what she almost got away with, and what she might be doing to other people who were being forced to see her as well.
The doctor didn't like my blog, and she responded by filing a grievance against me. She attempted to use her position and power on the Michigan Attorney Discipline Board to silence me and to punish me.
She demanded I take down the blog, something I refused to do. She attempted to use her position on the Discipline Board to have the Michigan Attorney Grievance Commission punish me for exposing her conduct and what she had done.
But instead of kowtowing to her demands, I chose to risk my own law license and to fight back for what I knew was right.
My case has become the seminal case in the nation for attorney First Amendment rights. The case attracted the attention of legal bloggers, ethics professors and the national news media. It is discussed on legal ethics listservs and legal seminars and is being taught in law schools.
The award is for a few other things as well. I speak and lecture around the nation on cutting-edge trial techniques, just as I did a few days later in Boston at the AAJ annual convention this year. But mostly the Mel Award this year is because I was willing to speak truth to power, and risk even my law license to fight for what I believed was right.
What is the Belli Society?

The Belli Society is a legal group comprised of some of the greatest trial lawyers from throughout the U.S.
Its mission is to preserve the ideals of Mel Belli, whose own creativity, courage, and out-of-the-box thinking in doing things that had never previously been done, helped cement his reputation as the "King of Torts."
The Belli Society presents hard-hitting, practical legal seminars from trial lawyers who are experts in the courtroom that focus on new and creative trial ideas and techniques. It's a privilege for me to be part of such a group.
I was selected to first serve on the Belli Society Executive Board in 2014.
Belli Society named for 'King of Torts'
The Belli Society is named for Mel Belli, a California attorney who was known as "The King of Torts." He wrote the seminal, six-volume "Modern Trials," which, 60 years after its publication, is still considered an essential textbook for American personal injury lawyers on demonstrative evidence.
While you might not recognize Belli's name offhand, you probably know those who appeared on his celebrity client list: Zsa Zsa Gabor, Errol Flynn, Chuck Berry, Muhammad Ali, the Rolling Stones, Jim and Tammy Faye Bakker, and Mae West, among others.
This is a high honor indeed. I've long believed that innovation in the courtroom — from choosing the right medical experts to presenting evidence and timelines that a jury can understand — is essential to keeping the system fair for our clients, victims of car crashes and other forms of auto negligence. To be recognized for what I've done on a national scale is truly an awesome feeling, and I thank the Belli Society for my designation.