Use this guide to help find the right accident attorney – and stay away from the wrong ones – to find help you when you need it most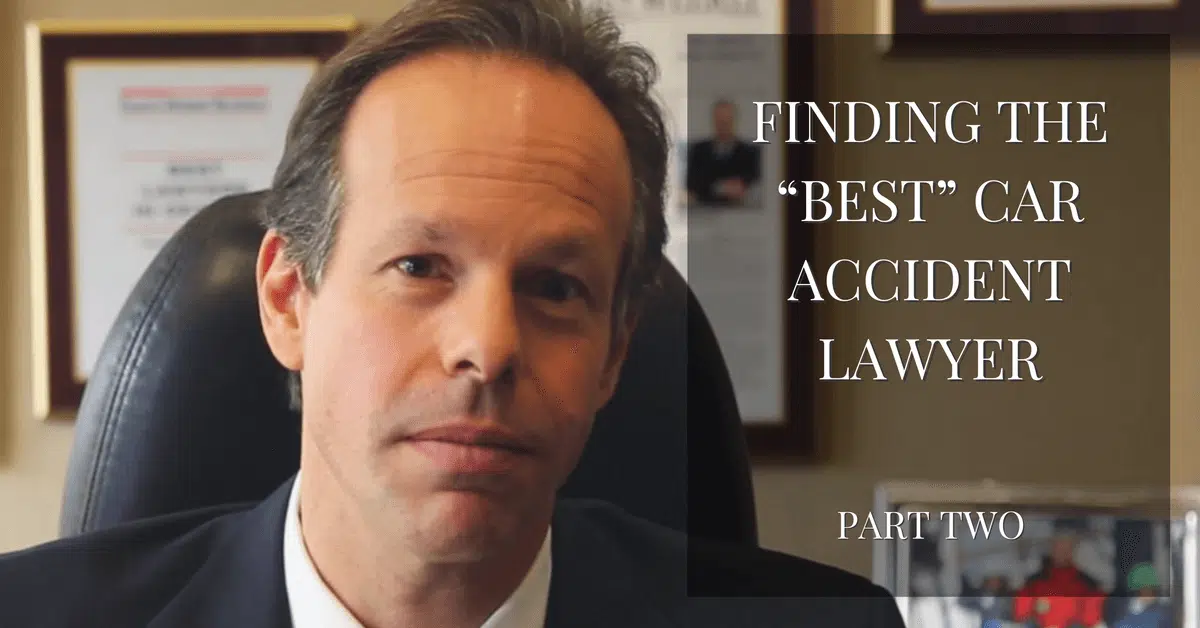 When an automobile accident happens, people don't get to choose whether they will be injured or not in the few split-seconds before the crash.
But you do have a choice in choosing who represents you afterwards.
Choosing a qualified and experienced attorney who can truly help you, safeguard your No Fault legal rights, and make sure you recover a settlement or jury verdict that will protect you for life is essential.
Why is it, then, that so many people fail to do this?
Today, lawyer ambulance-chasing and illegal auto accident victim solicitation is at all-time highs in Michigan. In some cities, such as Detroit, the runners and solicitation has gotten so bad that anyone who has been injured in a car accident can now expect letters, phone calls, or even people knocking on your door to try to send you to a lawyer (and sometimes a network of doctors) after a car accident.
Here's the thing – this only happens because most people spend more time buying toaster ovens and TVs than they do hiring a lawyer. Ambulance chasing only can work in a vacuum of knowledge where people don't know how to find they best lawyer to help them.
Tips to find the right lawyer after an auto accident
Here is my 9-point "Best Lawyer" test.
I wrote it to help you to find the best auto-accident attorney for you. I truly hope you find the following legal advice understandable and empowering.
To start, here's a checklist of qualifications you want to make sure your own attorney possesses:
Results
Client caring
Subject-matter specialization
Service
Leadership
Demonstrated Expertise
Commitment to clients
Community Involvement
The Resources Necessary
And here's how you can make sure your attorney – whether to help you recover from an auto accident, or for any other area of law – has these legal qualifications…
1. Results: Measuring verdicts and settlements in dollars and cents
Insurance companies already know this about your attorney, shouldn't you?
Many of the attorneys who say they "handle auto accident cases" haven't got much to say here. But real-world results are a huge part of the claims adjusting programs, like Colossus, that insurance adjusters use to evaluate claims.
You also want to know about the times the attorney has succeeded in auto insurance companies to pay accident victims the No Fault insurance benefits they're entitled. Under Michigan's No Fault insurance law, car and truck accident victims have the right to have their car insurance companies pay for their medical expenses and other benefits such as wage loss, replacement services, and attendant care. But insurance companies often ignore these contractual obligations, and often will pay for a short time and then the adjuster will try to "cut off" PIP (Personal Injury Protection) No Fault benefits.
To improve your chances of getting and keeping the injury settlement and the No Fault benefits you're entitled to, as well as collecting the pain and suffering compensation you deserve, you need to have an attorney who has a proven track record of getting results.
Most don't.
2. Client care
You want an attorney who's going to treat you – and your family – with courtesy, compassion, respect and dignity. You want an attorney who always promptly returns phone calls. You want someone who cares.
Of course, any attorney you meet with will say they care and they return phone calls.
But how do you know for sure?
The best way is to find out what people who have used this attorney have to say about him. Read client testimonials. If your prospective auto accident attorney is truly as caring toward clients as he or she claims, then references and/or testimonials should be readily available on the internet.
3. Subject-matter specialization
You want the attorney who's going to handle your case to know this area of law so well that they are considered one of only three or four experts in this area in the entire state.
4. Service
Why do we expect great service from a nice hotel, or a clothing store like Nordstrom's, but not from an attorney – especially an attorney who you are depending upon?
If you have a concern, or if there is a problem with some aspect of your case, then you need to be able to get help immediately. Does your attorney have a support team so that if he or she is in trial, or in a deposition and unavailable, that you have someone in your attorney's must be ready, willing, and able to help you and take care of a problem?
You also want to be able to get a hold of your attorney via e-mail or telephone, when you have questions. There must always be great communication. I've written and I speak at legal seminars quite often on helping lawyers get bigger settlements and jury verdicts, and great client communication is always at the heart of it. It is at the heart of our own success, where Attorney at Law Magazine has noted 15 consecutive years with the top reported jury verdicts and accident settlements in Michigan.
5. Legal Leadership
Attorneys who have demonstrated expertise and knowledge for many years are recognized by their peers and in the legal community.
Some of those honors that I've received include:
Lawyer of the Year, Michigan Lawyers Weekly
Leader in the Law, Michigan Lawyers Weekly
Best Lawyer in America, Best Lawyers listing
Michigan Super Lawyer, Super Lawyers listing
Top 100 Trial Lawyer, American Trial Lawyers
Bar Register of Preeminent Lawyers, Martindale-Hubbell
AV-Rated for legal ability and ethics, Martindale-Hubbell
Clients' Choice Award, Avvo
6. Demonstrated knowledge and Legal Expertise
An excellent measure of a prospective auto accident attorney's expertise is the extent to which he or she is called upon in the capacity as a legal expert in state and national news.
Find out about instances where a lawyer has been interviewed for newspapers or magazines, or has appeared on television or radio.
7. Commitment to clients
It takes a lot of time, energy, money, and sacrifice to become a successful trial lawyer.
That's why most lawyers aren't.
A truly committed attorney is someone who has demonstrated this commitment over and over again in the cases he or she has litigated and the trials and settlements he or she has recovered for clients.
8. Community Involvement
Attorneys who care, always care about their communities. You can read about how our own attorneys give back here.
Also, ask about professional giving back, to help the legal community and the legal profession.
Some of the legal leadership and associations that our attorneys give back to include:
American Association for Justice, Leaders Forum
Truck Accident Litigation Group, Past Chair
Traumatic Brain Injury Litigation Group, Chair-Elect
Auto No-Fault Committee
Negligence Law Section, Past Chair
9. Legal Resources
A successful case can take hundreds of hours, and tens of thousands of dollars. Most lawyers unfortunately cannot go toe to toe with the giant insurers, and in certain areas of law such as catastrophic truck accident litigation, the insurance companies count on this because they see time and time again how lawyers who have exhausted their legal resources fold under the pressure and costs of a case.
Make sure your attorney has the support and the staff to go the distance for you
How do lawyers get paid?
Most injury lawyers in Michigan use the contingency fee system. When an accident attorney charges a contingency fee, the client doesn't pay any money up front. And if the accident attorney does not win your injury lawsuit, you won't have to pay back the costs incurred in investigating your case and the attorney fees.
In other words, paying for an experienced accident attorney is contingent on your own legal recovery – if you don't get paid, your lawyer doesn't get paid.
For more information, you can order our free book: "How to Choose the Right Lawyer: Breaking through the sea of legal advertising to find the best answers," or visit our special Michigan Auto Law website section on Finding a lawyer.
Related info:
The Michigan Auto Law guarantee