MSP Trooper who is lucky to be alive highlights the importance of moving over for emergency vehicles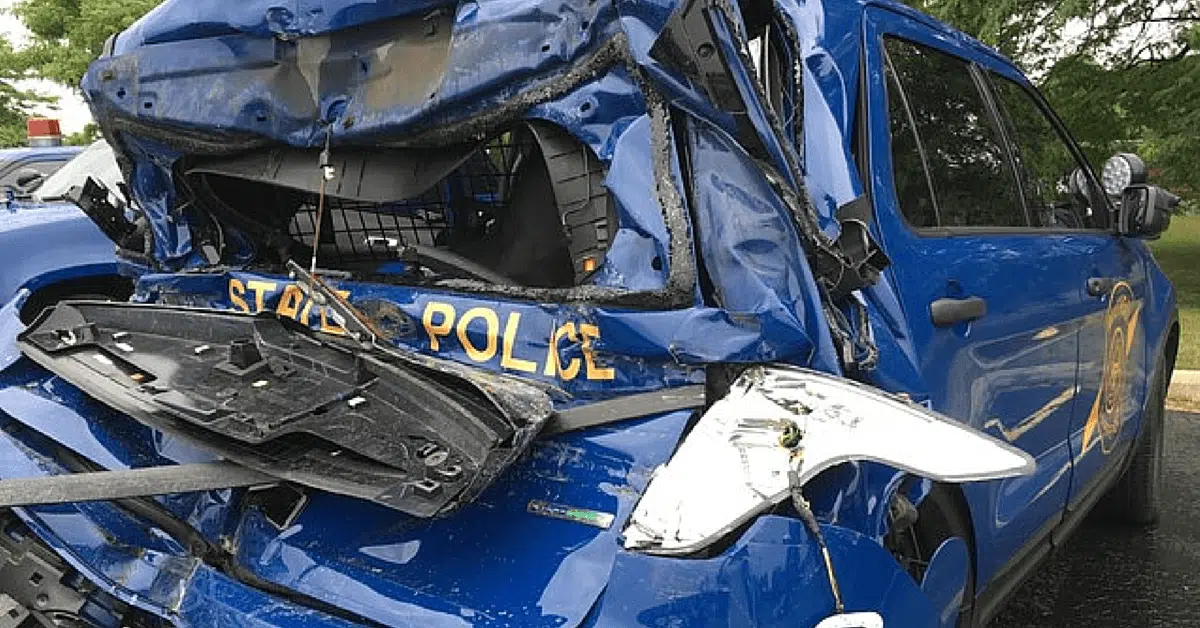 (Photo from WXYZ article)
It's easy to prevent these types of terrible automobile accidents from happening over and over so we can keep our police and emergency personnel and first responders safe on Michigan roadways.
All drivers need to do is follow the law. Michigan's "Move Over" Law, that is.
All drivers need do is slow down and move over when they see a police or emergency vehicle on the side of the road with its warning lights activated.
That's the question being asked after a trucker driving a large construction truck slammed into a Michigan State Police patrol that was parked on the shoulder of I-696 Monday morning with its emergency lights activated.
In its story about the trucker crashing into the MSP patrol car parked on the I-696 roadside with its emergency lights flashing, WXYZ TV reported:
"Video of the accident shows the trooper's SUV sitting on the right hand shoulder when it is rear-ended by a jackknifing semi hauling construction equipment. You can see on the video that semi has already lost control when it slams into the trooper's unit. The force of the crash sent the trooper's SUV spinning along the freeway and through the nearby overpass, where it ended up on the other side, sitting on the left hand shoulder. The trooper suffered broken ribs in the accident. He was released from the hospital Tuesday evening and is expected to be okay. Officials say the driver of the semi failed to follow the MI Move Over Law and is facing charges in the crash."
In my practice as an attorney who helps people who have been seriously injured in Michigan crashes, I've seen the destruction and devastation this type of recklessness can cause on our roadways.
This latest tragedy is just another sad example.
The "Move Over" law doesn't demand much of drivers – nothing more than what common sense should have dictated anyway – but when it is complied with, it provides a great of necessary and well-deserved protection for the police and emergency personnel who protect us and our families when we're out on the road.
Michigan's 'Move Over' law protects police and emergency personnel
Under Michigan's "Move Over" law, if a driver is "approaching and passing a stationary authorized emergency vehicle that is giving a visual signal by means of flashing, rotating, or oscillating red, blue, or white lights …," the driver of the "approaching vehicle shall exhibit due care and caution" by doing the following:
"[Y]ield[ing] the right-of-way by moving into a lane at least 1 moving lane or 2 vehicle widths apart from the stationary authorized emergency vehicle" or, if that's not possible, then;
"[R]educe and maintain a safe speed for weather, road conditions, and vehicular or pedestrian traffic and proceed with due care and caution …" (MCL 257.653a(1)(a) and (b))
Importantly, the "Move Over" law applies not only to police and fire personnel as well as EMT and ambulances, but it also applies to tow trucks which, with their emergency lights activated, are parked on the side of the road trying to help a family whose vehicle is in trouble.