Last Thursday, I heard Charles Osgood discussing on WWJ a new study by AAA of teenage drivers that looked at dashcam videos instead of police reports, and found that teen drivers were distracted in 60% of the car crashes they were involved in.
It should come as no surprise that an alarmingly high cause of accidents in the United States are a result of distracted driving. Over 2.5 million car accidents occur in the U.S. each year. Of these, 64% involved the use of a cellphone.
You might be wondering how we can reduce the number of accidents caused by cell phone use behind the wheel.
Here's the kicker: the root of the problem may also be the solution.
We All Think We're Great Drivers
We all think we're great drivers…until we're not. "I just use my phone to find songs on my playlist." "I'm not texting. I'm just looking to confirm where I'm meeting Tom for lunch." All of these activities seem relatively harmless, but they are distracted driving behaviors we commonly tend to commit without realizing how often we do so.
A recent study found that 85% of drivers use a cell phone while driving. Additionally, drivers tended to text or use an app for 16% of their total commute time. When you add all of that time together you get 20 million hours of distracted driving that occurs in the U.S. per day.
If we all think we're great drivers (even though we're not,) how can we improve? The key to improving road safety and reducing distracted driving related accidents is to increase driver awareness. Drivers need to work on becoming more aware of their surroundings and their behind the wheel cell phone usage. Luckily, the same device that causes accidents has also become the device that prevents them.
Driver Safety Smart Phone Apps
Newly released smart phone apps can now prevent, track, analyze, and report bad driver behavior. For the first time in history, drivers can obtain an accurate assessment of their driving behavior and learn how they can reduce their preventable risk of causing a crashing.
In the same manor that wearable fitness trackers give users accurate information about their health, smartphone-based driver safety apps give drivers accurate information about their behavior behind the wheel. After browsing many of the mobile apps on the market, we believe the following 9 apps offer the most for safety conscious drivers.
TrueMotion Family | Free
Unfortunately, TrueMotion Family is the one app we cannot review at this time. TrueMotion Family has yet to release their safe driving app, but it looks to be the most promising yet. TrueMotion Family scores drivers based on their risky behaviors and monitors improvements over time. The app tracks metrics such as the amount of distracted phone usage, the number of hard brakes, and the amount of time spent driving over the speed limit.
In addition, for concerned parents who want to keep tabs on all of their family members, TrueMotion Family offers an expanded map view. Parents can see the location of their children and tap on their icons to view driving scores, as well as, trip history. We're absolutely in love with the user interface which appears to be easy and intuitive to use. Check back on this page for a review once the app is released.
Review Coming Soon
SafeDrive | Free
SafeDrive turns the objective of driving safe into a game. Even better, SafeDrive rewards you for avoiding phone use while driving. Simply open the app and click 'Play Now' before you start driving. SafeDrive adds points for the time you drive without touching your phone. Your points are added to your overall score once you click the button to end your trip. You can then reap the rewards of your good behavior by spending your hard earned points on discounted products.
The game really gets interesting when you invite friends to compete against. When you compete against a friend the app takes your score and weighs it against your friends score at the end of the day. The driver that accumulated the most points wins and the loser must forfeit a percentage of their points. Overall, SafeDrive succeeds in their objective to turn driving safely into a fun game. This app was certainly one of our favorites on the list, especially at the low price of free.
Rating: 5/5
Canary | $14.99 Lifetime Subscription
Canary isn't an app for your safety so much as it is for your teen's safety. Rather than block phone use while driving, Canary gives you the ability to monitor when your teen unlocks their phone while behind the wheel. Canary has a whole slew of great features for parents including notifications when your teen goes over the speed limit and a nifty 'geofence' feature. Parents can set up perimeters on a map to receive notifications when their teen leaves those areas after curfew. The geofence feature really sold us on the price and it's great for parents with a teenager who has a knack for sneaking out.
While Canary is a great app, we noticed it did have some inconsistencies at times. There were occasions where our speed would clock in substantially above the speed we were actually driving at. Furthermore, there were a few times when the app would report phone use just for receiving a notification. However, those times when Canary was wrong were far and few in-between. Ultimately, Canary is worth the purchase for parents with teen drivers.
Rating: 4/5 
DriveSafe.ly | Free
Rather than track when you display bad driving display, Drivesafe.ly stops you before you can. DriveSafe.ly keeps you from texting/emailing on the road by reading any messages you receive out loud and auto-responding with an "I'm currently driving. I will get back to you later." message template you create. There is a pro-version which gives you the ability to change the voice of your message reader or even auto-select the readers voice based off of contact gender. The pro-version is available at $13.95 per year for a single user or $34.95 per year for a family plan.
All in all, Drivesafe.ly is great for drivers who have trouble resisting the urge to check their messages on the road. With Drivesafe.ly's read and auto-respond feature you have no need to pick up your phone when the new message notification pops up. Drivesafe.ly is great for what for what it does, but in comparison to the other apps on this list we do wish that it offered a little more in terms of features. Perhaps we'll see more in updates to come.
Rating: 4/5 
Drivemode | Free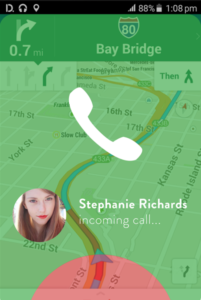 Drivemode creates a driving hub for you to easily navigate through your phone while still keeping your attention on the road ahead. Drivemode consolidates your music, navigation, and messaging all in one place with overlays so that you can see multiple things at the same time. It's great having the ability to change the song you're listening to while still viewing your driving directions. Drivemode also includes an easy to use swipe system so that you can navigate through the app without even giving it a glance. Additionally, Drivemode incorporates the ability to auto-reply to messages and choose from a selection of auto-reply messages.
Drivemode is an easy-to-use app with an intuitive interface and a sleek design. However, in encouraging phone use, Drivemode still leaves room for driver distraction and does leave us a bit disappointed in that regard. Nonetheless, Drivemode is a great step forward, especially for those who still feel the need to be able to use their phone while on the road.
Rating: 4/5 
Drive Safe | Free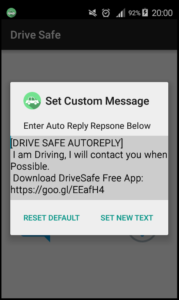 Kudos to Andrew Irwin, the young developer who created Drive Safe in an effort to build something that could benefit humanity. Like DriveSafe.ly, Drive Safe shifts your attention away from your phone by silencing it and auto-replying to incoming calls and texts. Drive Safe is easy to use and requires nothing but the push of one button to activate. In fact, it's so easy and effective to use that it captured the attention of the Prime Minister of Ireland, Enda Kenny. Drive Safe, is incredibly successful at accomplishing what it seeks to accomplish, but like DriveSafe.ly it is a very barebones app with a lack of additional driver safety features. Perhaps there will be more added features in the near future, but for now we're just happy Drive Safe exists.
Rating: 4/5 
Driving 101 | Free
Driving 101 takes an entirely different approach than any other app on this list. Driving 101 does not turn driving safely into a game and it does not police what you can do on the road. Instead, Driving 101 acts as your one stop news feed for road safety tips. Driving 101 offers fresh daily tips for safe, defensive driving. From preparing your vehicle for winter to emergency stopping tips, Driving 101's informative articles are extremely helpful. If you're truly interested in improving your driving this app is a must download.
Driving 101 certainly provides articles we're interested in, but we realize that not everyone looks forward to reading "How To Deal With Ice Fog" in their free time. Without some form of game or metric tracking, Driving 101 falls short in keeping the average app user interested in driving safety improvement.
Rating: 3/5