Truck driver who was 'texting at the time of the crash' charged with felony reckless driving; lawyers raise legal issue of  'remote texter liability'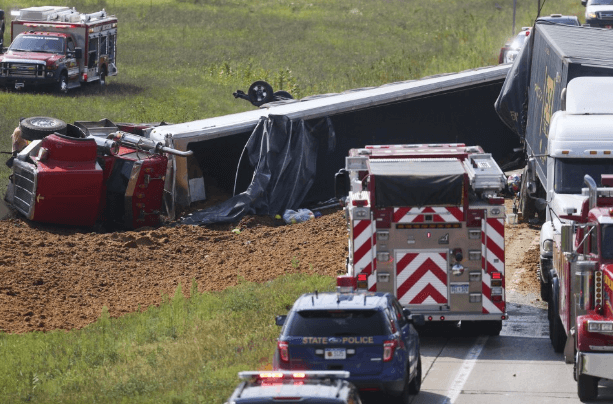 Texting and driving is dangerous. Texting while trucking is deadly.
And it's also a felony, criminal offense in Michigan.
Tragically, the family of James Hastings and trucker Michael Daniel Baird of Wayland have become all too aware of these facts.
On September 3, 2015, Baird, who was texting while trucking and, thus, failed to see that I-94 traffic in Paw Paw, MI had slowed due to construction, slammed his semi-truck into the rear-end of the Hastings's SUV, killing Mr. Hastings and seriously injuring his wife. Baird was recently charged with felony "reckless driving" by the Van Buren County Prosecuting Attorney, reports MLive's Rex Hall Jr.
Lessons for Accident Lawyers: Get those texts, "course and scope of employment"
I read about this case, ironically, as I was presenting at an advanced automobile accident legal seminar. I told the audience of attorneys that texting is now the cause of a staggering number of car and truck accidents, even though most personal injury attorneys are still not obtaining the actual text messages in legal discovery.
As a result, these attorneys are potentially losing out on a very significant source of additional legal recovery. When a person is using a phone or texting while in the course and scope of his or her employment, the employer can and should be added to the lawsuit. Most lawyers are not doing this, and only pursuing the case against the at-fault driver. If that driver has a low policy limit of bodily injury insurance, and the accident victim is seriously injured or was killed, the attorney is now losing out on a second defendant (and the employer is usually very aware the employee is in the car when sending text messages to boot).
This also imposes legal liability on the sender of a text message, when it can be shown that:
The sender of a text message "knew or had special reason to know that the driver would read the message while driving and would thus be distracted from attending to the road and the operation of the vehicle."
Is this fair?
Studies have shown that a texting driver is just as dangerous to other people on the road as a drunk driver.  This idea of teaching lawyers to consider "remote texting liability" is something I've also written about before: "Remote' texting someone while they're driving? You could be liable!"
The texting trucker: legal liability after a wreck
On March 21, 2016, Baird was charged by the Van Buren County Prosecutor's Office with felony "reckless driving" for causing the death of Mr. Hastings and serious injury to Mr. Hastings's wife in a rear-end, chain-reaction collision on I-94 in September 2015.
Under Michigan's reckless driving statute, MCL 257.626(3) and (4), a driver whose "reckless driving" kills or seriously injures another person is guilty of a felony punishable by 15 years or 5 years in prison, respectively.
MLive's Rex Hall Jr. reported that Baird, who has been described as being "inattentive," caused the fatal truck accident because he "failed to react to traffic that had slowed for construction on I-94." Significantly, Michigan State Police 1st Lieutenant Dale Hinz told MLive's Hall that the MSP's investigation into "why the truck driver [Baird] was not paying attention to the road at the time of the crash" revealed the following explanation for Baird's fatal inattentiveness:
"'He was found to be texting at the time of the crash …'"
(See also Mr. Hall's previous coverage of the fatal, texting trucker, rear-end collision.)
'Remote texter liability'
I commend the MSP and the Van Buren County Prosecutor for their investigation and decision to charge this deadly trucker with felony reckless driving. One of the big problems I see as an auto accident attorney is that very few police departments are bothering to even check if a driver who causes a car or truck accident was texting. When, someone is killed, as in this situation, the investigation will check to see if this occurred. But in the majority of non-fatal cases, there's no investigation by police into the cell phone.
It's up to the accident attorney to do this as part of the civil lawsuit.
Of course, Baird, as the driver of the semi-truck that caused the fatal, rear-end collision that ended Mr. Hastings's life and effectively destroyed Mrs. Hastings's, will be liable for the consequences of his negligence. (See MCL 257.402(a): The "driver or operator" of "a vehicle traveling in a certain direction" that "[strikes] the rear end of another vehicle proceeding in the same direction … shall be deemed prima facie guilty of negligence …")
But, given the prominent role that texting played in causing this fatal collision, I believe it's time we started looking at who else may be liable. In particular, should the person and/or company with whom Baird was texting when he slammed his semi-truck into the Hastings's SUV also be liable for the deadly consequences of Baird's negligence?  Did the company know he was texting, or even worse, was the company texting the driver as he was driving his big rig?
This type of liability is novel, I know. And as I wrote above, most personal injury attorneys have still never even heard of it to date. But it's not unheard of. In 2013, the New Jersey appellate court in Kubert v. Best and Colonna stated the following about "remote texter liability":
"We conclude that a person sending text messages has a duty not to text someone who is driving if the texter knows, or has special reason to know, the recipient will view the text while driving. … We hold that, when a texter knows or has special reason to know that the intended recipient is driving and is likely to read the text message while driving, the texter has a duty to users of the public roads to refrain from sending the driver a text at that time."
Related information:
Truck and bus drivers prohibited from using hand held cell phones
Trucker who killed a police officer in truck crash was on Facebook