How you can recover pain and suffering compensation and Michigan No Fault PIP benefits after a Megabus crash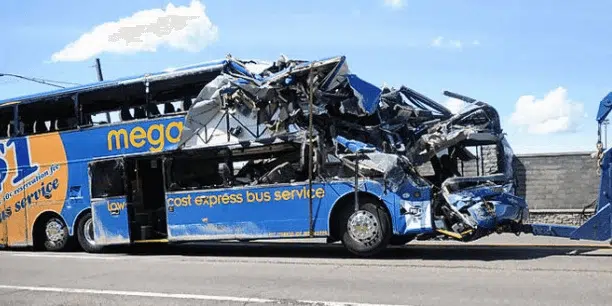 People who ride Megabus do so because it's an inexpensive alternative. It's also supposed to be a safe way to reach your destination, but as I wrote recently, that's not always the case. So what happens if you're involved in a Megabus accident? What are your legal rights?
To start, it matters what state you're in when the bus accident occurs. I will be answering this question as an attorney licensed in Michigan, and my answer will involve Michigan No Fault insurance benefits and the third-party pain and suffering lawsuit for people injured in motor vehicle accidents. I will be detailing how someone can collect auto No Fault insurance benefits for medical bills, wage loss, and replacement services if injured as a Megabus passenger in this state, but please be aware that the law will be very different in other pure tort states.  As the current President of the Motor Vehicle Trial Lawyers Association and past President of the American Association for Justice Truck Accident Litigation Group, I'm happy to give you the name of an excellent attorney if you're seeking help in a state other than Michigan.
So, in Michigan, our auto law works the same way as if you were a passenger on any other bus, whether that means you are a passenger on a Megabus, or you are in another motor vehicle, or a pedestrian or bicyclist who is hit by a bus. If you're involved in a Megabus accident in any of these scenarios, you will most likely have a claim against the bus driver and the company that owns the bus. This is because Michigan is an owners liability state, which means the bus employer or owner of the bus involved in any injury accident is also responsible, along with the driver who was operating the bus (the public policy rationale is that this will make employers more careful about hiring qualified drivers and supervising and monitoring employees, as they're required to do under the Federal Motor Carrier Safety Administration Rules (FMCSRs) and as adopted by the states).
Today our attorneys will be focusing on how to make a claim if you're injured in a Megabus accident and you live in Michigan.
Critical point: The difference between Megabus and a public bus company
It's important to note that there are some critical differences between how notice is treated with Megabus, compared to many other bus and transportation authorities in the state.
As a general rule, legal recovery can be difficult for bus accident victims. There are strict notice provisions for transportation authorities (i.e. SMART, DDOT, MTA, CATA, The Rapid, etc.).  An accident victim must file a written notice of his or her injuries to the correct transportation authority within 60 days of the bus accident, or he/she will not be able to file a negligence lawsuit against that transportation authority. The legal landscape in Michigan case law regarding bus accidents also tends to favor the bus companies.
But this is not so with Megabus.
Megabus is treated under Michigan law just like any other defendant, because it's owned and operated by a private corporation. As Megabus is not a government entity, it does not have special legal notice requirements and deadlines that, in other bus accidents, require you to hire an attorney right away.
Collecting Michigan No Fault PIP benefits after a Megabus crash
If you're injured as a passenger in a Megabus accident, you would follow the normal order of priorities for filing a No-Fault (PIP) claim. This means there's an order of potential sources who would provide your No Fault benefits (MCL 500.3114(2)):
File your claim for No Fault insurance benefits with your auto insurance company, or the auto insurer of your spouse or a relative (of yours or your spouse's) who lives with you – what the law calls a resident relative. However, if no No Fault insurance is available through those sources, then you should:
File your claim for No Fault benefits with the No Fault "insurer of the motor vehicle," i.e., the No Fault insurer of the Megabus which you were riding as a passenger.
It's easier to make your claim for auto No Fault PIP benefits through a private insurance company, because you can make your PIP claim directly with the auto insurer.
Transportation authorities generally have a third-party administrator handling their claims and often require the bus accident victims to call a special phone number if they're injured. Depending on how fast the return call is made, it can significantly delay the No Fault PIP claim being filed with the underlying insurer/third-party administrator.
Your pain and suffering case against Megabus
If you're injured as a passenger in a Megabus accident in Michigan, it's also possible to make a claim for pain and suffering compensation against Megabus and/or the at-fault driver in the crash.
If the Megabus accident occurs in another state, but you have your own car insurance or have a resident relative with Michigan insurance, the same applies: It's possible to make a claim for No Fault insurance benefits with your own insurance company, as well as a claim for pain and suffering compensation against Megabus and/or the at-fault driver in the crash.
Michigan is one of the few states in the nation that has an injury threshold law – essentially a test that you must meet in order to collect pain and suffering compensation for injuries after a motor vehicle accident. Recently, there have been some reassuring developments regarding whether this law was going to be changed or made more difficult by the Michigan Supreme Court. Still, we encourage you to contact one of our experienced bus accident attorneys to discuss whether your injuries will qualify, as well as how to document your injuries and pain and suffering; and collect your auto No Fault PIP benefits.
Remember, the 60-day written notice requirement to any transportation authority (i.e. SMART, DDOT, CATA, MTA, etc.) to report your bus accident injuries for a lawsuit.
It's also important that your attorney understands bus transportation accident cases, so he or she will be able to successfully uncover serious safety violations that may have led to your crash.  There have been several of very  serious Megabus accidents throughout the U.S.
Related info:
13 safety tips for riding the Megabus
Who pays my No Fault benefits if I'm injured in a public bus accident?