The low-cost coach travel option claims to be "safe" and "convenient," but recent Megabus accidents are cause for safety, legal concerns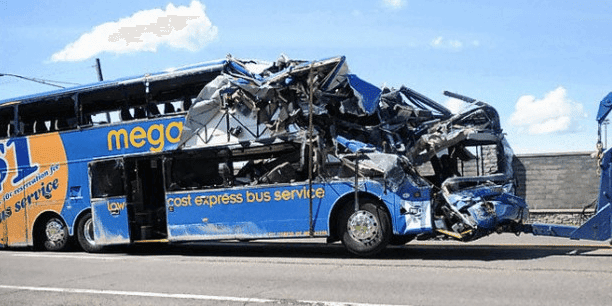 Megabus touts itself as a bus service that can get passengers to more than 100 cities in the U.S. and even Canada  — in a "safe, convenient" way and for very low prices. But given the rash of Megabus accidents in the news, some may also be wondering if this all sounds too good to be true.
In late February 2016, a Minneapolis-bound Megabus caught fire outside of Chicago, according to an article on The Christian Science Monitor. Thankfully, no one was injured. But the bus accident shocked riders and reinforced safety concerns about this double-decker, bargain bus service with free Wi-Fi and plushy seats.
Known for offering rock-bottom fares, Megabus came into the market in April 2006. It since has transported more than 50 million passengers to 120 major cities across North America. For example, one-way tickets from Michigan to Chicago average about $15.
How many Megabus accidents are happening around the U.S. – and how many is too many?
If you've been in a Megabus accident and have questions about your potential legal remedies, please take a look at our recent blog post, "Do I have a Megabus lawsuit?"
The latest Megabus accident occurred near the Illinois-Wisconsin border on Route 41, according to published reports. The driver and about 40 passengers were all able to exit the bus before firefighters arrived, but most of their luggage was lost. The cause of the fire remains unknown, and the bus sustained severe damage.
The Indianapolis Star reported that between 2013 and 2015,  there were at least 22 crashes in the US involving Megabus coaches, according to Federal Motor Carrier Safety Administration online records.
And there were at least three high profile cases in years before that: Sixteen Megabus accidents have been investigated. And the company has a slew of 'minor' issues as well – everything from speeding to traffic and hours of service violations, even DUIs., according to an article on thesixthirty.com.
But recent Megabus accident information is not currently available to the public as it was in years past via the Federal Motor Carrier Safety Administration's (FMSCA) CSA site. Megabus's relative safety rating will not be available, because it, along with that of all commercial motor carriers, was removed from public view shortly after the first of the year.
However, the data for all commercial motor vehicle accidents is accessible. In general, the FMCSA groups its accident stats with commercial trucks and buses combined.
What Megabus says about its safety policy
Here's the Megabus safety policy, according to the motor carrier's website, https://us.megabus.com/safetyandtraining.aspx:
"Safety and training Megabus Motorcoach and bus travel is one of the safest modes of transportation.  We take the safety of our customers seriously.
Our fleet is kept in top operating condition with our stringent preventative maintenance program and network of maintenance facilities.
Our local safety departments ensure that only the most qualified drivers are permitted behind the wheel. Drivers are required to complete extensive driver training courses and are subject to random drug and alcohol testing and periodic safety refresher classes. We have invested extensively in new forms of technology to allow a team of experts to monitor every vehicle around the clock for a range of safety and maintenance critical aspects."
What Megabus riders are saying about their trips
While Megabus says it provides "affordable and reliable bus services, offering the highest level of comfort and safety," many customers seem to feel differently. To get a taste of how some Megabus riders feel about their experiences, take a look at the nearly 400 complaints and reviews from Consumer Affairs, most of which are rated with one star. Of these, riders complain of myriad safety, scheduling and comfort issues including:
Late departures.
Discrimination of the disabled.
Broken down buses.
Cancellations.
Contagious passengers.
Drivers making dangerous decisions like nearly driving and into ditches, U turns in the middle of the highway.
Cold temperatures.
Lost luggage.
Given these Megabus accident statistics, and serious allegations of consumer complaints, it seems that one should think twice before trying to save a few bucks on the next Megabus trip. But if you're still inclined to try this bus service, stay tuned for my upcoming blog posts, where I will share some important safety tips for riding the Megabus and what to do if you're injured in a Megabus.
Related info: