Citizens shows why MI needs bad faith law and unauthorized practice of law protections now!
Today I want to share a cautionary tale. The lesson here is that when an insurance company contacts you shortly after a car accident to make a settlement offer, alarm bells should be ringing.
The latest example involves a serious auto accident that occurred in Michigan on October 5, 2015. Our client is represented by trial attorney Josh Terebelo, and he suffered serious lower back injuries. Our client was contacted by an insurance adjuster from Citizens less than three weeks after the motor vehicle accident.
This claims adjuster offered to settle his injury claim for $250 for a full and final settlement "of all claims due to loss"!
This settlement offer was without negotiation, discussion or explanation.
This "settlement offer" would also have cost him dearly. What makes the story more interesting is that he also has a $500,000 underinsurance policy in case he was in a car accident with a driver who does not have enough car insurance (and is considered underinsured) A driver is considered underinsured when personal injuries are worth more than the at-fault driver's bodily injury insurance policy limits. This is an additional contractual coverage that people have to purchase, called an underinsured motorist policy (UIM) (UIM coverage is something our auto attorneys strongly recommend to properly protect yourself and your families if you're injured due to another's negligence).
You can see the settlement offer check here: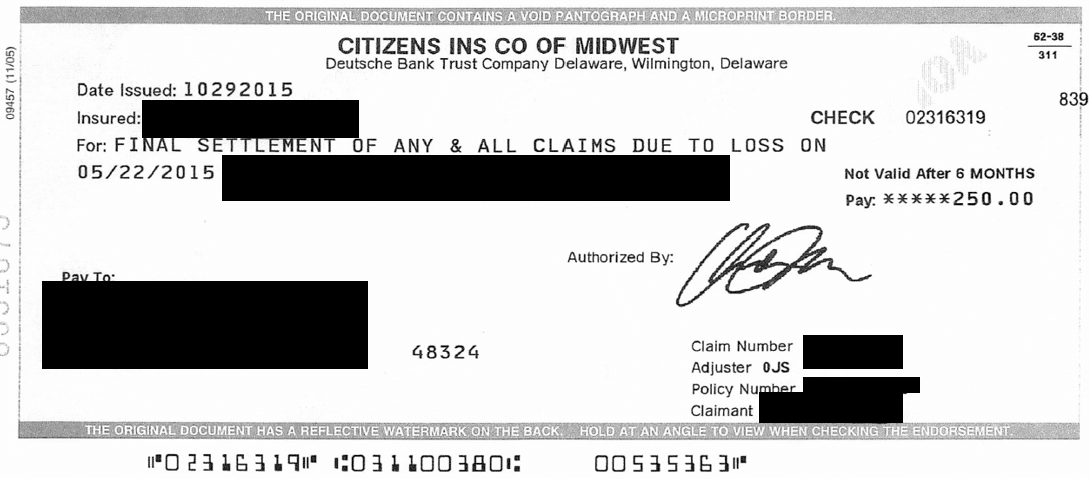 This Citizens adjuster contacted our client and told him that an automobile accident victim must suffer a "serious injury or death" in order to recover pain and suffering compensation in the form of an injury settlement or a verdict under Michigan law.
And this, ladies and gentlemen, is why an insurance claims adjuster from the insurance company of the person who causes a car accident who is contacting someone like this constitutes the Unauthorized Practice of Law in a number of states today.
This is a very clear misrepresentation of our auto accident injury threshold law.
While Michigan does have a "serious impairment of body function" injury threshold requirement that any auto accident claimant must meet, McCormick v. Carrier is the law of our state. The more draconian requirements that were previously required under Kreiner v. Fischer, including its emphasis on temporal and durational impairments and disability, has been overturned by the Michigan Supreme Court.
This takes us from the Unauthorized Practice of Law to Bad Faith.
The adverse insurance company's claims adjuster was trying to get this case settled so early that no one could fully know the full nature and extent of this car accident victim's injuries. Our client hadn't even started his prescribed course of physical therapy for neck and back injuries when the adjuster first contacted him and offered him the $250. He has not yet had an MRI. He has just started treating with his doctors. No one knows yet what the full nature and extent of these back injuries will be or how serious it will be.
But what we do know is that our client has a $500,000 UIM policy. He is also a highly compensated employee with his company.
These facts are important for two reasons:
First, the adjuster was attempting to settle for less than the wrongdoer's full bodily injury insurance policy. This would have completly voided my client's right to collect under his own underinsured motorist benefits from his own insurance company. Under Michigan law, the UIM adjuster must give permission and consent to settle, and the full amount of the wrongdoer's insurance must be tendered, or the UIM coverage is lost.
Second, if this back pain turns into herniated or ruptured spinal discs, and if those herniated discs cause a back surgery, my client could have an excess wage loss claim worth hundreds of thousands of dollars. And while the first 85% of his wage loss is recoverable from his own No Fault insurance company as a No Fault wage loss benefit, the remainder amount and the amount over the current statutory cap of $5,398 a month for up to three years would be compensable from Citizens.
Needless to say, Citizens attempting to settle early and cheap would preclude all of this!
Many states have already stopped insurance companies from doing this exact sort of thing because the repercussions can be so severe for people. It's not an even playing field, and most members of the public have no idea what the injury threshold law is – let alone when an insurance claims adjuster has intentionally misstated the law. Most people, and even most personal injury lawyers in Michigan (judging from the number of legal malpractice cases that make up Michigan's harsh uninsured motorist case law) have no idea about getting consent and permission in writing from your own insurance company to settle a case.
And then there's just the bad taste this leaves in your mouth of an insurance company trying to get away with one, as they tried to do here.
This is a glaring example of why Michigan needs better bad faith laws, and some type of Unauthorized Practice of Law protections for auto accident victims.
Otherwise, we can all expect more and more accident victims to be aggressively contacted and solicited by claims adjusters who try to throw a few hundred dollars at people so they can get off cheap.
One thing is for certain: Citizens will be making my worst car insurance companies for 2016 list.