Child safety experts say, 'No': 'Putting kids in car seats while wearing winter jackets is setting them up for possible danger'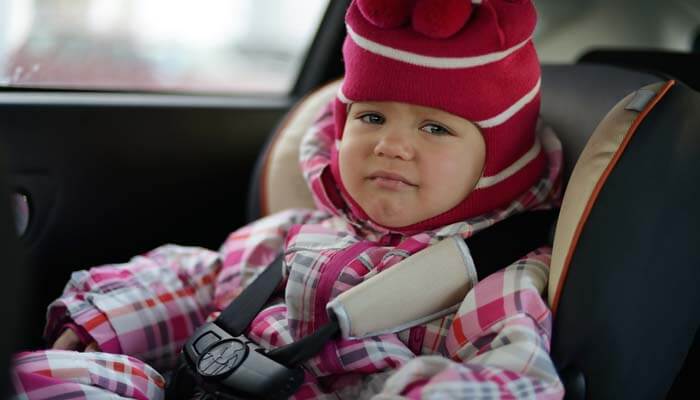 I normally get two types of questions about this. The first is, "Should kids wear winter coats in their car seats?" The second usually goes something like this, "Ok…but I live in Michigan, and it is really cold out there and the kids are really cold. [insert name] has a runny nose. It's below zero outside. What about when it's really cold out?"
Parents with the best of intentions are putting our children in greater danger by bundling up our children in thick winter jackets when putting them in car seats. It sounds too awful to be true, doesn't it? Making a child take off his or her winter jacket outside on a freezing cold day so you can then put them in a car seat.
As it turns out, according to a report by Jeff Rossen on Today, parents' protective instincts may be steering them wrong on this child safety issue.
By "putting your kids in car seats while wearing their winter jackets," Rossen said, parents "think [they're] strapping them in and keeping them safe, but [they're] really setting [the kids] up for possible danger.
As an attorney with 20 years of experience helping people who have been injured in Michigan automobile accidents and as a vocal proponent for child safety, I wanted to share this important news, especially after a flurry of questions from concerned parents about the issue on my legal blog.
I should add that I learned about kids wearing winter jackets in car seats the hard way. I had a very skilled insurance defense lawyer actually raise this as a "comparative negligence" defense in an automobile accident case I had. The attorney was claiming the parent was also responsible for the injuries to the child because the child was wearing a winter coat – instead of his client who had t-boned my clients' car.
Until this case, I had no idea about this. And I'm a parent of two children.
It was a lesson learned.
To illustrate what parents should keep in mind when following Rossen's admonition to not strap children into their car seats while wearing their "puffy winter coats," researcher Miriam Manary who heads up the University of Michigan's crash test lab stated:
"We want to see a nice tight fit of the [car seat] harness to the child's body. You should not be able to pinch any webbing up at the shoulder. The harness should be at armpit level."
Kids and Cars.org Vice President Sue Auriemma emphasized that this doesn't mean that children must be exposed to the cold in order to stay safe.
"Instead of putting the coat on him, you can put the coat over him to keep him warm … [o]r you can use a blanket."
My hunch is most people have no idea about this, but it can make a big difference in protecting our most valuable cargo – our children.
Please share this with any parent you think would benefit.
Related info: