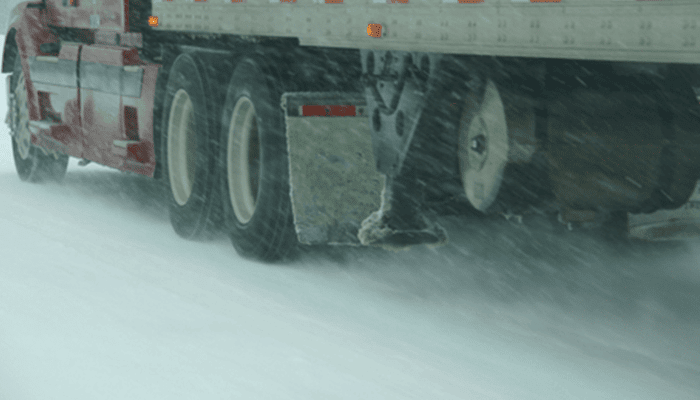 Winter weather is upon us and will soon fall over most of the country. Because driving during the winter creates special hazards that commercial drivers must prepare for to avoid accidents and to protect both themselves and the public, I want to share this list of important safety inspection tips for truck drivers to remember this season.
Before actually driving a commercial vehicle in the winter weather, the truck driver should first make sure that his or her vehicle's systems, relevant to winter operation, are functioning properly. To start, in the course of conducting your mandatory pre-trip inspection required by FMCSR §392.7, there are specific systems and items that a commercial driver should pay special attention:
The commercial motor vehicle's coolant level and antifreeze should be full.
Confirm that the defrosting and heating equipment is functional.
Make sure the wipers and washers are in good condition and properly filled with anti-freeze washer fluid.
Ensure the tires have enough tread to provide traction to push them over wet pavement and snow.
Note the front tires must have at least 4/32-inch tread depth in every major groove and at least 2/32-inch tread depth on all other tires.
Use a gauge to determine if the tread depth is sufficient, which will improve the vehicle's ability to operate in snow and ice.
If your find yourself in a situation where driving is not possible without chains, ensure you're carrying the right number of chains and extra cross links that fit the drive tires.
Lights and reflectors are especially important during winter driving. They also ensure the truck's windows and mirrors are clear.
To protect your own personal safety, make sure all ice and snow is removed from handholds, steps and deck plates.
Make sure exhaust-system connections are all fitted and functioning properly, as cab ventilation is poorer during the winter as a result of the windows being rolled up. This helps prevent the danger of accidental carbon-monoxide poisoning.
Driving in winter is treacherous. It also poses a significant number of hazards for truck drivers and for the public, although as a truck accident attorney, I've written many times that winter weather is almost never an excuse for causing a crash.
Far more often, I see truckers being treated terribly by their own company safety managers and forced by the company to skip many of these required pre-trip inspections, drive over hours of service, etc. As I represent a number of these truckers who are put at risk by their companies, or who are just injured by being involved in crashes caused by the passenger vehicle, and I see often how truckers are mistreated by their own companies.
Hopefully, the above tips will help you stay safe.
Related info:
How one trucker caused a 40-car pileup on US 41
14 winter driving tips: How to avoid car accidents in snow and ice