Fact-checking the arguments in favor of  D-Insurance after my interview on Detroit's auto insurance crisis for car accident victims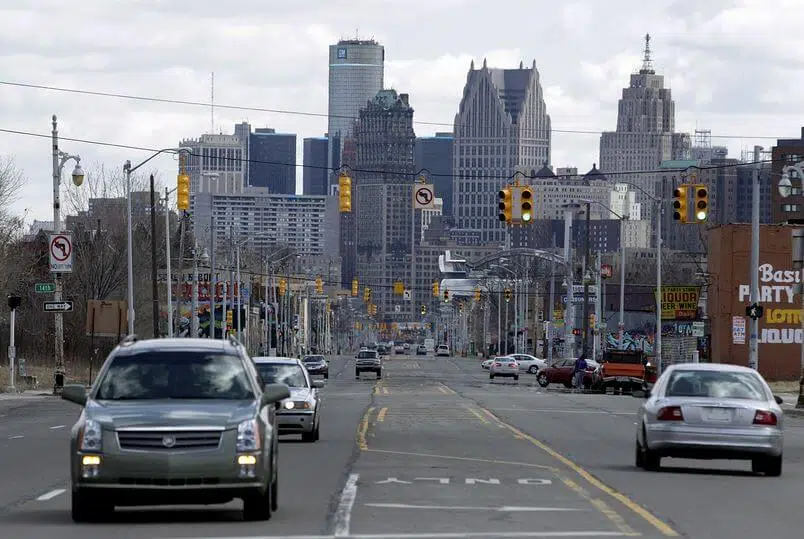 I was honored to be interviewed in Al Jazeera America's story on D-Insurance by Thomas Noone and Bisi Onile-Ere. I was asked to speak about the high price of auto insurance in Detroit, something that I write about quite often on the pages of this legal blog.
The story is "Driving in Detroit without insurance a common practice."
This is an important issue as Ms. Onile-Ere accurately observed:
"In a city plagued by poverty, Detroit has some of the highest auto insurance costs in the country. …. [There is an] estimated 60% of people in Detroit who drive without insurance."
As I told AlJazeera America, I think there's an aspect of the issue that warrants more attention:
"I think it's a civil rights issue. … In Michigan, we have credit-scoring which is legal and that really allows insurance companies to legally discriminate against the poor and charge much higher prices for auto insurance than [they would to] someone who has the exact same driving record, but doesn't live in Detroit or that has a better credit score."
Later in the story, when Ms. Onile-Ere addressed the issue of efforts to make Detroit auto insurance more affordable, she discussed Detroit Mayor Mike Duggan's proposed "D-Insurance" Plan. Mayor Duggan claims that D-Insurance is a proposal to provide low-cost auto insurance to drivers in Michigan cities where the "uninsured" driver rate is high – such as Detroit.
This is the part of the story that they get wrong. For those of you who regularly read Michigan Auto Law's blog, you know I'm a very outspoken critic of the D-Insurance Plan. There are three areas regarding D-Insurance that were absent in the otherwise excellent news story that I wish Al Jazeera America would have addressed:
D-Insurance's very dangerous cap on auto No Fault medical benefits.
The rather "nonexistent coverage that will, or more aptly, will not be provided under a D-Insurance managed care type plan that requires a showing of necessity and also requires pre-approval.
The "savings" (if any) that Detroiters may experience under the D-Insurance Plan, and why still paying more in Detroit for D-Insurance but without any legal protections under auto No Fault is a compelling reason to leave Detroit.
Below, I will discuss each of my concerns  in detail.
D-Insurance's cap on No Fault benefits
Al Jazeera reported that Detroit Mayor Mike Duggan's "D-Insurance" plan for low-cost auto insurance would "cap [No Fault] medical coverage at $275,000 …"
That's not true.
For almost everyone, the cap will be $25,000, not $275,000.
It's highly misleading when D-Insurance proponents claim that the plan provides a total of $275,000 in No Fault coverage, but they do this intentionally and repeatedly over and over to try to dupe people into supporting what is otherwise a disastrous auto insurance plan.
The reality is that, under the D-Insurance Plan's proposals, auto insurance consumers will have woefully inadequate coverage in the event they are injured in a Michigan auto accident.
Here are the two reasons why:
First, rather than a $275,000 cap, the D-Insurance Plan proposes a mere $25,000 cap on all No Fault benefits for non-critical medical care, wage loss AND replacement services – COMBINED. That means that once a Michigan auto accident victim leaves the emergency room, if he or she needs an MRI, a back or neck surgery, requires physical and/or occupational therapy, attendant care post-surgery, replacement services and reimbursement for lost wages, then his or her No Fault auto insurance company would be required under the D-Insurance Plan to pay only $25,000 of those costs. I can tell you as an auto accident attorney, this leaves 99% of all people who are hurt in motor vehicle accidents at great risk. And after this $25,000 is exhausted, it is essentially financial ruin, personal bankruptcy and Medicaid for any Detroiter who was injured in an auto accident. That's the big part that Mayor Duggan is leaving out.
Second, the D-Insurance Plan's $250,000 cap on No Fault medical benefits applies only to a  Michigan auto accident victim's "critical care" medical costs. In other words, under the D-Insurance Plan, an injured auto accident victim's "critical care" coverage of $250,000 is limited to only those costs associated with the victim's treatment in an emergency room and/or trauma center. The coverage terminates once the victim is "stabilized," i.e., the "individual can safely be discharged or transferred to another acute care hospital or trauma center or to a rehabilitation or other facility …" Significantly, neither the $250,000 in coverage nor any unused portion of the coverage transfers over to and/or covers non-"critical" medical care or "charges relate[d] to post stabilization services." People don't quite understand how most personal injuries are NOT diagnosed in hospital emergency rooms. People with severe back pain or neck pain are rarely given MRIs.  They are given pain pills and told to follow-up with their family doctors. Many people (up to 65% in one study) with very serious brain injuries are not even diagnosed properly in emergency rooms. It is important to realize that emergency rooms are acute care facilities, not comprehensive medical care and treatment facilities. That $250,000 is basically just illusory pie-in-the-sky coverage for all but the most obvious visible personal injuries for Detroit car accident victims. They will be discharged, and then all of their subsequent medical care and treatment and wage loss will be dependent on that $25,000, not the $250,000. Big difference.
To learn more, please check out Michigan Auto Law's blog post, "8 reasons Duggan's 'D-Insurance' Plan is 'D-angerous' for Detroit."
Sorry Butch, but D-Insurance isn't even close to 'excellent' coverage
During an interview with Al Jazeera, Detroit's Corporation Counsel Melvin Hollowell said that the D-Insurance Plan would provide auto insurance consumers with "excellent coverage."
For the following reasons, the D-Insurance Plan's proposed No Fault coverage for Michigan auto accident victims is very far from excellent:
All No Fault benefits for non-critical medical care, wage loss AND replacement services – COMBINED – are capped at $25,000 (See above for a more detailed discussion).
No catastrophic coverage under the Michigan Catastrophic Claims Association for auto accident victims who suffer catastrophic injuries. Instead, under the D-Insurance Plan, a catastrophically injured auto accident victim will need to rely on his or her health insurance company, Medicaid/Medicare, personal services, resources and/or assets, lawsuits against the at-fault driver and/or go without the treatment and services needed for care, recovery and rehabilitation.
No choice of doctor for auto accident victims. Instead, under the D-Insurance Plan, an auto accident victim could be forced into an auto insurer's "limited provider network," i.e., managed care, where "the insurer may require an injured individual … to obtain" treatment and care "from a provider … that is part of the [auto insurer's] limited provider network."
No medical care without 'preauthorization.' Under the D-Insurance Plan, an auto accident victim could be required "to obtain preauthorization from the insurer" – which would only be granted if the insurer determined that a "medical necessity has been demonstrated" – before receiving treatment and care.
Auto accident victims must obtain their auto insurer's "preauthorization" for medical care. Failure to first "obtain written preauthorization" will result in a victim becoming financially liable for all of his or her medical care costs.
This is the farthest thing from  "excellent" auto insurance coverage.
It would be interesting to see how many of the D-Insurance Plan proponents – such as Mr. Hollowell and Mayor Duggan – think that D-Insurance's coverage is "excellent" enough for themselves and their families.
D-Insurance fails to achieve significant savings on Auto No Fault Insurance in Detroit
Having watched the insurance industry lie repeatedly about past promises to lower the price of auto No Fault insurance, only to watch prices keep rising after they get their wish, it is critical to note that there is nothing in the D-Insurance Plan legislation now pending in the Michigan Senate that guarantees savings or any amount of savings for auto insurance consumers.
That alone should be enough to cause huge alarm bells to go off.
Not surprisingly, that hasn't stopped D-Insurance Plan proponents from boasting about the "savings" that auto insurance consumers can expect to get under the D-Insurance Plan.
For instance, in his interview with Al Jazeera, Detroit's Corporation Counsel said that, "as a result" of the D-Insurance Plan's proposed caps on No Fault benefits, "we save the average Detroiter … between $600 and $2,300 …"
I'm sure that comes as news to anyone who's been following the debate over the D-Insurance Plan – especially the researchers who were paid by the City of Detroit to do a feasibility study. Specifically, even if the D-Insurance Plan produced the savings that researchers estimated, Detroit drivers would still be paying more than $500 more for auto insurance than drivers in Oakland County – yet Detroiters would have dramatically less No Fault coverage than the drivers in Oakland County.
In other words:
Under the D-Insurance Plan, Detroiters would be paying more for less when it comes to auto insurance.
In the "D-Insurance: City of Detroit Insurance Company Feasibility Study" (June 8, 2015), it was reported that:
The "average annual policy premium for PIP, BI-PD, and collision and comprehensive coverage in downtown Detroit was $2,249.70," which was "double the average annual premium in western Oakland County," $1,124.85.
It was also reported that researchers predicted the D-Insurance plan could generate:
An "overall estimated" 25.8% in "premium savings for a full coverage policy."
However, even if all of that proved to be true, Detroiters would still end up paying $1,669.28 – which is $544 more than drivers are paying in, for example, western Oakland County. But in Oakland County, residents retain full legal protections and medical care with unlimited No Fault legal protections.
So why would anyone want to live in Detroit with crappy D-Insurance with a managed care requirement and only $25,000 in available coverage if they are ever injured in a car accident?
There are a lot of reasons to live in Detroit right now. But the idea of still paying more than the surrounding cities and suburbs for horrible auto No Fault insurance is definitely not one of them.
To learn more, please check out Michigan Auto Law's blog post, "Why Mayor Duggan's D-Insurance plan will further drive Detroiters out of the Motor City."