Love 'em or hate 'em, roundabouts and traffic circles are here to stay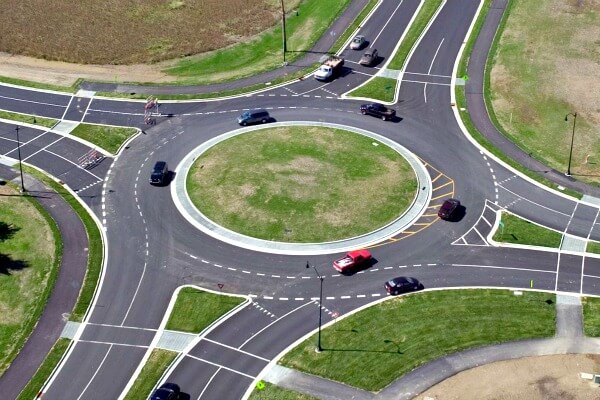 This year was filled with plenty of major construction projects throughout Michigan. And a number of these projects included new roundabouts, with eight high-traffic intersections modified into new roundabouts in 2015.
Drivers have not seemed particularly thrilled with roundabouts.  It is also not a coincidence that the highest number of reported car accidents in certain cities occur in intersections with roundabouts.  Our attorneys contacted the Michigan Department of Transportation (MDOT), which handles many of these construction projects, to learn about and share future plans for traffic circles and roundabouts in the state, as well as safety tips for drivers.
Q . What criteria does MDOT use to decide which intersections are turned into roundabouts?
A. "Roundabouts are considered as one potential intersection option within MDOT planning studies or design projects since they may offer improved safety, cost savings, and enhanced traffic operations in many situations.  Specific criteria to be evaluated includes safety, capacity, traffic operations, cost, design life, accommodation of pedestrians and bicyclists, aesthetics, public input, and constructability among other things."
Q. How many roundabouts are planned for the next 5-10 years in Michigan?
A. "In our 5-year transportation program for 2015 through 2019, we have seven roundabouts planned."
Q. There seems to be a big increase in new roundabouts lately. Is this a new focus for MDOT?
A. "As more locations implement roundabouts successfully, the comfort level of designing, constructing and maintaining roundabouts has increased."
Q. Does MDOT work at all with local county/city planners to coordinate efforts or decide where a roundabout should be constructed?
A. "Yes.  MDOT solicits dialogue with local governments, road commissions, industry groups, land use advocates and state agencies early in a project's planning phase."
We would like to thank MDOT for their responses and allowing us to share some insight with our readers.  MDOT has a great page on its website with valuable roundabout information and safety tips: Click here.
We encourage you to also read our blog post, "Who's at fault in a roundabout accident," for more valuable tips and to see if you qualify for vehicle damage reimbursement in case of a crash in one of these traffic circles.
Michigan Auto Law also has created a Roundabout Resources page on our website, where drivers can watch informative videos, learn who's at fault in a roundabout crash and find a list of proposed roundabouts for 2016. Included in our resource page is an Interactive Roundabout Map, so Michigan drivers can see where all current roundabouts exist.  This map will be updated annually with any newly constructed sites.
You also may visit our Michigan Dangerous Intersections page for a complete list of intersection car crashes (including roundabouts) that can be searched by any Michigan city or county, and our list of Michigan's 2016 Top 20 Most Dangerous Intersections.