Steve Gursten and John Romano speak at Taos Injury Lawyers Seminar in North Carolina on creating the "killer" law office
On Sunday, I'll be speaking in North Carolina for the Taos Injury Lawyers. My topic, with Florida attorney John Romano, is the client-centered office. John will be speaking about his experiences creating the Ecocentre, the Living Building in Lake Worth, Florida.
I'll be sharing my own experiences creating the Michigan Auto Law headquarters in Farmington Hills, MI.
Below are some key points from my presentation, and a video of our Farmington Hills law office.
Our law firm went through incredible growing pains as we expanded from five to 19 lawyers. After knocking down a lot of walls in our old building at the Travelers Tower in Southfield while trying to find a place for everybody, I bought our current building in 2009 and completely redesigned the office space.
As a law firm, we've made the decision to forego advertising. We do no television commercials, no ads, no billboards, no Yellow Pages, no bus wraps (thankfully).
Almost all of our clients are referred by other attorneys in Michigan or by happy clients. I believe this is a good thing, and it allows us to spend more on our cases and helping our clients.
But the downside to avoiding the attorney advertising that so many other law firms do is that our firm has no "brand" in the minds of the public. Most of the people we help have never heard of us until after a bad car accident has happened, and then it's only because they've been given our name by another lawyer or a happy client or found us online.
The Michigan Auto Law client experience
Because we haven't spent millions on television ads to build some public "brand" of our law firm, it's important to make our clients feel comfortable right away. We want them to feel that they've hired the top law firm in the state for helping people who've been seriously hurt in automobile accidents. That starts the moment they walk into our law offices.
In our lobby, we display the recognitions we receive from Michigan Lawyers Weekly and other newspapers for the top-reported jury verdicts or injury settlements. We also received a recognition for securing the top-reported truck accident settlement in the entire nation last year. A number of our legal leadership positions, such as being past-president of the Michigan Association for Justice and a past-chair of the American Association for Justice Truck Accident Litigation Group are also displayed, as are honors such as having two of our attorneys voted among the top 100 lawyers in Michigan (out of over 60,000 lawyers and with only three other personal injury lawyers listed).
Besides making our clients feel comfortable, it's also become a necessity because there's so much ugliness today with lawyer solicitation. Sadly, much of the solicitation is illegal. As an attorney in Michigan, you can expect that every client you have who was hurt in a car accident is receiving lawyer solicitation letters in the mail. Some may even have "runners" knocking on their front doors at night if the injury code on the police report is serious enough. So it's important to immediately distinguish yourself from all the other personal injury lawyers out there who are coming out of the woodwork to hustle people.
Some lawyers deliberately put up barriers. We try to remove them. So many people are  intimidated by lawyers, and one sad relic of the legal profession is there are way too many lawyers out there today who still believe they're too good to talk to their own clients.
I firmly believe that creating a warm and comfortable atmosphere where communication is encouraged is critical to creating a great client experience. That experience hopefully starts from the first initial phone call with our receptionist. We've avoided call center interns taking new phone calls. We believe people should be able to talk to real attorneys who truly understand this area of law and who can guide them through the mini tort so they can fix their vehicle damage, their No Fault legal rights, and their case against the wrongdoer on that very first phone call.
You will see in the video that we have the pictures of our trial attorneys and behind the pictures, there are biography inserts so that clients can read about their attorneys.
We have a Keurig coffee station, and have complimentary snacks and drinks. The sugar and caffeine have come in handy many times when clients start to fade during discovery depositions. Most client deposition mistakes occur when they start getting tired.
We also try to do the little things, such as giving clients a free coffee mug when they come to visit with us. It's really important that people feel  they can talk with their attorneys in a warm and friendly way.
Our message for defense lawyers and insurance adjusters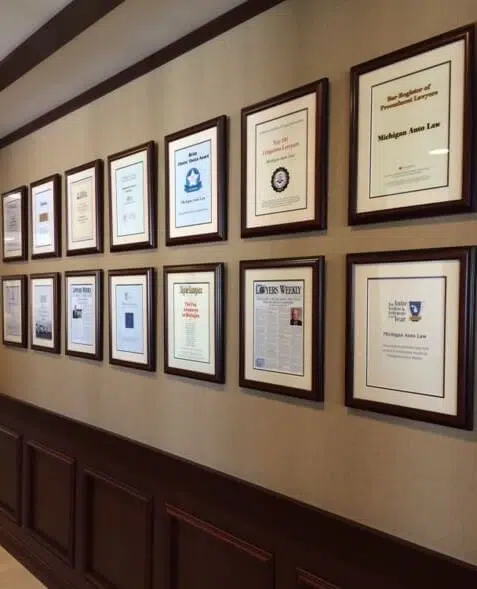 As an aside, my guess is that these verdict and settlement awards on our office walls add hundreds of thousands of dollars every year to our current clients' cases. Apart from Colossus (and the increasing importance that a lawyer's reputation and his or her willingness to take cases to trial has on that lawyer's ability to achieve the best possible settlements), I've been told by more than one mediator that there have been many times when one of our attorneys and an insurance defense lawyer and claims adjuster are $50,000 apart on a court-ordered facilitation or mediation being held in my office. The mediator will point to the wall and ask the adjuster if the defense really wants to take the risk of being another plaque on the wall at Michigan Auto Law over $50,000. As the adjusters and defense lawyers have to walk past these verdicts every time they use the bathroom or grab a cup of coffee, they also know that Michigan Auto Law is a true trial firm and that we will take cases to trial. If you want to achieve great settlements for clients, you have to be known to take cases to trial to do it.
Does this strike fear into the hearts of adjusters and insurance companies, as I wrote in my title? In a world where most plaintiff personal injury lawyers never even go to trial and where the insurance industry is now using sophisticated injury claims software that takes your lawyer's trial reputation into account in determining the settlement offer on an automobile injury case, I know these past trial results can lead to better and faster settlements. They're also a big reason we get so many referrals from other Michigan attorneys.
Increasing productivity while making a warm environment for our cherished attorneys and legal professionals
I worked hard to create a law office that's both productive and pleasant.
We hired a LEED expert to help us to make the building as environmentally friendly as possible, and another expert that helped us maximize the natural light from the 156 windows in the building. We also use special light bulbs that are supposed to mimic natural lighting. Every attorney and legal professional here has a nice office, and most are significantly larger and more pleasant than other law firms. My feeling is that we spend one-third of our days at work.  People should feel proud and happy when coming to work.
We also worked hard to increase attorney productivity. One lesson I learned from being a tenant in an office building that was constantly running out of space as we grew was just how important it is to minimize travel time whenever possible. We knocked down every wall when we bought this building and started from scratch. Our new office building has five large conference rooms, so the majority of our depositions and facilitations can be handled here. Of course we also have satellite law offices in Grand Rapids, Detroit, Ann Arbor and Macomb County, where our attorneys can always meet with people if they prefer to have a client conference closer to their home. But when you consider the hours lost every day traveling back and forth to depositions, mediations and facilitations, being able to do more in your own law office without the commutes can add a full day a week for a busy litigator.
By starting from scratch, we were also able to design office space so that every lawyer can work with his or her team right next to each other. As any lawyer knows who has ever had an associate or paralegal or secretary down the hall, there's no substitute for having your team right outside your office.
We also have two trial "war rooms" for attorneys to prep for upcoming trials, and a 50-person cafeteria for everybody in the building to use for lunches and birthday celebrations.
With lawyers coming out of woodwork trying to steal cases these days, a business card shouldn't just be a business card. It should let a client feel comfortable and include some notable facts about the attorney. Clients should feel you are different from day one.