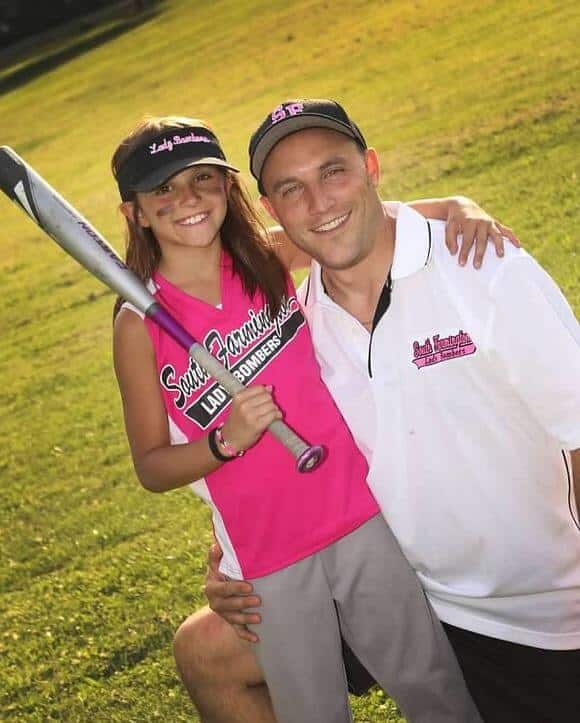 Today I wanted to take some time for some fun. One of our attorneys, Ian Freed, is passing his awesome baseball skills down to his young daughter, Sloane.
Ian is one of the coaches of the South Farmington Lady Bombers baseball team, which is right near our Farmington Hills law office home base.
The Lady Bombers are the 8u girls tournament team affiliated with the South Farmington Baseball/Softball Association. They formed in May of this year and are the first ever 8u tournament team representing that association.
The goal for this team is to continue to grow and develop the skills of the players. The big picture goal is for the Ladybombers to be the the catalyst for other tournaments and travel teams, to give the girls even more opportunity to compete.
The Lady Bombers made it to the Championship Game in two out of the three tournaments entered this summer, unfortunately coming up on the losing end in both.  The Lady Bombers will continue to practice and improve, so as they move up in age groups, they maintain a high level of excellence and success – while striving to bring home a championship.  The Lady Bombers will continue to expand the age groups and hope to have teams from 8U to 14U for next year.
Ian is almost as passionate about baseball as he is about protecting his clients after they've been hurt in auto accidents and wronged by insurance companies. He's thoroughly enjoying this pastime with his daughter.
A little bit about Ian Freed: Ian has been a trial attorney at Michigan Auto Law since 2003. He specializes in truck accident cases and has extensive experience in auto negligence and insurance coverage disputes. Ian is licensed to practice throughout the state, including in the U.S. District Court for the Eastern District of Michigan. He's known for working very closely with his clients, aggressively defending their rights and taking all of the time they need to make sure they understand the auto laws and what's happening with their lawsuits.
Here's what one of Ian's clients, Jon Trent of Detroit, had to say about him: