NHTSA says seat belts on buses do not make children more safe, yet recent bus crash tests suggest opposite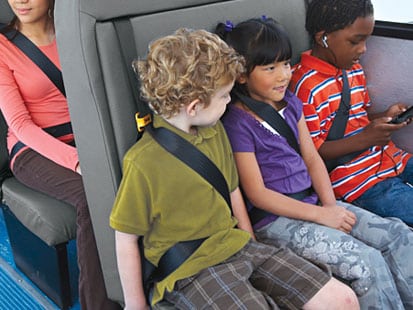 The debate about seat belts on school buses is an important one. Will seat belts make children safer on school buses?
I recently had one case where a defense attorney raised what in Michigan is called a "Notice of Non-Party Fault," asking that the bus be assigned some allocation of negligence after a serious bus accident that caused injury to my client. The defense attorney claimed this was appropriate because there were no seat belts on the bus (despite the fact that his client decided not to look where he was driving and slammed into the rear of the big yellow stopped object that was in the road).
Currently in Michigan, House Bill 4020 proposes one seat belt per student on the bus. As a parent and as a safety advocate, as well as an auto accident lawyer who has handled several tragic child injury cases involving school buses over the years, I am following this closely.  Will this proposed bill  make buses more safe in the event of a crash?
The reason I've written the sentence above as a question, instead of as a statement, is because there are conflicting studies on this.
The National Highway Traffic Safety Administration (NHTSA) casts doubt on the need for seat belts on school buses, stating larger school buses provide more safety than passenger cars.
As of now, there is no federal mandate requiring seat belts on school buses.
But recent crash tests by IMMI, one of the main providers of seat belts to the school bus industry, show that seat belts on school buses could save lives and make school buses more safe if there were a bus accident with children on board:
In the video above, Good Morning America paid a visit to IMMI to view its crash tests. The first test captured what happens when the school bus collides with the wall at 30 miles per hour. The second test was a recreated rollover crash. In the tests, the dummies that were secured with seat belts stayed safe, while the others who were unrestrained were thrown about the bus, heads hitting the high ceiling.
Currently, only six states in the U.S. require all school buses to be equipped with seat belts. And in the other 44, they're only mandatory for small buses under 10,000 pounds.
A spokesman for NHTSA told Good Morning America the organization is looking into the issue.
Meanwhile, here's what the NHTSA paper ("Seat Belts on School Buses – May 2006") had to say in response to the question, "Why don't we have [seat belts] on school buses?":
"School buses are one of the safest forms of transportation in the United States."
"There is no question that seat belts play an important role in keeping occupants safe in these vehicles, however school buses are different by design and use a different kind of safety restraint system that works extremely well."
"NHTSA decided that the best way to provide crash protection to passengers of large school buses is through a concept called 'compartmentalization.' This requires that the interior of large buses provide occupant protection such that children are protected without the need to buckle-up. Through compartmentalization, occupant crash protection is provided by a protective envelope consisting of strong, closely-spaced seats that have energy-absorbing seat backs."
"School bus crash data show that compartmentalization has been effective at protecting school bus passengers. NHTSA's 2002 Report to Congress found that the addition of lap belts did not improve occupant protection for the severe frontal impacts that were studied for that report."
Related info: