Here are the locations to avoid in Wayne County based upon total number of reported car accidents
Today I'm sharing updated information from the Michigan State Police Traffic Crash Reporting Unit for the most dangerous intersections by total number of car accidents in 2014. Please take caution while driving through these areas, and share this information with your friends and family – especially new teen drivers.
Below I'll include two lists. The first list is the intersections and roads with the highest number of car accidents. The second list are the locations involving car accidents with the highest numbers of reported injuries and deaths. The reason there are two lists based upon the crash data is that total number of motor vehicle accidents is somewhat misleading in that a location may have a high number of low speed fender-benders that don't normally result in serious personal injury or big vehicle damage.
The areas in the first list are still areas you want to avoid, but they don't pose the same risks as the locations that involve the highest numbers of reported injuries and fatalities.
Top 10 intersections in Wayne County with highest number of auto accidents in 2014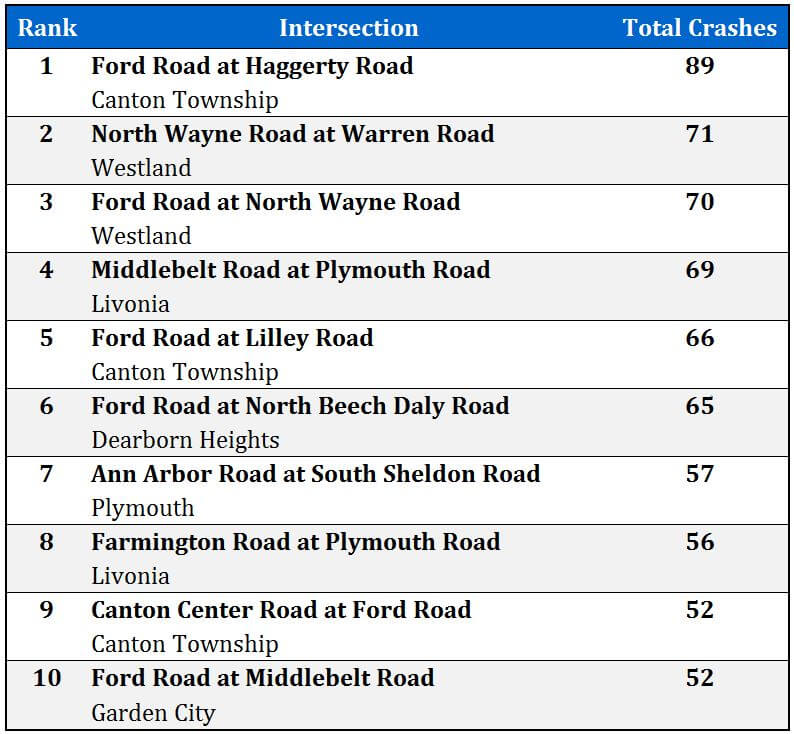 Top  10 intersections in Wayne County with the highest number of car accident injuries and fatalities in 2014
The dubious winner of this list every year continues to be the congested Canton intersection of Ford and Haggerty Roads. Not only does this intersection have the most total car crashes, but ominously, it also has the most reported injuries and fatality motor vehicle accidents in the entire county for 2014.
However, the number of total crashes did drop from 95 in 2013 down to 89 in 2014.  The same is true for the number of injuries, as the area saw a reduction from 24 injury accidents in 2013 to 20 in 2014.
This busy commercial area is thankfully getting some much needed improvements this summer, as MDOT has some large-scale construction projects planned. You can read about the projects in this article by the Detroit Free Press, "Big changes coming to Canton interchange near Ikea." For more information on how to obtain a copy of a police report if you are involved in a car accident in the city of Canton, visit our Canton Local Resources page.
Surprisingly, another intersection is tied with Ford and Haggerty Roads for most injury and fatality crashes in 2014.  The corner of Merriman and Van Born Roads in Wayne tied for first place with 20 accidents —  a big jump from 2013, when this intersection only had nine injury crashes.
Where is Detroit on the list?
As we've seen for the past several years, there are no Detroit intersections on this Wayne County list. As I've written previously, a big reason is that more car accidents go unreported due to higher levels of uninsured drivers. And two widely publicized incidents involving people who were physically assaulted at accident scenes also likely play a role in why many people are scared to stop. Michigan Auto Law attorney Bobby Raitt spoke to Fox 2 News about this, and explained law for stopping and reporting a car accident.
In addition, Detroit has a much higher  prevalence of hit and run car accidents, due to the number of uninsured drivers. This is consistent with what I've seen in my own legal practice as an injury lawyer helping people who are hurt by hit and run drivers, and one of the reasons why I always recommend people also obtain uninsured and underinsured motorist coverage. In cities like Detroit, where it's now estimated that over half of all drivers on the road are driving without auto insurance, this is a necessity to protect yourself and your family.
Stay tuned for our list of the 10 intersections for the city of Detroit, which I will post shortly after I finish reviewing the data from the Michigan State Police for 2014.
You also may visit our Michigan Dangerous Intersections page for a complete list of intersection car crashes that can be searched by any Michigan city or county, and our list of Michigan's 2016 Top 20 Most Dangerous Intersections.