Michigan Auto Law attorney Tom James speaking today at New Jersey Boardwalk Seminar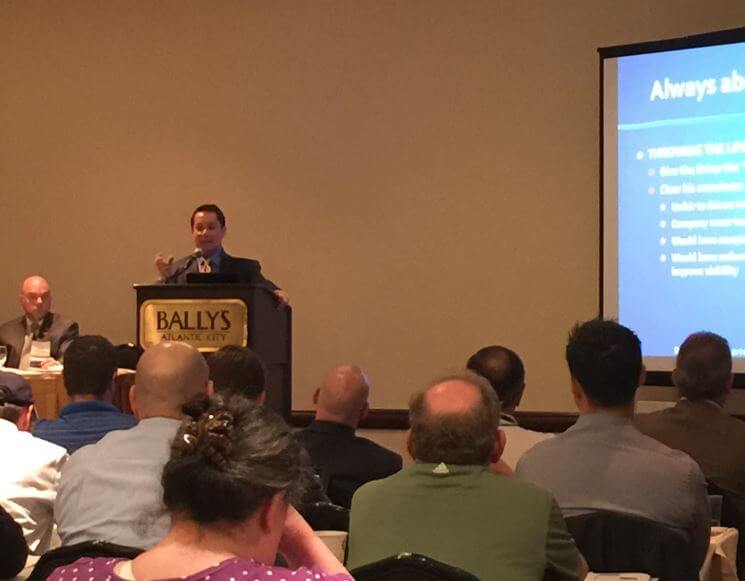 Today, attorney Tom James will be speaking to personal injury lawyers from New York and New Jersey during the New Jersey Association for Justice Boardwalk Seminar. His topic is "How to depose a truck driver" and he will be speaking at the Truck Accident Litigation Track.
The biggest problem with these depositions is that lawyers aren't taught how to depose truck drivers in law school, and most lawyers will only have one truck accident case every year or every couple of years. So it's difficult to gain the experience and the base knowledge necessary to take an effective deposition.
There are also many critical issues that can significantly aggravate liability and add to the value of these cases, such as whether the trucker was driving fatigued or was driving over hours. But these are not obvious, and usually require dozens of hours and expert review of the driver logs.
A careful review must also be made of the driver personnel file, and of any testing that was done at or closely after the truck wreck to determine if the driver was under the influence of alcohol or drugs (this even goes for legal prescriptions, which can cause significant drowsiness and impaired driving).
Tom has been a trial attorney at Michigan Auto Law since 2004. He has more than 25 jury trials under his belt, the majority involving trucking accidents, and he's a tenacious advocate for his clients. And Tom is also no stranger to earning million-dollar verdicts on behalf of his clients, including from trucking companies that turn a blind eye to safety. These include a $3.5 million jury verdict in Jackson County, Michigan, for a client who was rear-ended by a semi truck and a $2.55 million verdict for the wrongful death of an elderly man who was hit by a commercial truck as he legally tried to cross the street on his bicycle in Macomb County.
Related information:
Video: How to depose a sick or tired trucker after an accident