Thursday's Senate vote passing SB 248 helps insurance companies at expense of consumers and severely injured auto accident victims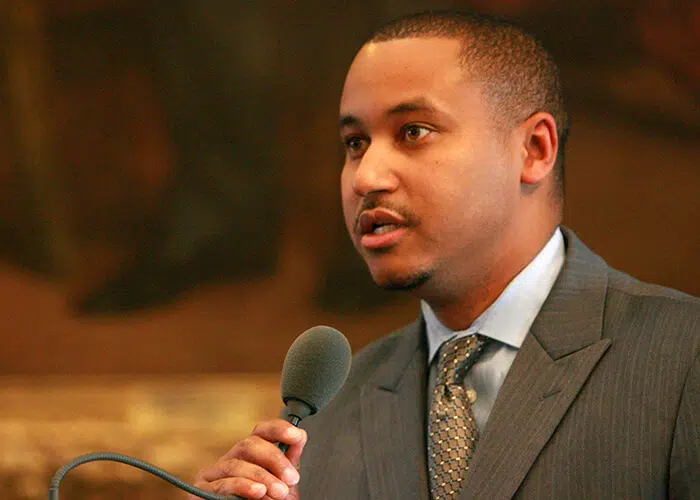 I've been very outspoken in my criticism of those Senators who voted in favor of Senate Bill 248. The bill passed the Michigan Senate, and will likely be voted on by the Michigan House as soon as next week. You can read my opinion on why this bill is terrible here.
Today, I wanted to share the names of those Michigan Senators who voted in favor of SB 248.  All were Republican, with the lone exception of State Sen. Virgil Smith, Democrat from Detroit.
Unfortunately, as I've written before, I believe Sen. Virgil Smith is dead-wrong on this issue. But at least he has been well paid for his loyalty to the insurance industry. Sen. Smith pocketed $36,800 from the insurance industry, which is the second-most of all politicians who voted in favor of SB 248, according to Progress Michigan.  Sen. Smith has done an incredible disservice to his constituents.
Detroit residents who suffer terrible injuries from automobile accidents are exactly the ones who depend upon No Fault insurance benefits the most.  My main criticism with this bill is that it takes from those who desperately need the attendant care, medical care and treatment the most – those who have suffered the greatest injuries from motor vehicle accidents – and caps it all. The insurance industry pockets the savings and further increases already fat profits in this state.
Here are the names of those Senators who I respectfully submit do not deserve to be representing the people of the State of Michigan:
In favor
Senate Democrats:
Sen. Virgil Smith (D-Detroit)
Senate Republicans:
Sen. Darwin Booher (R – Evart)
Sen. Jack Brandenberg (R-Harrison Township)
Sen. Tom Casperson (R-Escanaba)
Sen. Patrick Colbeck (R-Canton Township)
Sen. Judy Emmons (R-Sheridan)
Sen. Geoff Hansen (R-Hart)
Sen. Dave. Hildenbrand (R-Lowell)
Sen. Kenneth Horn (R-Frankenmuth)
Sen. Joe Hune (R-Whitmore Lake)
Sen. Rick Jones (R-Grand Ledge)
Sen. Jim Marleau (R-Lake Orion)
Sen. Arlan Meekhof (R-West Olive)
Sen. Mike Nofs (R-Battle Creek)
Sen. Margaret O'Brien (R-Portage)
Sen. Phil Parlov (R-Saint Clair)
Sen. John Proos (R-Saint Joseph)
Sen. David Robertson (R-Grand Blanc)
Sen. Tonya Schuitmaker (R-Lawton)
Sen. Mike Shirkey (R-Clark Lake)
Sen. Jim. Stamas (R-Midland)
And here are the names of the Senators who realize the incredibly value and life-saving potential of our Michigan No Fault insurance system:
Against
Senate Democrats:
Sen. Jim Ananich (D-Flint)
Sen. Steve Bieda (D-Warren)
Sen. Vincent Gregory (D-Lathrup Village)
Sen. Curtis Hertel (D-East Lansing)
Sen. Morris Hood (D-Taylor)
Sen. Hoon-Yung Hopgood (D-Taylor)
Sen. Bert Johnson (D-Highland Park)
Sen. David Knezek (D-Dearborn Heights)
Sen. Rebekah Warren (D-Ann Arbor)
Sen. Coleman Young II (D-Detroit)
Senate Republicans:
Sen. Michael Green (R-Mayville)
Sen. Marty Knollenberg (R-Troy)
Sen. Mike Kowall (R-White Lake)
Sen. Peter MacGregor (R-Rockford)
Sen. Tory Rocca (R-Sterling Heights)
Sen. Wayne Schmidt (R-Traverse City)
Sen. Dale Zorn (R-Ida)
Senate Legislators all votes
N: Sen. Jim Ananich (D-Flint)
N: Sen. Steve Bieda (D-Warren)
Y: Sen. Darwin Booher (R-Evart)
Y: Sen. Jack Brandenberg (R-Harrison Township)
Y: Sen Tom Casperson (R-Escanaba)
Y: Sen. Patrick Colbeck (R-Canton Township)
Y: Sen. Judy Emmons (R-Sheridan)
N: Sen. Michael Green (R-Mayville)
N: Sen. Vincent Gregory (D- Lathrup Village)
Y: Sen. Geoff Hansen (R-Hart)
N: Sen. Curtis Hertel (D-East Lansing)
Y: Sen. Dave. Hildenbrand (R-Lowell)
N: Sen. Morris Hood (D-Taylor)
N: Sen. Hoon-Yung Hopgood (D-Taylor)
Y: Sen. Kenneth Horn (R-Frankenmuth)
Y: Sen. Joe Hune (R-Whitmore Lake)
N: Sen. Bert Johnson (D-Highland Park)
Y: Sen. Rick Jones (R-Grand Ledge)
N: Sen. David Knezek (D-Dearborn Heights)
N: Sen. Marty Knollenberg (R-Troy)
N: Sen. Mike Kowall (R-White Lake)
N: Sen. Peter MacGregor (R-Rockford)
Y: Sen. Jim Marleau (R-Lake Orion)
Y: Sen. Arlan Meekhof (R-West Olive)
N: Sen. Mike Nofs (R-Battle Creek)
Y: Sen. Margaret O'Brien (R-Portage)
Y: Sen. Phil Parlov (R-Saint Clair)
Y: Sen. John Proos (R-Saint Joseph)
Y: Sen. David Robertson (R-Grand Blanc)
N: Sen. Tory Rocca (R-Sterling Heights)
N: Sen. Wayne Schmidt (R-Traverse City)
Y: Sen. Tonya Schuitmaker (R-Lawton)
Y: Sen. Mike Shirkey (R-Clark Lake)
Y: Sen. Virgil Smith (D-Detroit)
Y: Sen. Jim. Stamas (R-Midland)
N: Sen. Rebekah Warren (D-Ann Arbor)
N: Sen. Coleman Young II (D-Detroit)
N: Sen. Dale Zorn (R-Ida)