New data from the Michigan State Police shows intersections with the most fender benders, and the most car accident injuries and deaths
This year, our attorneys at Michigan Auto Law have created two new lists of the most dangerous intersections in Oakland County. They're both based on information from the Michigan State Police Traffic Crash Reporting Unit. The first list has the most dangerous intersections by total overall number of car crashes (most of these are low-vehicle damage fender benders without significant injuries reported at the accident scene). The second list below has the intersections that have resulted in crashes with the highest numbers of noted injuries and fatalities.
Please be extra cautious while driving through these areas. Or better yet, find an alternate route. If you know someone who regularly drives through these areas, share this list with them.
Top 10 intersections in Oakland County with highest number of automobile accidents in 2014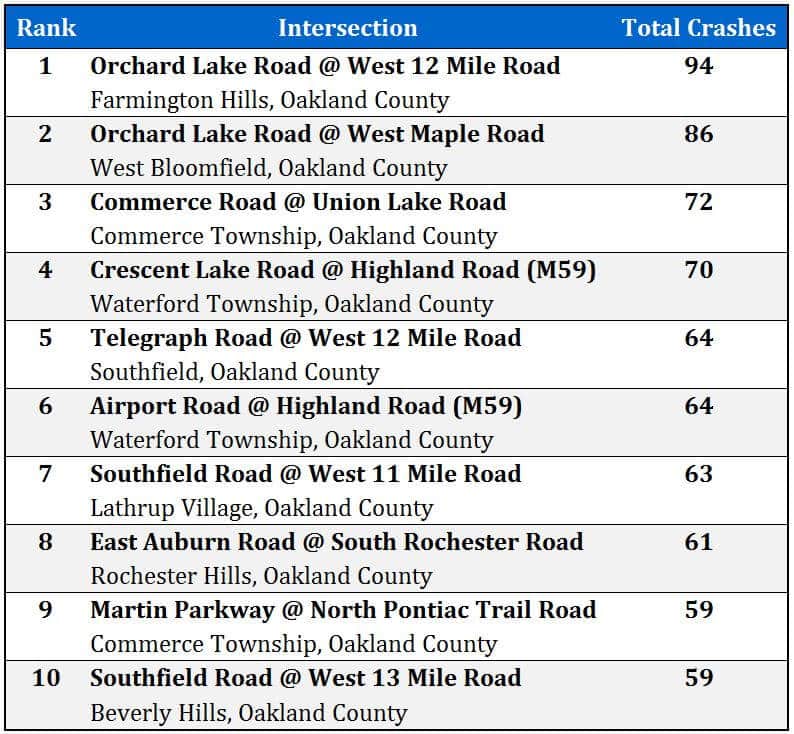 The intersection of Orchard Lake and 12 Mile Roads tops the list for total crashes in Oakland County, as it did in 2013. Unfortunately for this busy area by the I-696 freeway, it holds the No. 2 spot in the entire state for total crashes as well. With 94 crashes last year, the intersection saw a 32% increase from 2013 numbers – a trend we don't like seeing for such a busy area.
Here's what one of our clients who was seriously injured in a car accident at 12 and Orchard Lake Road said recently:
"I was at Orchard Lake and 12 Mile at the red light and all of a sudden I looked in my driver's side mirror and saw a truck going back and forth and we got slammed by the commercial vehicle. We got pushed 6 to 8 feet and that's when everything started. I was at Botsford Hospital and I found Michigan Auto Law. I spoke with Jeff Bussell and it went from there. I also had Leonard Koltonow and Josh Terebelo helping, as well as their paralegals and secretaries. They helped me deal with these insurance companies and IMEs telling me I wasn't injured when my whole life has been turned upside down because of my severe neck and back injuries. I'm thankful to Michigan Auto Law for getting me pain and suffering money. I would most definitely recommend these attorneys."
– Jamie Gwizdak, Wayne
Top 10 Oakland County intersections with the most auto accident injuries and fatalities in 2014
A new entry tops the list for injury and fatality accidents in 2014 — the intersections of Crescent Lake Road and Highland Road (M-59) in Waterford Township. What's notable is this area of Waterford Township didn't even make our list last year. And with  20 reported injury motor vehicle accidents according to police data, it's an area for residents to use extreme caution.
M-59 has always been a busy area with a higher speed limit than many surrounding roads. A paralegal in our office lives near the intersection and has told me she avoids it at all costs, since M-59 has a wide curve right at Crescent Lake Road and turning left is so dangerous – you cannot see oncoming traffic until its too late.
We'd like to hear from you. Is there a particularly dangerous intersection you would like to see on the list? Have you had any close calls or accidents in any of these intersections? Let us know by commenting below or on our Michigan Auto Law Facebook page.
You also may visit our Michigan Dangerous Intersections page for a complete list of intersection car crashes (including roundabouts) that can be searched by any Michigan city or county, and our list of Michigan's 2016 Top 20 Most Dangerous Intersections.
Drive safe everyone, and stay tuned for more posts with intersection hot spots throughout the state.
Source:  Michigan State Police Traffic Crash Reporting Unit – High Crash Intersection Report
Related information:
Oakland County's Top 10 most dangerous intersections for car accidents: 2013