House Bill 4020 proposes one seat belt per student; but NHTSA casts doubt on the need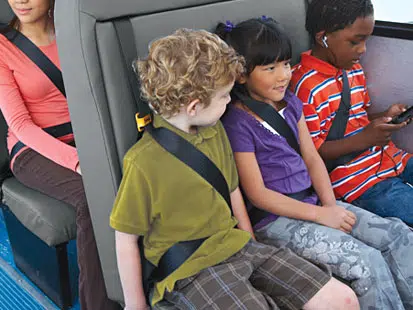 Should Michigan school buses be equipped with seat belts for each student? I'm a parent, and I'm also an attorney who's been involved in many school bus accident and injury cases. I've deposed manufacturers of school buses and in many of those depositions, I've heard from experts who have all opined that seat belts are important and may help protect against injury.
I've also helped far too many children injured in car accidents, which has been one of the hardest things about my job (this led two years ago to all of our attorneys pitching in and paying to have a certified car seat technician here at the law firm, a free service for anyone who wants to make sure their child is in a secure child seat).
So, on the question of whether school buses should have seat belts, I surely would agree. And so would one Michigan lawmaker.
On January 15, 2015, Rep. Robert L. Kosowski (D-Westland, MI) introduced House Bill 4020, which makes the following proposal regarding seat belts in school buses:
"A school bus purchased by a school on or after the effective date of the amendatory act that added this section shall be equipped with 1 safety belt for each pupil being transported by the school bus."
Notably, if Rep. Kosowski's bill were passed into law, it seems Michigan's seat belt law would also have to be amended to remove the existing school bus exception. (See MCL 257.710e(2) and (5))
I like Rep. Kosowski's proposal.  I think it makes sense, especially given what I've learned from 20 years of litigating bus crash and school bus accident cases.  And we all know that seat belts can help saves lives.
But the National Highway Transportation Safety Administration (NHTSA) doesn't seem yet so convinced. I was surprised by a 2006 paper from NHTSA, which suggests that seat belts on school buses may be premature. The NHTSA position is that seat belts on school buses are not necessary at this time.
Here's what the NHTSA paper ("Seat Belts on School Buses – May 2006") had to say in response to the question, "Why don't we have [seat belts] on school buses?":
"School buses are one of the safest forms of transportation in the United States."
"There is no question that seat belts play an important role in keeping occupants safe in these vehicles, however school buses are different by design and use a different kind of safety restraint system that works extremely well."
"NHTSA decided that the best way to provide crash protection to passengers of large school buses is through a concept called 'compartmentalization.' This requires that the interior of large buses provide occupant protection such that children are protected without the need to buckle-up. Through compartmentalization, occupant crash protection is provided by a protective envelope consisting of strong, closely-spaced seats that have energy-absorbing seat backs."
"School bus crash data show that compartmentalization has been effective at protecting school bus passengers. NHTSA's 2002 Report to Congress found that the addition of lap belts did not improve occupant protection for the severe frontal impacts that were studied for that report."
The NHTSA paper also noted that studies by the National Transportation Safety Board (NTSB) and National Academy of Sciences (NAS) cast doubt on the notion that seat belts on school buses would significantly improve student safety in the event of a bad bus crash.
Related information:
Back to school bus safety tips
What's the law for school bus accidents?
Let's stop school bus accidents that injure and kill children now