Brake-related out-of-service violations increased in 2014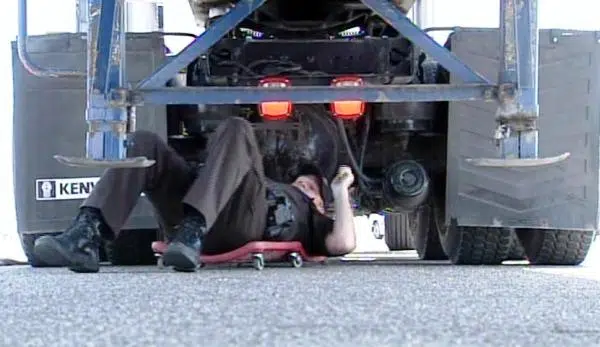 Brake-related out-of-service violations have increased again, according to the latest Brake Safety Week enforcement campaign by the Commercial Motor Vehicle Safety Alliance.
During the annual event, Sept. 7-13, 2014, CVSA-certified safety inspectors conducted 13,305 brake system inspections on trucks and buses throughout North America. The inspections resulted in 2,162 commercial vehicles being placed out-of-service for brake violations.
The out-of-service rate for all brake-related violations conducted during Brake Safety Week was 16.2% – compared to 13.5% in 2013.
Roadside inspections conducted during Brake Safety Week included: Inspecting brake-system components to identify loose or missing parts, air or hydraulic fluid leaks, worn linings, pads, drums or rotors, and other faulty brake-system components; checking anti-lock braking systems (ABS) malfunction indicator lamps; and inspecting brake components and measured pushrod stroke "when appropriate."
The goal of the safety blitz is to reduce truck accidents caused by bad brakes.
Will Schaefer, CVSA's director of Vehicle Programs and Operation Airbrake program manager, told FleetOwner:
"Unfortunately, we don't really know why brake violations may increase or decrease year by year… We do know that brake violations represent around half of all vehicle out-of-service violations found by inspectors, so if there was one area of compliance for vehicle maintenance to focus on, brake systems would be it."
Schaefer is on the money with the important reason for targeting brake violations. But it's not really a mystery why they continue to increase.
It starts with the trucking companies, which are skimping on safety. They do so by pushing their drivers to rush through pre-trip inspections in order to log more hours and get their goods to their destinations that much quicker – and for more money in their pockets. They also skimp on vital repairs and equipment needed so the truck can operate – and stop – safely.
In my recent post, "One in 10 highway deaths now involve a commercial truck," I also discussed bad brakes as one of the top causes of truck accidents, as stopping distances for trucks are much longer than passenger cars, especially on wet roads or if brake systems are poorly maintained.
The problem is further exacerbated because, far too often, the attorneys who are hired by families of people injured or killed by trucks with bad brakes never do the appropriate legal investigation to discover the cause of the wreck.  I've written many times about this issue, and these attorneys, especially in states like Michigan, do not have the proper background in trucking litigation to discover the causes of many trucking accidents. Frankly, if it isn't on the police report – and police normally only do inspections on fatal and catastrophic injury crashes – it normally will never be found. If it isn't found, trucking companies are more likely to pass on the added costs of making sure brakes are in good working order on the trucks they operate.
Large trucks are also prone to rolling over.
An additional solution is to require tractor-trailers and CMVs to be equipped with electronic stability control.