The link between hands-free truck driving and an increased risk of becoming involved in a truck accident
There's a federal regulation that now clearly prohibits truck and bus drivers from using cell phones while behind the wheel.
But does this apply to hands-free devices?
The issue came about in a recent case, where a driver caused a serious truck accident while he was talking on a hands-free device.
The Federal Motor Carrier Safety Administration regulation specifically prohibiting interstate truckers and bus drivers from using hand-held cell phones while operating their vehicles does not apply to hands-free devices, at least as of this date.
Still, a growing number of commercial motor carriers have gone ahead and completely banned hands-free cell phones and devices, including Greyhound. And Michigan attorneys who litigate these bus and truck accident cases should remember this, because the reasons apply and can arguably be a basis for negligent supervision involving catastrophic crashes caused by drivers who are using hands-free devices.
Some may think hands-free devices remove a lot of the distractions that handheld cell phones cause. But that's simply not what the science shows  There are no appreciable safety benefits achieved by using hands-free cell devices while driving.
Consider these studies and statistics:
According to a recent AAA Foundation for Traffic Safety  study, "Measuring Cognitive Distraction in the Automobile,"  when compared to other distractions such as talking on a cell-phone (hand-held or hands-free), listening to the radio, or talking with a passenger, a driver's use of "a speech-to-text system to send and receive text or e-mail messages" was the "most cognitively distracting."
For the study authors, that meant:
"[H]ands-free does not mean risk-free" and,
"The lessons learned from the current research suggest that … the impairments to driving [resulting from "voice-based interaction"] … may rise to the level associated with drunk driving …"
And according to the National Safety Council:
Drivers talking on handheld or hands-free cell phones are four times as likely to be involved in a car crash.
People talking on cell phones while driving are involved in 21% of all traffic crashes in the U.S.
In addition, hands-free devices do not eliminate the danger of cell phone use during driving. See the infographic below from the National Safety Council: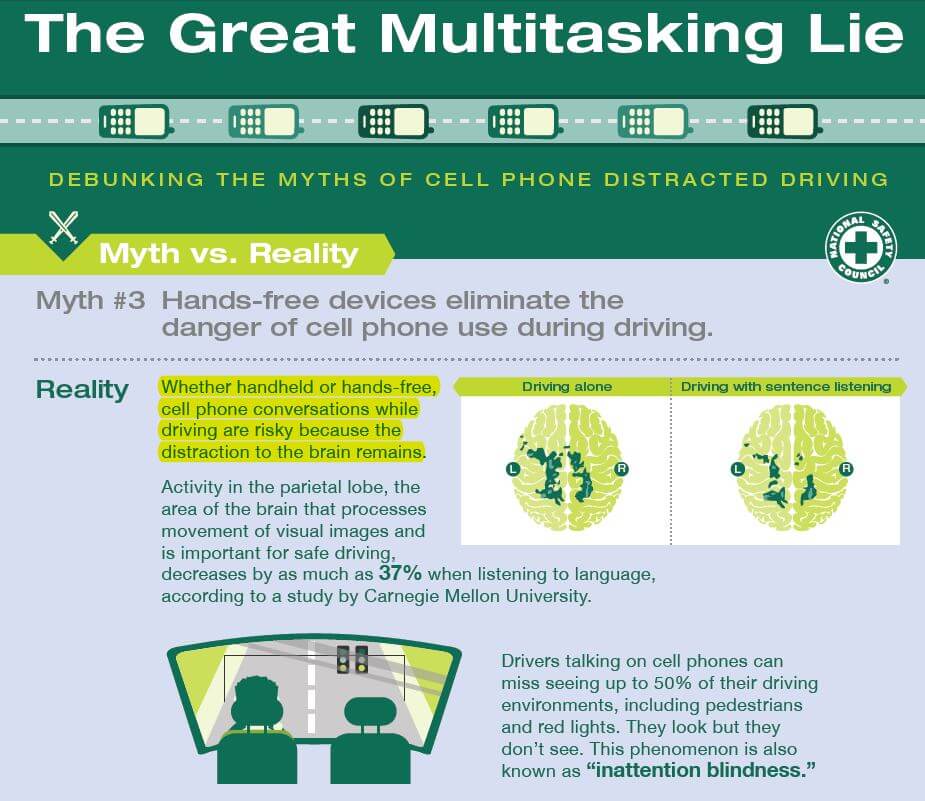 Given these alarming facts on the dangers of hands-free devices, I would argue that the FMSCA is dropping the ball.
But the studies are out there, and they are the basis for legal inquiry by attorneys during depositions of company  safety directors in cases involving serious wrecks.  It's also time for the FMSCA to update the cell phone ban for drivers of commercial motor vehicles to include hands-free devices.